Posted on
Wed, Oct 17, 2012 : 5 p.m.
Edward Surovell Realtors merges into Howard Hanna Company, 4th largest real estate company in U.S.
By Ben Freed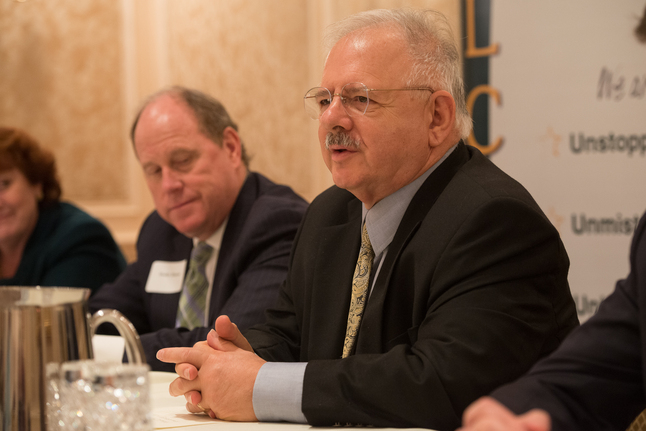 Courtney Sacco | AnnArbor.com
Edward Surovell Realtors
, a leading independent real estate company in Washtenaw County with locations in multiple counties, has been owned and managed by
Ed Surovell
since it was founded 30 years ago.
Similarly, Howard Hanna Real Estate Services, the fourth-largest real estate company in America, has been owned and operated by the Hanna family since it was founded by Howard and Anne Hanna in 1957 in Pittsburgh, Pa.
At a joint press conference Wednesday afternoon at the Dahlmann Campus Inn, Surovell announced that his company would be merging into Howard Hanna, a company that last year closed 34,292 transactions with nearly $6 billion in volume.
All employees of Surovell will be retained in the merger, and Hanna already has announced plans to expand further in Michigan.
"Hanna is not interested only in Ann Arbor, but in all of the state of Michigan," said Ed Surovell, who will be staying on with the company as chairman of the board of Howard Hanna Michigan.
"They did not come here to be number two. They are not number two in Ohio, they are not number two in Pennsylvania, and they do not intend on being number two here."
Helen Hanna Casey, president of the Howard Hanna Company, said the transition to the Howard Hanna company should be seamless for customers at Surovell.
"They're going to get a new sign in front of their house," she said.
"But they only want one thing from us. They want us to sell their home, or they want us to find them a home, and they want us to do that as quickly and as easily as possible."
Amy Sancetta | AP Photo
Casey said the company is planning an advertising blitz that will begin with television commercials airing as soon as Wednesday evening, and that will cut across multiple forms of media.
"We are really into multigenerational marketing," she said.
"We do everything from news print right straight through to Facebook, Pinterest, the many multitude of social networks out there."
Current chairman and CEO Howard "Hoddy" Hanna said the timing of the deal was appealing to him because of the current growth trends in Michigan's economy. For Surovell, the impetus to make a deal now came down to a choice of outlaying large sums of money to stay competitive, or to merge for the same advantages.
"[It was] partly opportunity and partly necessity," he said.
"…We needed more tools than we had at the moment so we could either choose to invest heavily and develop them ourselves or, frankly, we could merge into them. One can be done overnight, one takes years."
Hoddy Hanna's son Howard "Hoby" Hanna said that the company is looking to open or acquire another one to two offices in Michigan by the end of the year, including potentially opening multiple new offices in Ann Arbor.
"As we look to grow we'll be looking to open new offices, hire more people, not only in Ann Arbor but across Michigan," he said.
"We're also going to be bringing our mortgage and title businesses here, so we're looking to be a growth engine in the economy in our small way here in Michigan."
Home sales in Washtenaw County totaled 2,281 units by the end of August, compared to 2,124 at the same time in 2011. The sales volume totaled $480 million, compared to $410 million, according to the Ann Arbor Area Board of Realtors. Days on market year-to-date were 72, compared to 81 in 2011.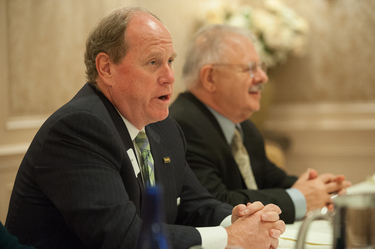 Courtney Sacco | AnnArbor.com
The mortgage and insurance operations for the company will be operating in Michigan by early January 2013.
Surovell operates 10 offices with about 200 employees across Southeast Michigan. Ed Surovell said that the company made sales every year in at least 13 counties.
Including those offices, Howard Hanna will have a combined 4,700 employees and 144 offices across Michigan, Pennsylvania, Ohio, New York, and West Virginia. This is not the first merger for either company. Hoddy Hanna said his company had been through 42 mergers and acquisitions in the last 20 years, while Surovell has been a part of 15 such transactions.
Surovell said that the close relationship between himself and the Hanna family allowed for a more peaceful merger process than usually occurs. At the press conference held Wednesday, no one could remember who approached whom about the merger.
"Most of the time it's either a direct phone call from us, 'are you interested in selling your business?' or there's someone knocking on the front door saying 'I surrender!'" Surrovel said.
"That's called a walkover. But we have known each other and been very close for a long time."
In addition to becoming a player in the local real estate market, Hoddy Hanna said the company also plans to contribute to local community non-profits.
"Ed's been very much involved in the community but we will double that effort of giving back to the community through our foundation," he said.
Surovell added that the commitments to the University Musical Society and other performance groups across the Southeast Michigan region will still be a priority for the group.
Ben Freed covers business for AnnArbor.com. Reach him at 734-623-2528 or email him at benfreed@annarbor.com. Follow him on twitter @BFreedinA2