Posted on
Sun, Dec 12, 2010 : 6 a.m.
Edwards Brothers invests $5.48M in Ann Arbor book manufacturing facility
By Nathan Bomey
Electronic books loom as a threat to book printers, but Edwards Brothers is pressing ahead with a $5.48 million investment to upgrade production capabilities at its Ann Arbor headquarters.
John J. Edwards, president of the 117-year-old short-run book maker, said the investment would boost Edwards Brothers' capacity to manufacture large-format books such as college textbooks.
"Every day you hear about the e-books taking over the world, but the textbooks are still pretty solid," he said. "The e-book is here to stay, no question about it. For the textbook products we produce, if it's been impacted it's been small, and you just see more of a focus on customization."
Ann Arbor City Council on Monday approved a tax abatement for the company's latest investment. The firm is installing a new "zero-make-ready" press that will allow it to minimize print stoppages by switching plates in and out efficiently.
"We appreciate the support of the city. Anything they can do to help us be more competitive is a good thing," Edwards said. "It ultimately creates jobs."
Edwards said Edwards Brothers now employs about 420 workers at its 185,000-square-foot facility on South State in Ann Arbor, up about 20 this year, and 250 in North Carolina.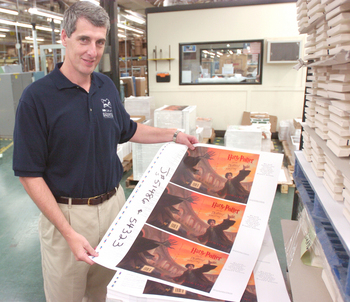 File photo | AnnArbor.com
The firm is expecting revenues in the range of $78 million to $80 million for 2010, which would be higher than 2009 but lower than 2008.
"I think 2011 will probably be similar to 2010," Edwards said, adding that he's not expecting "major growth, but I think the market is pretty stable."
One factor that could affect the bottom line is the K-12 textbook market, where school district administrators are crunching budget figures to determine whether they can afford new books.
"That's heavily influence by tax revenues and we all know that's shrinking, so that market is feeling some pressure," he said. "At the same time there is an obsolescence factor to what's out there. So the textbooks that are out there are starting to wear out."
Contact AnnArbor.com's Nathan Bomey at (734) 623-2587 or nathanbomey@annarbor.com. You can also follow him on Twitter or subscribe to AnnArbor.com's newsletters.