Posted on
Sun, Feb 26, 2012 : 5:58 a.m.
EMU business student grows web consulting business while still taking classes
By AnnArbor.com Freelance Journalist
Tom Perkins | For AnnArbor.com
By AnnArbor.com freelance reporters Tom Perkins and Sarah Rigg
Starting a successful business, turning a profit within a year and earning enough money to establish a scholarship at your alma mater are rare enough accomplishments for alumni of a college of business, but they're even more unusual for a student who hasn't yet received a diploma.
However, one Eastern Michigan University College of Business student, Kentaro Roy, has done just that.
In addition to studying full time at EMU, Roy is also the founder of Ann Arbor-based Kentaro Web Consulting. He brought in about $150,000 in one year and went from a one-man operation to having four employees.
"We're a team of five," Roy said. "I have web developers and an account manager, and I just hired new vice president of development, another EMU grad."
Roy explained that the business, which has an office in downtown Ann Arbor, provides two main services. It helps redesign websites, then ensures the websites get in front of potential clients and customers.
"We feel a lot of companies are doing one or not the other, so we help out on both of these fronts," Roy said.
Ypsilanti's Michigan Ladder Company, the nation's oldest ladder manufacturer, contracted with Roy's company to redesign its website.
Search engine optimization and online ad management are critical to customers getting more exposure, Roy said, adding that the first two links to pop up on a web search pull in 66 percent of the traffic.
"It makes a lot of sense to be high on the search results," he said.
Several years ago, he was working with Keller-Williams Realty , doing offline marketing, such as mailing out filers, when he noticed a need for online marketing services. After researching how to market his office and successfully doing so, Roy began taking on other real estate clients, and the business has continued growing.
He started offering his services on a freelance basis, hired his first employee in January 2011 and, over the course of the year, grew his sideline into an agency, continuing to take a full course load at EMU the whole time.
When asked why he thought his web consulting business was so successful, Roy said he identified a service gap and decided to fill it.
"There are not a lot of businesses doing marketing online for small businesses," Roy said. "That's our focus — small-to-medium businesses in Michigan. Some are targeting customers nationally, but they're based in Michigan."
Wanting to give back to the university, the 20-year-old funded a new annual $500 scholarship this year at EMU for the Information Assurance program within the College of Technology.
"I really like Eastern, and I've met a lot of great business professionals and made a lot of great connections here," Roy said. "I got a lot of benefit from connecting with people at the university, and it just made sense to fund a scholarship."
Betty Stremich, the director of corporate and foundation relations at the Eastern Michigan University Foundation, which manages scholarships at Eastern, said she is not sure it's the first time a current student has established a scholarship, but said it was "unusual" and called Roy's move "exemplary."
She said Roy planned to fund a scholarship for at least the next three years but the hope is to make it an ongoing endowed scholarship as his business grows.
"He's playing a 'pay it forward' role, and I'm certainly hoping other students and alums would contribute to that effort, not just in information assurance but in a lot of our programs," Stremich said.
Roy said he chose the information assurance program because it has expanded a lot in the last three years and doesn't have a lot of funding or resources for students yet.
Roy is technically in his final year of courses for his bachelor's degree but said he might stretch out getting his diploma for another year or so because he's too busy with his consultancy to take on too much at school.
"I can't take 18 credits while running a small business, so it might take a little longer to graduate," he said. "But when I do, I'll have a marketing degree from the college of business."
After graduation, Roy — who has lived in Michigan for the past 10 years and went to high school in South Lyon — said he plans to stick around in Michigan, adding that, despite the economic downturn, there are "plenty of opportunities here."
"It's been a very exciting year," he said. "We've got a great team together to help our clients get more customers using the web. I plan to stay in the area and continue to grow the company."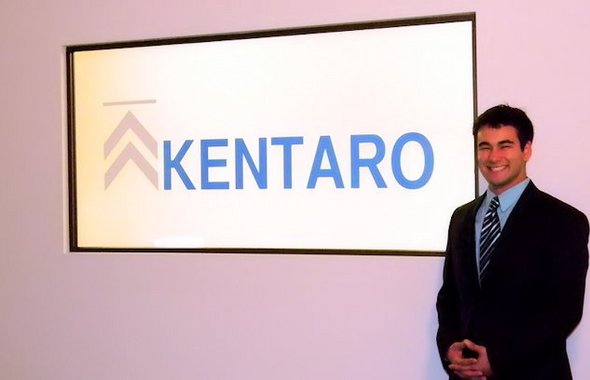 courtesy photo
Sarah Rigg is a freelance writer and frequent contributor to AnnArbor.com. You can reach her at sarahrigg@yahoo.com. Tom Perkins is a freelance reporter for AnnArbor.com.