Posted on
Mon, Mar 12, 2012 : 5:59 a.m.
'Espresso Bar' opens on first-floor of Kerrytown bar in Ann Arbor
By Lizzy Alfs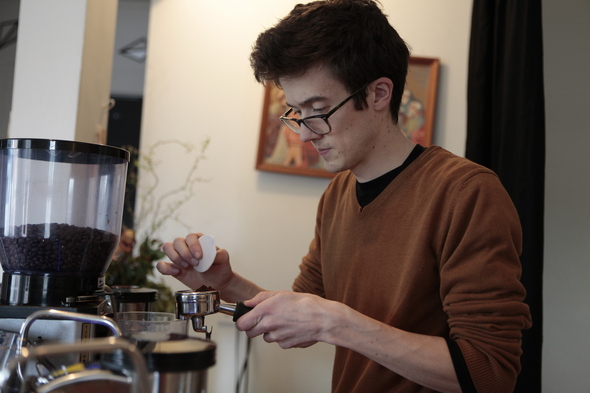 Chris Asadian | AnnArbor.com
Three months after
The Bar at 327 Braun Court
opened in
Kerrytown
, a new business has temporarily taken over the first-floor of the building: a coffee hangout called
the (espresso) bar
.
Co-owners Anna Foster, who goes by Foster, and Sandy C. Bledsoe III opened the shop March 1 and plan to remain in the space for three or four months. The plan from there, Foster said, is up in the air.
"We are sort of seeing how this goes and seeing how people want to use this space," Foster said. "We'll be here three months or so and then we are going to readdress."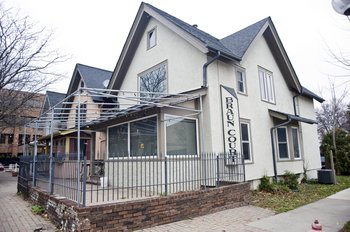 Joseph Tobianski | AnnArbor.com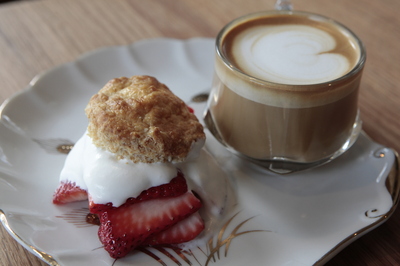 Chris Asadian | AnnArbor.com
The (espresso) bar is set up with two espresso machines and a single espresso grinder on a metal cart on the bar's first floor -- which
opened in November
on the second-floor of the building and utilizes the first-floor for film screenings.
The bar still hosts film screenings, but Foster and Bledsoe said there was room for collaboration between the (espresso) bar and The Bar at Braun Court.
"The feel upstairs is very much a neighborhood, casual bar with very high quality products," Foster said.
And with seating for about 10 to 12 people right now and plans to possibly add more, they said the goal for the (espresso) bar is to also become a neighborhood hangout spot.
"We're making a space where people can feel comfortable and come in, have a coffee and hang out," Bledsoe said.
Foster added: "It definitely has this vibe where it's like hanging out in someone's living room but you don't quite know their address."
The (espresso) bar offers a mix of espresso drinks, ranging from a standard latte or mocha to espresso served with goat milk. It also carries tea from Ann Arbor's TeaHaus. Foster said the prices are comparable to other local coffee shops, with an Americano priced at $2.50 and a latte at $3.50.
Customers can get a drink to go in a paper cup, or have the option of getting a drink in a reusable glass jar with a lid for $1 extra.
The business also serves items such as homemade scones, Zingerman's baguette with jam and other treats that Foster prepares herself. Last week, they served homemade French toast on the weekend.
Foster and Bledsoe, who both have a passion for coffee and worked at Ann Arbor's Comet Coffee for some time, said they'd been toying with the idea of opening their own shop for more than a year.
The small space at The Bar at Braun Court presented them with the perfect opportunity where they could open for a few months and then choose how to grow from there.
After being open for less than two weeks, the duo has already toyed around with more business ideas, including adding another espresso grinder to offer a variety of espresso beans, starting a board game night, and catering for events such as meetings or weddings.
For the month of March, Foster and Bledsoe are also donating a portion of their tips to Dawn Farm, and in May, they are partnering with 826michigan.
The (espresso) bar's current hours are Tuesday through Sunday from 8 a.m. to 5 p.m.
Lizzy Alfs is a business reporter for AnnArbor.com. Reach her at 734-623-2584 or email her at lizzyalfs@annarbor.com. Follow her on Twitter at http://twitter.com/lizzyalfs.