Posted on
Mon, Jan 10, 2011 : 8:49 a.m.
Eve Aronoff announces she'll close Kerrytown's 'eve the restaurant' on Jan. 16
By Paula Gardner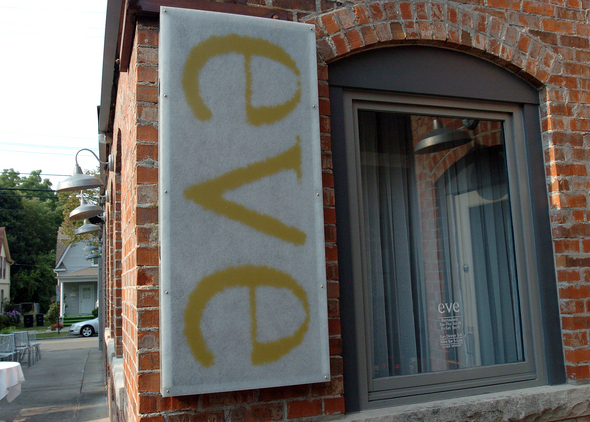 File photo
This story has been updated with comments from Kerrytown's manager.
'eve the restaurant,' a Kerrytown landmark with national recognition after owner/chef Eve Aronoff appeared on Bravo's "Top Chef," will close Jan. 16.
The announcement, made Sunday night on Facebook, follows a week in which rumors started to circulate in Ann Arbor about the future of the restaurant at 415 N. Fifth Ave. next to Kerrytown Market and Shops.
Aronoff wrote that she was unable to "come to agreeable terms" on re-signing her lease for the space.
"It is super sad," Aronoff said in a comment Sunday night on Facebook. "But it may be the best for now."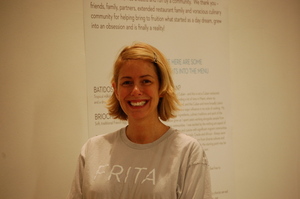 Janet Miller | For AnnArbor.com
Aronoff has a back injury from a trip to Honduras, she wrote, and also is busy with her new venture, Frita Batidos, which opened recently on West Washington.
AnnArbor.com was unable to immediately reach Aronoff for further comment this morning.
eve the restaurant has been one of Ann Arbor's favorite restaurants for some time, known for its frequently changing menu based on local ingredients and Aronoff's unique touch. While it has been open for lunch in the past, it more recently only served dinner.
Aronoff gained national prominence in summer 2009 with her appearance on "Top Chef." She was voted off early in the season but attracted attention to her restaurant, which was described as "intimate" by network officials.
At eve the restaurant, gift certificates may be reimbursed this week or refunded for 60 days, according to the Facebook posts. Aronoff also writes she'll accept them at Frita Batidos.
On Jan. 16 before dinner, Aronoff will host a food and wine sale from 1-4 p.m., with proceeds going toward severance pay for her staff, she wrote.
The restaurant is about 2,000 square feet. It formerly housed the Kerrytown Bistro.
Karen Farmer, manager of Kerrytown, said that she and Aronoff had worked on the restaurant's lease renewal over the past year. The effort focused on coming up with a longer-term renewal, Farmer said.
"We extended the current lease to give us more time to discuss what was going to happen," Farmer said this morning. The extension was to occur in September, but Aronoff asked for more time then.
In December, Farmer said, "We let her know that we were going to begin marketing the space, although we would love to work out something with her."
The space will remain a restaurant, Farmer said, and at least two potential new tenants are interested in it.
However, Farmer said, she recognizes the loss of eve the restaurant will have an impact on the city.
"It was definitely a treasure for Ann Arbor and the surrounding community, she said. "... We're very sad that she's not going to be a part of Kerrytown."
Paula Gardner is Business News Director of AnnArbor.com. Contact her at 734-623-2586 or by email. Sign up for the weekly Business Review newsletter, distributed every Thursday, here.