Posted on
Thu, May 5, 2011 : 5:57 a.m.
Exclusive interview with Borders CEO Mike Edwards: 'We are here fighting to the end'
By Nathan Bomey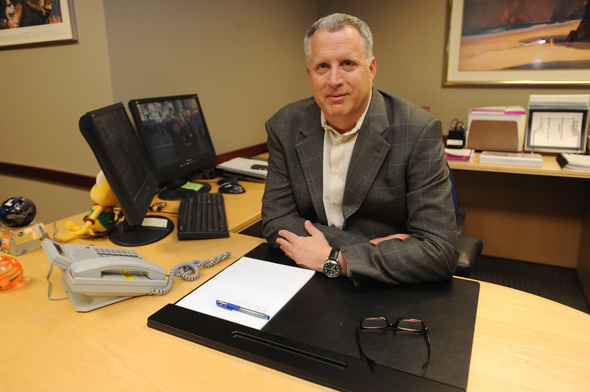 Melanie Maxwell | AnnArbor.com
The executive who is steering Ann Arbor-based
Borders Group Inc.
through bankruptcy said in an exclusive interview with AnnArbor.com that he is confident the bookstore chain can emerge from court protection as a viable company.
But he also acknowledged that the company's future is dependent on the willingness of publishers to agree to new terms under which they would continue to ship books to the company's remaining stores.
"All I can tell you is that we are here fighting to the end," Borders Inc. CEO Mike Edwards said in a rare interview. "We know we have a business plan that works, but it requires a lot of support to get it there, and our publishers are going to make or break our ability to transform this company at the end of the day."
Edwards, sitting in his third-floor office overlooking the parking lot of the company's headquarters on Phoenix Drive, said it's likely Borders will know by the end of June whether publishers "are going to support us or not."
He said Borders is presenting an 80-page business plan with a new terms proposal to publishers this week and next week. He described the proposed new terms as a "shared risk scenario" but said negotiations are progressing slowly.
Meanwhile, Edwards said the company is close to finalizing a reorganization plan that it would need to be approved by a judge before the company could exit bankruptcy. It's unlikely that plan would be approved unless the publishers sign off on it.
There's not much time to lose. Borders, which filed for Chapter 11 bankruptcy Feb. 16 and is closing nearly 230 stores, continues to bleed cash. In papers filed last week with the U.S. Bankruptcy Court's Southern District of New York, Borders reported a loss of $52.6 million from Jan. 1 to March 26.
The risk remains that the company will be forced to liquidate its assets inside bankruptcy.
But Edwards said he's convinced the company will be on firm financial ground once it finishes closing unprofitable stores, getting better lease terms at its remaining locations, securing improved terms with vendors and boosting its online sales, e-book offerings and in-store product mix.
Edwards also:
--Said he's been surprised by the lack of "outreach from the community to save Borders here."
--Suggested that Borders' biggest mistakes were opening too many stores and making them too big, expanding internationally, buying back stock and failing to get the Internet right.
--Said the company would've closed 110 stores, instead of nearly 230, if publishers had agreed to concessions in January.
--Insisted that the company would be able to compete in the emerging electronic books segment without its own e-reader.
--Said the company wants to emerge from bankruptcy by September.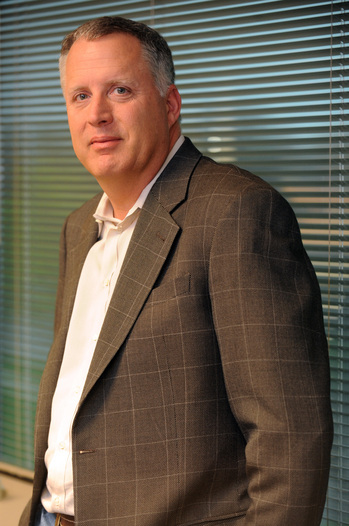 Melanie Maxwell | AnnArbor.com
--Defended the Borders' executive bonus plan and said it's unlikely that the bonuses will actually be paid out.
--Said Borders has fewer than 400 workers at its corporate headquarters in Ann Arbor and that workers are quitting every week.
--Said the company might move its headquarters out of Ann Arbor and that it would focus its office search on a 10- to 15-mile radius.
He spoke Monday with AnnArbor.com's Nathan Bomey. Excerpts:
AnnArbor.com: How close are you to identifying a reorganization plan?
Mike Edwards: We're very close. We have all the components of the plan done. What has to be shored up at this point is a financial sponsor and getting clarity on what the go-forward publishing terms will be.
AnnArbor.com: Can give us a preview into what it will look like?
Edwards: There's a pretty dramatic turnaround in terms of profitability. That's mainly driven by store closures of unprofitable stores and expense reductions. The other aspects of it are (an) enhanced merchandise mix for our stores and significant growth online.
We don't really, from a retail perspective, plan growth for many years. But clearly online and in the e-book segment there will be a shift and migration that's already occurred. That's in the business plan.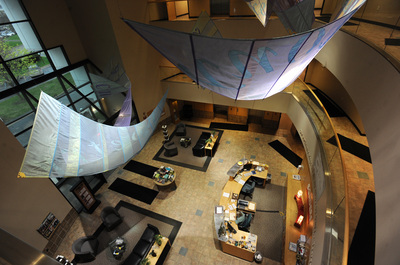 Melanie Maxwell | AnnArbor.com
AnnArbor.com: What needs to be done to make your online sales competitive?
Edwards: It's search engine optimization, it's improving the checkout experience, it's making the content searchable and being relatively priced to the competition.
We get 150 million hits a year on our website. And our conversion rate right now is 2 percent. Amazon is eight times (better).
So, improving the conversion aspect of the website dramatically improves the sales potential. Our Web business has been triple digit growth since the beginning of the year. It's an area that the company historically has not put a lot of resources in.
AnnArbor.com: What role would you say mismanagement played in driving Borders into bankruptcy?
Edwards: Hindsight is 20/20. In a multi-billion-dollar company, with major strategy decisions you don't really see the impact — good or bad — for two or three years.
Not just Borders, but many super store concepts in the '90s (opened too many locations). Borders was at a clip of opening up 20 to 25 stores a year. It hides a lot of sins.
Consequently those new stores weren't really developing the profit curve that the core stores were for a long period of time. Once you get a large portion of your store base that's not performing, there's very little you can do other than cut expenses to offset those decisions, and those are long leases.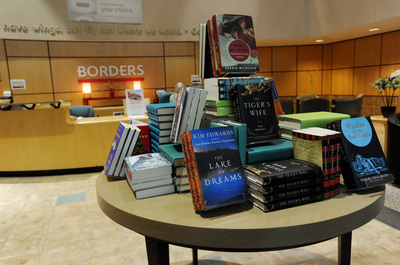 Melanie Maxwell | AnnArbor.com
Going international, doing stock buybacks and not investing in the online experience were strategic errors relative to the competitive landscape, which really remained very relentless and committed to their core customer.
Amazon has been investing in technology, creating a great online book experience for years and they haven't really changed their strategy. They continue to invest aggressively in it. B&N — they never looked at international, they never took on more than they could, they kept their balance sheet healthy and they ultimately resonated with the core reader customer.
AnnArbor.com: When it really gets down to it, though, isn't price the baseline problem that Borders has? You simply can't compete on price?
Edwards: It's not a problem that's different for us versus B&N or Walmart or Costco. … Pricing has put pressure on the industry, (but) the e-book effect is far more destructive than pricing, which has been out there for years.
AnnArbor.com: With e-books, how fast do you see the transition occurring? Are you surprised by how fast it's occurring already?
Edwards: Yes. I joined the company just a little over a year and a half ago. When I joined, e-books were less than 1 percent of the market. The Kindle was out but it didn't have the traction. The Nook had just been released. The Apple product wasn't even on the market.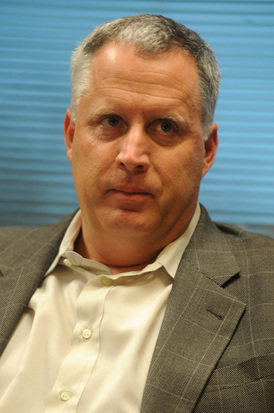 Melanie Maxwell | AnnArbor.com
Within a year it went from 1 percent to almost 10 to 11 percent of the total publishing sales. That is a radical transformation. And that comes at the expense of physical books.
That profound impact on the retail traffic puts a lot of pressure on not just our bookstore, but all bookstores. So I was surprised to see it move that fast. I don't anticipate it slowing down any time soon.
AnnArbor.com: Are you convinced that Borders can survive bankruptcy?
Edwards: Absolutely. … We've done the consolidation ahead of the (steep rise in e-book sales). Our stores will remain profitable even with a downward trend for the next three to four years with significant leasehold reductions and flexibility.
So, yeah, I know we can come out. I know that we can move back to profitability significantly. In fact, it could be the turnaround of the century if you just look at our historic performance.
Our competitors — right, wrong or indifferent — don't have the protection of Chapter 11 to negotiate across the board.
AnnArbor.com: Are you surprised the publishers haven't been as cooperative as you would have hoped?
Edwards: It's been a little disappointing. … Today we are slowly getting terms, but not meaningful.
If all the pieces have to come together, the terms commitment then drives the financial sponsorship. If so, then we have a business model that we can create a plan of reorganization around, get approval from the courts and emerge.
And our goal has been to emerge in the September time frame, because it's critical to be back on normalized terms and have a bank behind us going into the holidays because of the inventory build.
AnnArbor.com: We've been told that morale at this office is pretty low. Is that affecting your ability to do business?
Edwards: Managing through Chapter 11 has been devastating for a lot of people and creates a lot of fear and uncertainty. The company has gone through a pretty significant amount of reductions over the last four years, not just in the office but in the field. At one point the office had 1,400 people. Today we're under 400.
Once we weather the storm, people will be more encouraged with the business plan. But we still have a significant amount of attrition. Every week. And understandably.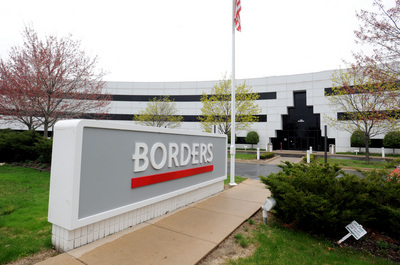 Melanie Maxwell | AnnArbor.com
If you don't have that risk tolerance, then you've gotta do what you've gotta do for yourself and your family. We make no bones about it — we're very transparent about the issues we face.
But the people left are extraordinarily committed and loyal to Borders. The best we can do is keep people as informed as possible. But certainly it's tough to lead through this, because you're leading on a lot of assumptions.
I can't definitively tell you one thing or another. I can only tell you what we're working on and what we hope to achieve.
AnnArbor.com: You took a lot of heat for the bonus proposal. Why was that appropriate?
Edwards: Well, the term 'bonus' is inappropriate. It's an incentive program that translates all the way down to the store managers in the company. Not really radically different than anything we've had in place.
What's different is there's no guarantees embedded in it. So either you perform and have a successful reemergence or there's nothing.
We're trying to do everything we can to stabilize the talent we have in the company, give them some hope and incentive and some upside for committing to a very turbulent environment.
It also gives, frankly, great comfort to the creditors committee and the banks that don't want to invest a lot of time and money to offer us transition plans if they think our management team is walking out the door.
Everyone thinks that we've already cashed the checks. Our ability to achieve these (benchmarks) is so remote.
AnnArbor.com: So you think the terms are pretty strict? This has to go very well for you to get the bonuses.
Edwards: This is a 'Hail Mary' pass, yeah.
AnnArbor.com: Was that because the U.S. Trustee pushed you into something like that? Do you blame it on that?
Edwards: No, not at all. There's always a dynamic tension when you have the trustee (and) you have the creditors committee, which actually really drove it. We actually had very little influence on it at the end of the day. It was really driven by the courts and the creditors.
It's certainly not motivating the senior management team. We don't believe it. What we believe is we want this company to survive.
AnnArbor.com: When do you hope to decide where your corporate headquarters will be?
Edwards: Early fall would be a good time frame. We want to be reasonably close. Within 10 to 15 miles. We're not averse to moving in Ann Arbor or moving anywhere else. We just need far less space than we have today. And there's far more economic deals than there were when this building was constructed.
AnnArbor.com: How much of this building would you say occupy?
Edwards: If we pulled everyone together, maybe 25 percent of the building.
AnnArbor.com: A lot of people in this community still have that emotional connection to Borders and it means a lot to them. Some people believe, though, that this company has lost its Ann Arbor roots. Where do you come out on that?
Edwards: Well, I think that's partially true. When the company was founded here by the Borders brothers, it was a very different environment. Very connected to the cause, very connected to downtown.
When it became a multi-billion-dollar global brand, I don't think the thinking was about Ann Arbor anymore. The thinking was, we're running this big company that was based in Michigan.
AnnArbor.com: It was different.
Edwards: For us, it's really about sustainability. I wouldn't say there's been huge outreach from the community to save Borders here. I've done business in a lot of cities and I have not experienced this, which is a less than positive approach with a company that's in trouble.
No one running a company really wants to screw it up. Like we show up for work every day and say, how do we run this company into the ground?
There's been so much turnover at the company over the last four or five years. And a lot of those people still live in Ann Arbor. They don't have warm and loving feelings about an employer that laid them off. And that's understandable.
Personally, I love downtown Ann Arbor. I live downtown. I would like to be located down there. It's the right environment for us.
But at the end of the day, all the decisions we're making now are economic based and how do we best keep the company surviving in a very turbulent industry.
AnnArbor.com: What about the store downtown? Do you still think you can keep that there long term?
Edwards: We're still working through that. But that's our intention. It's a kind of iconic aspect of our history. … I, for one, feel that bookstores will never go away. They're too important to the American culture and our communities. It's like the last safe social escape for retail. I don't think people want to hang out or relax in a Target.
AnnArbor.com: Anything else you want to add?
Edwards: People are really focused on Borders right now, but I think we should be expanding our view in terms of what's happening in the book industry.
The real story is all these amazing writers out there — where are they really going to be able to show their books in a way that continues to inspire society? That's what the bookstore is about.
AnnArbor.com: It's a culture change.
Edwards: It's a huge culture change.
Contact AnnArbor.com's Nathan Bomey at (734) 623-2587 or nathanbomey@annarbor.com. You can also follow him on Twitter or subscribe to AnnArbor.com's newsletters.