Posted on
Sun, Sep 16, 2012 : 5:57 a.m.
Customer loyalty program startup expanding deals throughout Ann Arbor and Midwest
By Ben Freed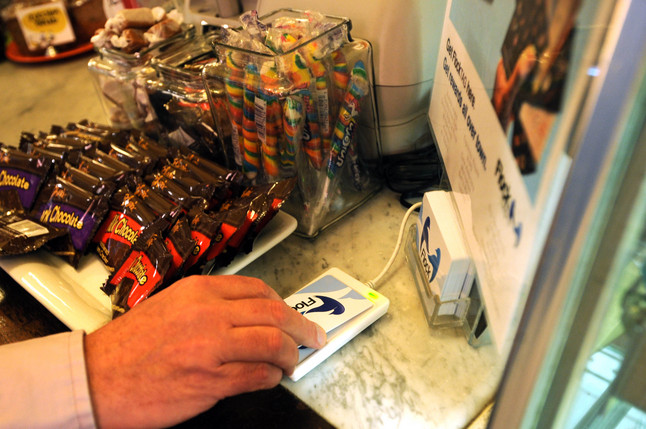 Melanie Maxwell | AnnArbor.com
For the spendthrift among us, keeping track of various punch-cards that offer rewards such as "buy 10 get one free" can be a hassle and a wallet-stuffer. For small businesses, finding ways to attract new customers and encourage brand loyalty can be just as frustrating.
Adrian Fortino and David Lin think they've found the solution to both problems in FlockTag, their all-in-one loyalty card that is being used in 25 Ann Arbor locations mostly near downtown.
Besides Ann Arbor, FlockTag is being used in East Lansing, Bloomington, Ind., and Columbus, Ohio, with plans to expand in those cities and across the Midwest before breaking into major metropolitan areas on the East Coast. In all, 45,000 customers of 70 businesses are using the cards to communicate with sensors at the participating locations using near field communication technology. The near field communication system allows users to simply tap their wallets on a sensor to use their FlockTag, no swiping necessary.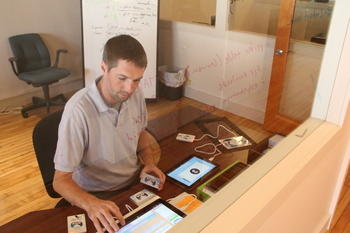 Ben Freed | AnnArbor.com
"It's not just a check-in system, it's intelligent loyalty," Fortino said. "We record your purchase behavior, we record what you're buying, and that information is pushed automatically into our deal engine."
That "deal engine" can then produce coupons, specials and offers unique to where you shop and what you buy. Fortino said the deals can be targeted to encourage customers to try items with higher profit margins at a familiar location, or could encourage you to try a new location.
"We tell businesses that there are people walking across your storefront windows every day and it's just not occurring to them that you have stuff in there that they probably want," Fortino said.
That was precisely the problem facing Lin, who also owns Bubble Island on South University. He knew that there were more customers out there, but he was having trouble reaching them in a cost-effective way.
He joined with Fortino, who had been a part of founding three other startups, to create a program that could fulfill this need while also offering something of value to the customers he was trying to attract.
Lin and Fortino were students together at the University of Michigan both as undergraduate mechanical engineering majors and later when they received MBAs from the Ross School of Business. As part of the testing of their product, the two came up with a business "experiment" to test the power of another coupon system.
"Dave [Lin] offered a very aggressive deal through Groupon at Bubble Island that they had wanted him to run," Fortino said.
"He offered 2,600 Groupons and he lost money on everyone who used it, but the whole point is you do it to try to get new customers."
In order to redeem the Groupon, Lin had customers either use their FlockTag or acquire a new one. From studying the user's data, the they were able to determine that 80 percent of the customers using the Groupons were already coming to Bubble Island at least twice a month.
Of the 460 who were not already frequent users, only 40 returned regularly to the store after using the Groupon.
While it is difficult to judge the immediate success of a Groupon campaign, Fortino said, the FlockTag system can track purchase habits and uncover new buying patterns.
"We know that if we send out 200 deals to 200 people, we know how many redeem and we know how many of those guys come back after redemption," he said. "We are trying to change behavior."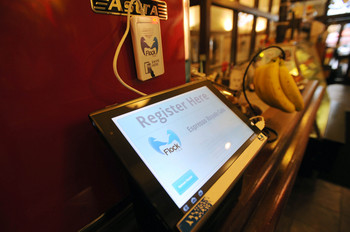 Melanie Maxwell | AnnArbor.com
The behaviors are changing, said
Espresso Royale Cafe
manager
Heather Loring
. She thinks more than 50 percent of her customers are now using FlockTags, and many have already redeemed deals through the system. However, not everyone is on board with the new technology.
"We still keep some of the old paper punch cards around for people who are skeptical of the technology," she said.
Fortino and Lin think that the ease of use of their product will eventually allow skeptics to get on board.
Fortino also pointed out that the system has built in checks to prevent customers being inundated by too many "deals."
"All the deals go through our automated system; they aren't sent to you by the individual companies," he said. "There is an automatic catch system to make sure you don't get spammed."
FlockTag recently moved into a new office on Huron Street in downtown Ann Arbor. The company opened in Ann Arbor in January. It already has attracted venture capital attention, raising $650,000 to date in seed funding, and with a planned A Round in the fall which aims to raise an additional $750,000 to $2 million. Fortino said he will seek funding from both coasts as well as in the Midwest, but that FlockTag is in Ann Arbor to stay.
"For one thing, my wife loves it here," he said.
"But we really think this a is a great place to be. We want to be a part of the explosion of startup and venture activity in Ann Arbor and Detroit, and Detroit is really really coming up right now with some of the stuff going on right now in downtown and midtown. We're going to be tackling those areas for FlockTag merchants very soon."
As in many cases with new technologies, FlockTag is free for consumers, making them the product. Businesses pay a monthly subscription cost for access to the FlockTag system that varies based on the number of deals distributed each month.
Fortino said it's the ease of use and number of users per business that sets FlockTag apart from competitors such as Belly and LevelUp.
"We have about 750 users per business right now, and a lot of that has to do with the ease of the system we use. It's just touch your card to the sensor and you're done," he said. "Belly has about 143 users per customer and LevelUp is at around 70."
Ben Freed covers business for AnnArbor.com. Reach him at 734-623-2528 or email him at benfreed@annarbor.com. Follow him on twitter @BFreedinA2