Posted on
Sat, Mar 10, 2012 : 5:58 a.m.
Fly-fishing shop and guide business opens in Depot Town
By Tom Perkins
For a week in Jan., Mike Schultz stayed near the Chilean Andes Mountains, hosting a group of Americans on a fly-fishing trip.
But Schultz says there's no need to travel across the globe to find an excellent fly fishing spot. One of the country's best kept secrets is the fishing available in mid-Michigan, and one of the Huron River's sweet spots runs right through Washtenaw County.
Thus, Schultz and co-owner Brian Doelle, located their guide business and Schultz Outfitters, a fly-fishing supply store, in Ypsilanti's Depot Town with the Huron River at their doorstep.
The guide business is bringing anglers from across the country to the area while Schultz Outfitters will offer a store catering not only to customers who seek out fishing spots in Chile, but the novice who can't spend $700 on a rod.
"Not everyone can walk into a shop and buy a $600 to $700 rod, so we're going to carry rods from $89 to 'Holy Crap!'" Schultz said. He explained learning fly-fishing can sometimes be intimidating to beginners who don't have a lot of money.
"We're going to do it all. We're not going to discriminate against anyone. Anyone can come in here from a 16-year-old kid to a blue-collar worker. We pride ourselves that," he said.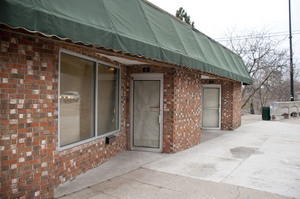 Tom Perkins | For AnnArbor.com
Among the names Schultz will stocks are Simms, Patagonia, Sage, Ross, Scientific Anglers, Rio, Temple Fork Outfitters, Renzetti, Hatch and Nautilas. With the river a matter of feet away from the store, customers can try out the rods before buying.
Schultz partly selected the location at 4 E. Cross Street because of its accessibility to the river banks in adjacent Riverside and Frog Island Parks. He plans to offer fly-fishing classes for those with any level of experience in the sport.
"Where the shop sits you got Riverside Park and Frog Island Park, so there's unlimited area to cast and river to instruct on," Schultz said. "It's also the perfect venue for events - all you have to do in Ypsi is call the city, let them know you want to have an event in the park and it's a done deal."
The part of the river running through the area is also an excellent stretch for fishing that most midwest anglers aren't aware of, Schultz said. It sees 12-to 16-inch white bass and a run of small-mouth bass that usually average 10-to 15-inches but grow as large as 19 inches when they head up river from Ford Lake.
"The river is solid in that stretch and we haven't told people about it much for the last 10 years, but we're going to blow the roof off that," Schultz said.
That's where the guide business comes in.
Schultz, 31, has a crew of six with four guides other guides, and offers day-long trips along the Huron, Shiawassee, Kalamazoo and Flint Rivers. The rivers wind through central Michigan and launch sites on each are within 60 miles of Ypsilanti. Their waters are full off small-mouth bass, steelheads, pike, musky and carp.
Schultz takes customers on boats designed for fly fishing on trips that are eight hours for a full day or half day for 4 hours span over 12 miles of a river, depending on what the customer wants. The customer can also decide if they want to wade into the water or fish from the boat, and a grilled meal is included in the package.
Depending on the river, the full day trip costs between $350 and $375 for two anglers. Half days are available on Huron River for $250 for two anglers.
Schultz also hosts around a dozen "destination trips" annually on which he takes groups to exotic spots like Alaska, Montana, Chile and the Bahamas; as well as better fishing spots relatively nearby in Ohio, Pennsylvania, northern Wisconsin, and "Steelhead Alley" which runs from the mouth of the Huron River along the southern shore of Lake Erie and into upstate New York.
Last year, his crew guided over a combined 200 days on a season that went from May to October, and each year his customers are regularly booking the same dates for the following season.
"We've done a good job with guiding around here and we're creating a new destination fishery," he said. "People have always fished this area, but now we've developed it to where we've got people coming here just to go small mouth fishing on the rivers.
"There has never been anybody that has done the warm water guiding in Michigan to this level."
Schultz graduated from Eastern Michigan University with a business degree in 2004. He lives in Dexter but rattled off a list of reasons that the Ypsilanti location suited him, including easy access to customers from metro Detroit, convenient parking, cheaper rent, and the renewed energy in Depot Town.
Tom Perkins is a freelance reporter for AnnArbor.com.