Posted on
Sat, Jan 21, 2012 : 5:58 a.m.
Former Ypsilanti classic car warehouse bought by rehab company for consolidation
By Tom Perkins
A Livonia-based rehabilitation services company with deep roots in the Ypsilanti area has purchased the former RM Auctions classic car storage facility.
Rainbow Rehabilitation Centers, which works with people who have suffered traumatic brain and spinal injuries, closed a deal to purchase the building at 5 W. Forest Ave. on Dec. 21. The company plans to consolidate its Washtenaw County vocational program onto the site this spring.
RM owned the building since 1991 and put it on the market a year ago after consolidating its U.S. operations to a 250-acre site in Indiana, said Swisher Commercial real estate broker Tony Caprarese. The Canadian-based classic car auction company used the Ypsilanti warehouse to store cars it would later ship to auction houses throughout the country.
The building was listed for $450,000, said Caprarese, who listed the property for RM.
The property holds two buildings; one 8,000-square-foot warehouse along Forest Avenue and another 5,000-square-foot garage in the rear.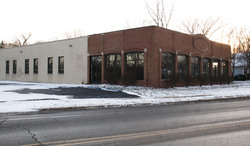 Tom Perkins | For AnnArbor.com
Rainbow operates several inpatient and outpatient operations throughout Washtenaw and Oakland counties. Its Washtenaw facilities include a treatment center on Whittaker Road in Ypsilanti Township and residential homes in Ypsilanti, Ypsilanti Township and Ann Arbor.
Barry Marshall, a marketing manager at Rainbow, said the company offers a variety of residential program options for a person if their injuries are such that their family can no longer care for them.
The site was selected because of its central location to other Rainbow centers and homes in the county, Marshall said. "The company started in that area and we've grown there," he said. "We have the treatment center on Whittaker Road and several residential home in Washtenaw County, so it is a good central location for patients involved in the vocational program."
The vocational program is designed to get people who have suffered injuries back into careers and the workforce. The move will bring around 100 patients who participate in the program to the building, as well as employees.
"The end goal is to help people who have acquired a traumatic brain injury return to work," Marshall said. "We want our clients to get back on their feet and think about careers and goals again. We help get them on that route."
Marshall said Rainbow is still working through plans with the city, but expects renovations to begin soon.
Tom Perkins is a freelance reporter for AnnArbor.com.