Posted on
Thu, May 23, 2013 : 5:59 a.m.
Grizzly Peak owners preparing to open the Old German by early July
By Lizzy Alfs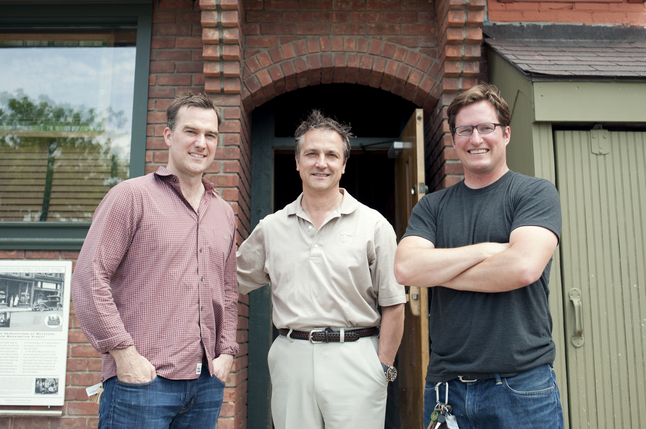 Melanie Maxwell | AnnArbor.com
Related coverage: Grizzly Peak owners plan to revive the Old German in restaurant's basement
The owners of more than a dozen Michigan restaurants and bars are hoping to revive a long-lost piece of Ann Arbor when they open the Old German on West Washington Street this summer.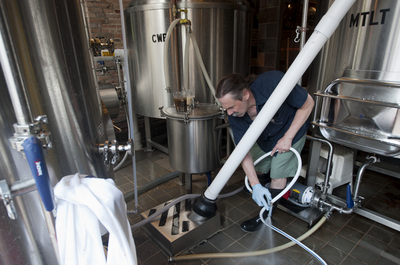 Melanie Maxwell | AnnArbor.com
Jon Carlson
,
Chet Czaplicka
and
Greg Lobdell
plan to open their version of the Old German bar, which closed in downtown 18 years ago, in the basement of their
Grizzly Peak Brewing Company
by early July. The three partners, along with a number of other investors, own several downtown Ann Arbor restaurants, including
Lena
,
Blue Tractor
and
Jolly Pumpkin
.
Renovations are underway on the roughly 2,400-square-foot basement space below Grizzly Peak, where crews started installing lighting and trim work this week. Grizzly Peak's brewing capacity was doubled to prepare for the new bar.
The Old German will have a bar and lounge atmosphere that emphasizes German beer culture, Carlson said. It will have about 14 beers on draft.
"This is a tribute back to the Old German and that heritage of Ann Arbor," Czaplicka said. "Bud (Metzger) was a really nice guy."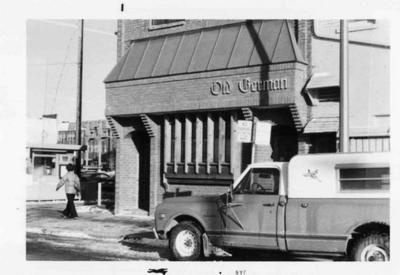 Ann Arbor District Library archives
The Old German first opened downtown in 1928, according to an
Ann Arbor Observer article
from 1995. Bud's father,
Fritz Metzger
, purchased the Old German in 1946 — years after his brother opened a similar German restaurant in downtown Ann Arbor called
Metzger's
, which is now located on Zeeb Road.
Carlson and Czaplicka replaced the Old German at 120 W. Washington St. with Grizzly Peak in 1995.
"(Bud Metzger) and I shook hands. I was only 24-years-old and it was my first real business deal," Carlson recalled. "(Bud) gave us the price of the building and the business and we didn't negotiate. It was fair."
The new Old German bar will pay homage to the original, and Carlson said they have been working to collect pictures of the original restaurant and of Bud Metzger to hang on the wall. A wrought iron Old German sign will mimic the old one, and stones from the original restaurant are being used to build booth areas.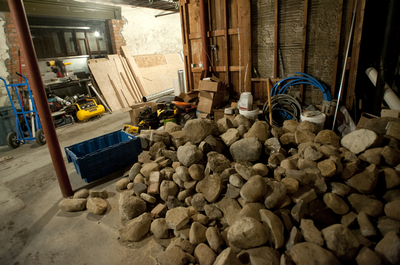 Melanie Maxwell | AnnArbor.com
"We are kind of pack rats and we do save everything," Carlson said. "Although, when (Grizzly Peak) opened up, we never thought we were going to do a basement concept. As Ann Arbor continued to grow, we realized basement concepts do well."
In addition to reviving the Old German, Carlson and his partners recently opened two basement concepts: mash below Blue Tractor, and the new Cafe Habana underneath Lena.
Carlson said the Old German's food menu will be limited, although it will include the potato salad recipe from the original restaurant. The bar will have its own entrance off South Ashley Street.
The goal is to open the Old German before July 4, Carlson said.
See also: For more information on the Old German, check out this 1995 article from the Ann Arbor Observer.
There are some copies of an Old German cookbook collection, made by a former server and the chef, available on Amazon.
Lizzy Alfs is a business reporter for AnnArbor.com. Reach her at 734-623-2584 or email her at lizzyalfs@annarbor.com. Follow her on Twitter at http://twitter.com/lizzyalfs.