Posted on
Tue, Nov 30, 2010 : 5:54 a.m.
Found in Kerrytown turns into Christmas wonderland for shoppers
By Laura Blodgett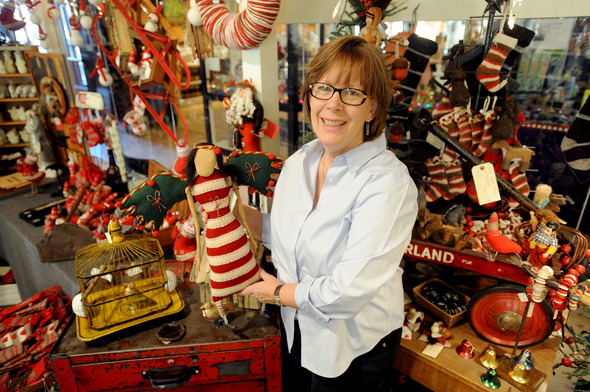 Angela J. Cesere | AnnArbor.com
For eight weeks a year, Found - the Kerrytown gift shop filled with all things fun and whimsical - turns into a Christmas wonderland.
"In the beginning of November we close the store for two days and it reopens as a Christmas store," says owner Mary Cambruzzi, who hunts for interesting Christmas items throughout the summer and fall.
"I always look for things in the $6-10 range that would work well as hostess or teacher gifts, package tie-ons or make your Christmas table look beautiful."
It has a seemingly endless variety of ornaments and chocolate filled candy canes that make great stocking stuffers. There are boxes of old fashioned flash cards people turn into gift cards and little mittens to tuck silverware in.
"This year I picked up a lot of things that are bird or snowman themed," says Cambruzzi, who carefully monitors the buying trends of her customers.
"Traditionally people have bought the nature things we've had each year and birds are just really popular as accents."
Cambruzzi says there are certain colors and styles she looks for when searching for Christmas items at gift shows.
"I'm kind of particular about my reds," she explains. "There are certain shades of red you won't see here. We don't do burgundy, for instance. We go with more of a retro fun look rather than the more traditional formal colors."
She adds that she is always cognizant of what people bought from her last year so that she might find something fresh and fun that goes with things they sold in previous years. These eight weeks of Christmas account for a third of Found's revenue for the year. Going into this season, Cambruzzi is expecting a double digit increase over last year.
"We were in growth mode when the economy took a dive and we held our own in 2008 and 2009. This year, we're up pretty significantly already."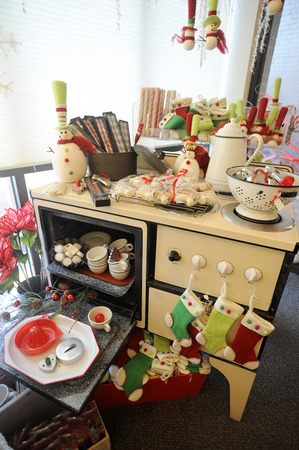 Angela Cesere | AnnArbor.com
One of their most popular promotions planned again for this year is "Merry Multiples" where almost everything in the store is "Buy 5, get the 6th free"—an everyday discount that works well for people who need multiples of small items.
Cambruzzi opened the store in 2005 when her youngest child was about to graduate from high school, after she spent a few years working in other people's antique shops.
"I decided I really loved mixing the old and the new together in a fresh way," she says.
When it comes to selecting her merchandise, Cambruzzi has no hard and fast rules—and often plays by the hip.
For example, this summer she found more than 100 large clock springs and clock parts that resembled robots.
"They were just metal spirals basically. I knew I didn't have to figure out what to do with them--I have customers who are very creative and will come up with ways to use them. People bought them to use in their garden or in assemblages with other found objects. We loaned some of the clock work to use as table decorations at a fundraiser dinner for 826 Michigan."
Cambruzzi acquires her merchandise through a dozen or so local artists who make things from recycled and found objects, such as angels and bud vases out of recycled silverware and jewelry from old buttons. She also hits auctions and estate sales.
"It's impossible to describe the drawers and cubbies filled with little vintage doodads and odds and ends tucked away throughout the store.
"There are so many interesting things from the past that bring up memories for people browsing. It's a real unique kind of store."
This is one in a series of stories by AnnArbor.com's Business Review about local retailers and their strategies during the biggest sales season of the year. Get more local business news by subscribing to the free Business Review weekly email newsletter and breaking email alerts.