Posted on
Thu, Dec 8, 2011 : 12:32 p.m.
Rare home video shows footage of Michigan football game from 1930s
By Nathan Bomey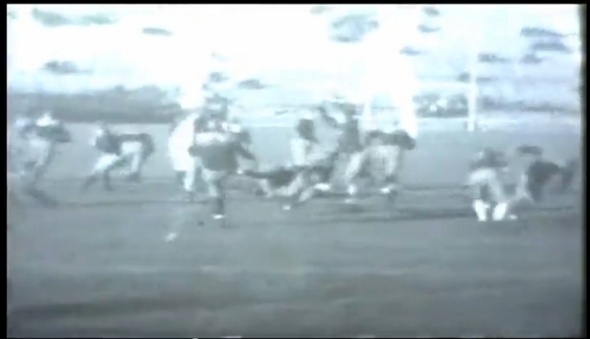 Photo courtesy of Priceless Photo Preservation
(See related story: New Ann Arbor business launches preservation service for photos, home videos)
A new Ann Arbor business has restored a 16-millimeter home video showing 78 seconds of footage of the Michigan football team and marching band at Michigan Stadium — a film that is believed to have been shot in the 1930s.
The startup, Priceless Photo Preservation, restored a home movie featuring "field-level footage of a Michigan football game inside the newly built (and nearly empty) Michigan Stadium," co-founder Rob Hoffman said in an email.
The video owner, Ann Arbor native Susan Pearlman, said her grandfather, Ovid Weldon, shot the film, which shows extensive action featuring the Michigan football team, marching band and several views of the crowd. Two punts are clearly visible. (Scroll down to watch the video.)
Pearlman believes that her grandfather, who earned a degree in landscape architecture from U-M in the late 1920s, shot the film sometime between 1931 and 1935 because other footage on the reel shows her father or uncle as a toddler. Her uncle was born in 1928, and her father was born in 1932. She said no one had seen the video since at least 1960, when her grandfather died.
The owner and preservation company are asking the public to help determine exactly when the footage was shot. Can you help? Post a comment below.
"To see a Michigan football game from way back when is pretty amazing," said Pearlman, who is restoring old videos as holiday gifts. "
Michigan Stadium opened on Oct. 1, 1927 with a capacity of about 84,000. After a minor expansion in 1928, the stadium wasn't expanded again until the late 1940s.
In 1930, the university "installed electronic scoreboards at both ends of the stadium, becoming the first stadium to use electronic scoreboards for official game time," according to the University of Michigan athletics department.
At the 0:13 mark in the video, the bottom of what appears to be a scoreboard is visible on one side of the stadium, but it's not clear whether it's electronic.
It's also clear that the stadium is far from full.
"Of course those were the days when it looked like you actually could get a seat in the stadium," Pearlman said with a laugh.
Pearlman said she briefly considered trying to find a 16-millimeter film projector before deciding to have it restored by Priceless Photo Preservation.
"It's great to have somebody working with basically treasured family memories. These guys are all archivists and they will take care of the film and make sure it's all done properly," she said.
The video ranks among the oldest publicly known amateur footage of Michigan Stadium and the Michigan football team.
But it's brand new compared to footage of the Michigan football team's 22-12 victory over the University of Chicago at Ferry Field in 1904. The footage, shot by Thomas Edison's American Kinetograph Co., is believed to be one of the earliest videos of any football game, according to U-M's Bentley Historical Library.
The library also owns a 1926 video showing Fielding Yost and several players practicing, including Bennie Oosterbaan and Benny Friedman. It shows only a few seconds of game footage, including a clip of the 1926 game with Ohio State.
A 1927 video owned by the library shows extensive footage of the Michigan Stadium dedication and the Wolverines' 21-0 victory over Ohio State, featuring three touchdowns by Louis Gilbert.
Contact AnnArbor.com's Nathan Bomey at (734) 623-2587 or nathanbomey@annarbor.com. You can also follow him on Twitter or subscribe to AnnArbor.com's newsletters.