Posted on
Mon, Mar 11, 2013 : 5:58 a.m.
Hot markets: View 2012 home sale prices by Ann Arbor elementary schools
By Lizzy Alfs
Related story: 'Shockingly' low inventory of homes for sale in Ann Arbor area as market heats up
Residential home sale prices in Ann Arbor neighborhoods are showing gains year-over-year, but most markets are still down from 2005 sale prices.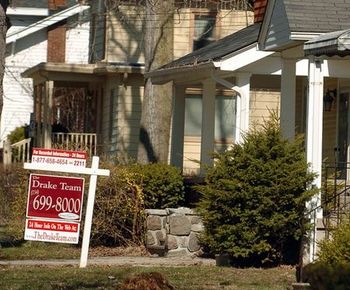 AnnArbor.com file photo
Ann Arbor homes — defined by those in the public school district — gained 7.38 percent in value last year based on sales prices per square foot. The data provides a gauge on value changes by taking into account the size of homes.
The 2012 year-end data is optimistic: Of 19 elementary school areas, 17 posted gains in average sales prices.
The elementary neighborhood with the biggest one-year value gain was Northside, which was up 15.68 percent in 2012. Homes in that area sold for an average of $152 per square foot, or about $304,000 for a 2,000-square-foot home. That compares to $186 per square foot in 2005. Allen, Eberwhite, King and Wines also posted value increases of more than 10 percent in 2012.
The two elementary areas showing drops in average sales prices from 2011 to 2012 were Lawton (down 1.26 percent) and Burns Park (down .61 percent).
"Where you see the greatest improvements in price is areas that got hit harder," said Rick Taylor of the Charles Reinhart Company. "When you think about the different areas that suffered, Burns Park didn't suffer as much."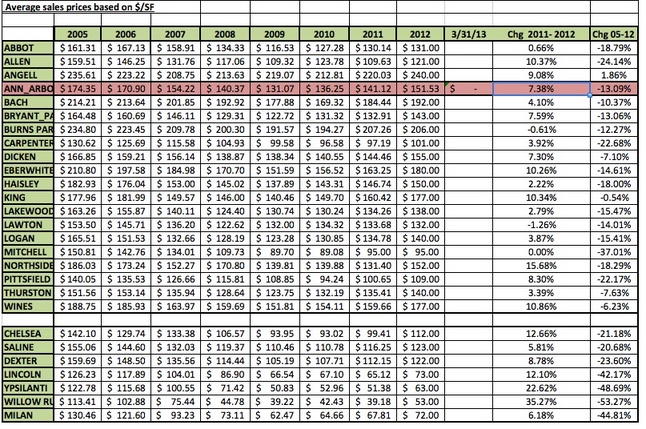 Data compiled by Martin Bouma
Still, the only elementary school area where homes are selling above 2005 levels is in the Angell district, where homes sold for an average of $240 per square foot in 2012, compared with $235.61 in 2011.
Four areas are still 20 percent or more below 2005 values: Allen (down 24.14 percent), Carpenter (down 22.68 percent), Mitchell (down 37 percent), and Pittsfield (down 22.17 percent).
The data is reflective of regional and national trends: Home sale prices are slowly rising as the real estate market accelerates. The National Association of Realtors reports home sale prices in January were up 12.3 percent across the nation, marking the 11th consecutive month of year-over-year increases.
Realtors and house hunters in the Ann Arbor area market are reporting extremely low inventory of homes for sale, which is helping to drive price increases. In January, the average residential sale price in the county was $224,686, a 33.7 percent increase over the same period in 2011, according to the Ann Arbor Area Board of Realtors.
"We're seeing such a jump," said Martin Bouma of Keller Williams.
Along with Ann Arbor, home sale prices per square foot increased in every school district in the county last year. Willow Run was up 35.27 percent over 2011, while Ypsilanti was up 22.62 percent. However, both districts are still down roughly 50 percent from 2005 prices.
The 2012 value gains in other districts based on sales prices per square foot include:
Download the chart listing sales prices per square foot for Ann Arbor elementary school neighborhoods and other district-wide areas in the county. The data was compiled by Martin Bouma of Keller Williams.
Lizzy Alfs is a business reporter for AnnArbor.com. Reach her at 734-623-2584 or email her at lizzyalfs@annarbor.com. Follow her on Twitter at http://twitter.com/lizzyalfs.