Posted on
Fri, Jun 21, 2013 : 12:16 p.m.
Huron River Ventures closes $11 million venture capital fund for Michigan investments
By Ben Freed
Michigan-based venture capital firm Huron River Ventures announced the closing of its first fund this week.
The firm, which operates offices in Ann Arbor and Grand Rapids, capped the fund at $11 million.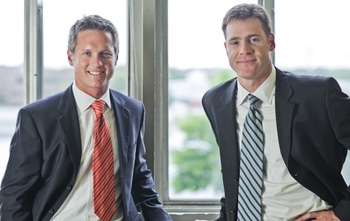 Photo Courtesy Huron River Ventures
"We started working on this fund in 2010 and we had our first close at $7.5 million in March 2011," managing director
Tim Streit
said.
"… That's also when we began investing. We continued to fundraise simultaneously in order to grow the fund as much as possible."
Venture capital funds typically have "life spans" of about 10 years, Streit said. The first five or six years after the closing of a fund are spent investing in companies and the last four to five is considered a "harvest" period.
"We're a little over two years into a 10-year fund and we've deployed about 30 percent of our capital, so we're about on pace," Streit said.
"We have seven investments right now and we plan to make six to eight more over the next two to three years to end with a portfolio of about 15 companies."
Streit said the firm typically makes investments in the low hundreds of thousands in early stage companies, but holds a significant amount of additional capital for add-on investments. Once a firm is invested in a company, it is often invited to participate in later rounds of funding which can maintain or increase its equity stake in the startup.
The recently closed fund is the first for the VC firm founded by Streit and Ryan Waddington. The pair met at the University of Michigan where Streit was an undergraduate student and Waddington was getting his masters degree at the business school.
The fund's focus on Michigan companies helped it receive $6 million from the State of Michigan as part of the Accelerator Fund Program. The program is administrated by the Michigan Economic Development Corp. with money from the Michigan Strategic Fund.
The goal of the program is to seed early stage venture capital funds that focus investment on Michigan companies. Streit said his firm fits the bill.
"We're a perfect fund for Michigan," he said.
"We're here, we want Michigan deals, and that's what we focus on… we invest in Michigan-based companies or companies that have a strong presence in the state. Almost all of our capital is from the state or investors who are from Michigan or still live here."
While the firm initially billed itself as "clean tech" venture capitalists, Streit said the term has been so misunderstood that he now explains their focus different.
"We're particularly interested in enterprise and business-to-business software that makes things more efficient," he said.
"… When we said clean tech people thought we were looking at old-school energy or power generation. Energy is a theme in our investments in that we look at software that can make businesses more energy and cost efficient."
The fund's current portfolio includes Ann Arbor-based companies FarmLogs and Covaron Advanced Materials. The company is looking to make further investments, and hopes that having a closed fund will help develop new leads.
"Announcing that the fund is closed is a formality," Streit said.
"It's a way to say to entrepreneurs that we're here, and we're looking to invest in people who want to change the world. If you think you're one of those, then get a hold of us."
Ben Freed covers business for AnnArbor.com. You can sign up here to receive Business Review updates every week. Get in touch with Ben at 734-623-2528 or email him at benfreed@annarbor.com. Follow him on twitter @BFreedinA2