Posted on
Mon, Jan 9, 2012 : 4:45 p.m.
Hyundai introduces guarantee for Sonata hybrid battery
By Nathan Bomey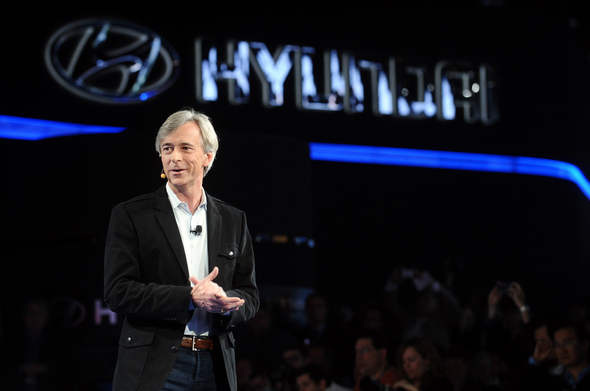 Melanie Maxwell | AnnArbor.com
(For live updates from the Detroit auto show, click here.)
Korean automaker Hyundai said today that it would offer a lifetime warranty on the battery in its Sonata hybrid sedan, effectively ending consumer concerns about battery durability and reflecting the company's faith in its technology.
Hyundai Motor America CEO John Krafcik said at the Detroit auto show that the company would begin offering a lifetime battery guarantee on the lithium polymer batteries in the Sonata hybrid.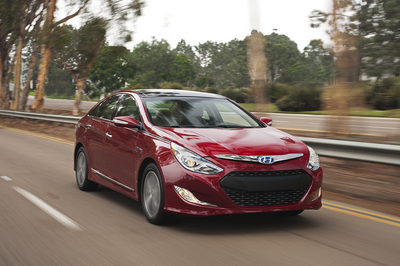 Photo courtesy of Hyundai
He said the offer was viable because of the "superior performance in durability" of the lithium polymer batteries, which are lasting in the range of 275,000 miles in the company's tests.
Hyundai conducts powertrain testing and calibration work at its 170-person technical center in Superior Township.
The news comes as the quality of lithium batteries have come under scrutiny in the wake of an incident in which a Chevrolet Volt ignited in a federal laboratory some three weeks after a crash test late last year.
Officials said the fire would not have occurred had federal authorities followed specified protocol regarding electric vehicles after a crash, but GM nonetheless responded by introducing a fix for the problem.
Meanwhile, battery maker A123 Systems announced that it had fixed a manufacturing error related to a clamp on lithium battery backs supplied to California electric vehicle startup Fisker Automotive, which was forced to recall up to 50 vehicles.
Despite a few hiccups, consumers or analysts have few reported problems with the performance of lithium batteries in cars like the Volt or the all-electric Nissan Leaf.
During its press conference at the North American International Auto Show, Hyundai also revealed a new turbo version of its Veloster hatchback and a coupe version of the Genesis.
"Hyundai got where we are by being an outstanding value brand," Krafcik said. "Today we're becoming something more in the eyes of our customers: a valuable brand."
Contact AnnArbor.com's Nathan Bomey at (734) 623-2587 or nathanbomey@annarbor.com. You can also follow him on Twitter or subscribe to AnnArbor.com's newsletters.