Posted on
Sun, Aug 15, 2010 : 5:51 a.m.
Recipe for success: Chelsea Milling Co. expands into food service and institutional markets
By Janet Miller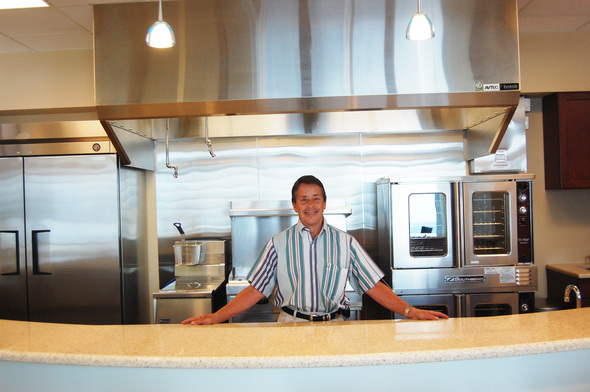 Janet Miller | For AnnArbor.com
In the old days - before Chelsea Milling Co. moved into its new $6 million research and development center in June - employees huddled cheek to jowl in the tiny test kitchen, sampling new recipes. There was no way to know if one person's opinion influenced another, and it was impossible to know if appearance of a new product changed a tasting outcome.
But as Chelsea Milling Co., makers of iconic Jiffy Mix, moves into the food service and institutional food markets, selling their baking mixes to hospitals, schools, restaurants and more, the company known for its blue and white box and retro image is going modern.
"We wanted to add more science to product development," said CEO Howdy Holmes, grandson of Mabel White Holmes, who developed and introduced the first prepared baking mix product in 1930. "To do that, we needed to add more space."
New addition
In order to expand operations, Chelsea Milling Co. has added more space to the facility.
Size: 11,000 square feet
Cost: $6 million
Architects: A3C Collaborative Architects, Ann Arbor
General contractor: Irish Construction, Howell
Moving into the new distribution channels will help keep Chelsea Milling financially strong. "It provides the organization the opportunity for significant growth," Holmes said. "In time, the revenue generated from food service and institutional will be greater than the revenue generated from the retail division."
By the second year, the total poundage sold for food service and institutional accounted for 13 percent of the total Jiffy produced each year for retail, Holmes said. "When you can produce 1.5 million 6.5- to 9-ounce boxes of mix every day, that's significant. And we are just scratching the surface. The big question was: Is food service and institutional a viable alternative for us? The answer is a resounding yes."
Until three years ago, Jiffy Mix sold solely in the retail market, a national leader with 57 percent of the market share (91 percent for its corn muffin mix). Even so, home baking has flattened faster than a cold soufflé since 1991, with an industrywide drop of more than 25 percent.
Chelsea Milling Co., which has milled flour for more than 120 years, went looking for other markets.
The company began selling all-purpose baking mix in 1930 and didn't introduce another product for a decade, when it started to sell pie-crust mix. Change came slow for Jiffy Mix, where a new product about once a decade. While Jiffy Mix hasn't been hit as hard as other companies that sell baking mixes (the company saw a 6 percent increase in sales between 2008 and 2009 as the economy tumbled and consumers moved to value-priced products such as Jiffy), there's still a trend away from home baking.
Food service and institutional offered new potential: Hospitals, senior citizen homes, prisons and school systems continue to bake and Chelsea Milling Co., under the brand name CMC Foods, went after a piece of that pie. They sell units of 12 2.5-pound boxes to their food service customers and 50-pound bags to their institutional customers such as large hospitals.
Changes have been made as Chelsea Milling entered the new distribution channels: Jiffy retail mixes require adding water and perhaps a second ingredient, such as an egg or milk. All food service and institutional mixes are complete - only water is added. The company went from using 46 different ingredients to make all of its retail mixes to needing 250 different ingredients to make retail and complete mixes.
The new markets require more flexibility, Holmes said. "We've been a focused manufacturer since Moses was a pup. The biggest challenge is changing the mindset."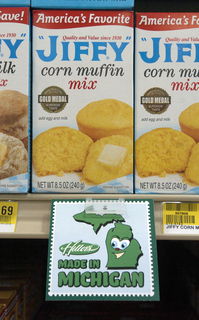 File photo
CMC Foods offers 11 products to the food service market and 14 products to the institutional market, with more coming soon. A pizza crust is on the threshold of being introduced, Holmes said.
Food service and institutional customers have different demands than the retail grocers Jiffy has served for 80 years. They want to visit the test kitchen to see (and taste) the different products and how they mesh with a fuller menu, Holmes said. That's the reason for the new test and demonstration kitchens in the research and development center.
In order to compete in the new territory, Chelsea Milling needed to change, Holmes said. That meant building the 11,000-square-foot addition connecting the manufacturing plant and the administrative offices. Much of the two-and-a-half story addition is dedicated to research and development and includes what Holmes calls "a Rachael Ray test kitchen without Rachael Ray) and a sampling room (called the sensory test area) that separates test tasters and accounts for variable such as lighting.
Construction on the connector addition started a year ago and was completed in June. The space dedicated to the test kitchen increased 10-fold, Holmes said, and includes a pilot plant to make "lab batches" - where a product is tested in larger batches but before it goes into full-scale production. This cuts down on waste, Holmes said. The move into research and development also includes hiring new staff, including a new technical director and a baking technologist.
Chelsea Milling will continue to expand, Holmes said. It will build six more grain silos on its grounds just outside of downtown Chelsea, adding 300,000 more bushels of storage for wheat. And it will expand its tour department, increasing its capacity from 80 to 125 people a day. "We want to modernize our existing space, replace the slideshow with a video, all without losing our old-school charm," Holmes said.
"Our philosophy of having a low profile and a well-known brand name has worked fine for retail," Holmes said. "But it's different for food service and institutional. You have to look the part. You have to operate differently."