Posted on
Mon, Jan 17, 2011 : 5:59 a.m.
Orchid Lane clothing store enjoys growth spurt after 25 years in Ann Arbor
By Laura Blodgett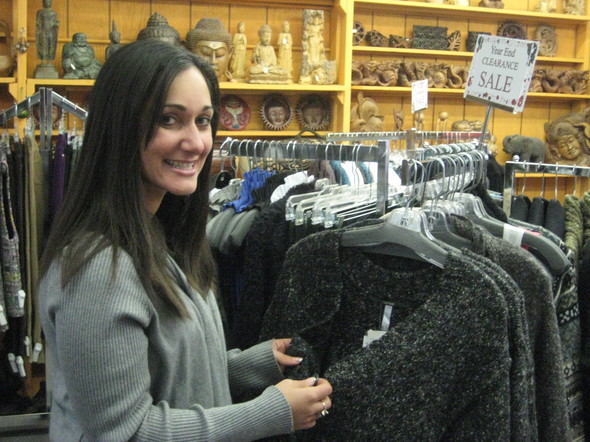 Laura Blodgett | For AnnArbor.com
Celebrating its 25th year,
Orchid Lane
- the women's clothing and accessories store at
419 E. Liberty
- has had a recent growth spurt, opening three new stores in the last 18 months.
In August 2009, East Lansing location La Bodega was opened, followed by the Raleigh, NC, store Sugar Magnolia in January 2010 and then Stella Blue in Charlottesville, Va., this past August.
"Each store has its own name to give it its own individuality," said Leif Elias, who co-owns the store with her mother, Nancy. "They are all in college areas which is a market we found that we appeal to."
The company specializes in fair trade clothing, with Elias traveling three months of the year importing goods, mainly from South America and Southeast Asia, to stock the stores. In addition to clothing, they carry jewelry, accessories and home décor, including a large collection of wooden carvings.
They also keep a thriving wholesale business humming along, selling their imported items to other stores around the country. They maintain a warehouse in Pittsfield Township to handle the importing and distribution.
Orchid Lane also manufactures and carries its own clothing label of batik clothing as well as popular brands including Kenzie and Betsey Johnson.
"We consider our store to be for women of all ages," says Elias. "I think it helps that we're a mother- daughter team."
Popular items for them depend on the season. Right now their 100 percent fleece-lined wool hats, gloves and scarves imported from Nepal are top sellers; in the summer, their wrap skirts from India and one-size-fits- all dresses are snapped up, often at their popular sidewalk sales.
Their expansion really started in 2005, when the Lamplighter restaurant next door closed and the space became available.
"We had just a month to get it together - right before art fair no less - and didn't even know what we were going to sell in the space," said Elias. "We had all this clearance merchandise, so we decided to just do a clearance sale in the new space with everything priced $15 or less."
The "every item priced $15 or less" idea was so popular that it continues to this day with the space officially named the Orchid Lane Warehouse. Their three new stores are all $15 or less stores as well, and online sales are available as well at orchidlaneonline.com. "It is a little by accident how the idea took off but it has been very successful," says Elias, who adds that the concept works well for them as wholesalers because they work on high volume and can keep prices low.
The original Orchid Lane carries the same types of clothing but at a higher price point averaging $30-40 per item.
"At Orchid Lane, the fabric might be more stylized—more fitted, some tucking-- which makes that dress more expensive than the warehouse side. Or the dress will be long at Orchid Lane but short at the warehouse."
Elias is hoping to connect the two spaces in the next year by making an archway in the shared wall to make shopping more convenient for customers.
After opening three stores in quick succession, Elias says this year she is focusing on getting the company infrastructure tightened down, as well as expanding their wholesale market. She is definitely open to the idea of more stores in the future.
"It just depends on what opportunities present itself. It's so funny how it happens; one of our employees will move somewhere for grad school so we decide to open a store there for them to manage. We are open to whatever the universe brings."