Posted on
Sun, Mar 20, 2011 : 5:55 a.m.
Jerusalem Garden, Earthen Jar owners try to survive slowdown from Ann Arbor's Library Lot construction
By Janet Miller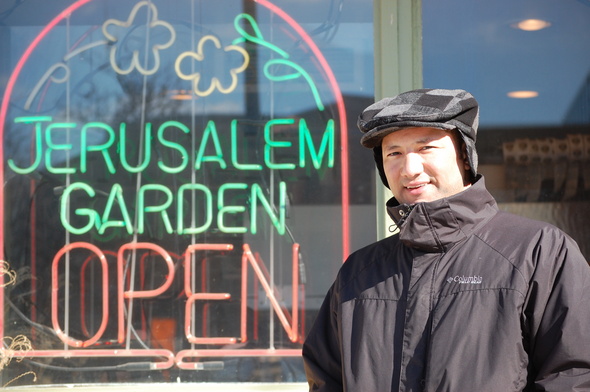 Janet Miller | For AnnArbor.com
For Ali Ramlawi, there are plenty of things to worry about as the owner of a downtown Ann Arbor restaurant: The rising price of commodities, the economy and stiffening competition.
But what the longtime owner of Jerusalem Garden hadn't banked on was construction of a 700-space underground parking lot on South Fifth Avenue that began 13 months ago and won't wrap up until late this year or early next.
The project, especially since the 300 block of South Fifth Avenue was closed to traffic in September, has hurt business, he said.
While Ramlawi has seen receipts increase every year since 1990 — and sales doubled in the two years following the 2008 remodeling — year-to-year sales have dropped 20 percent to 25 percent since the road closed in August, he said.
December was especially bleak: "It's very stressful," he said. "I am aging quicker than Obama."
Next door, at Earthen Jar, the story is the same. Business was so bad last month that Pushpinder Sethi, who owns the vegetarian Indian buffet restaurant with his wife, Gurcheran, said Earthen Jar might not survive.
They said they've seen a 20 percent to 30 percent decline in business. Sethi said he couldn't wait another year for the road to re-open.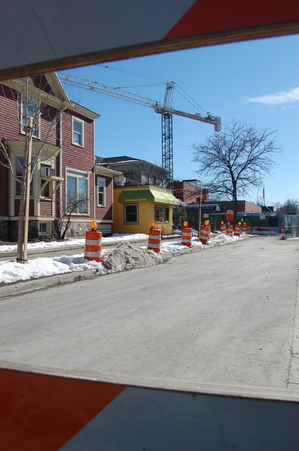 Janet Miller | For AnnArbor.com
"Maybe it will be time to move on," Sethi said.
The couple has owned the restaurant for 13 years.
But it's not as simple as blaming the decline on construction and the road closing, said Susan Pollay, executive director of the Downtown Development Authority.
The economy is playing a role, and many downtown restaurants and retailers are struggling, she said.
"Throughout downtown, it's been a very, very hard winter," she said.
Still, Pollay said, the construction project plays a role: "Construction is definitely impactful."
Complaints to the city and the DDA have gone unanswered, Sethi said.
"The city does not listen to us. (Ramlawi) has been quite aggressive about what is happening, but he is not reaching anyone," Sethi said.
At the least, Sethi said, the city could offer a tax break while their businesses are being affected by construction. Ramlawi said he has met with Pollay but left frustrated. He calls the project "a debacle."
Pollay said the DDA has responded: New lighting was installed near the two restaurants and they were given free parking validation stickers to hand out to customers. Ramlawi is allowed to temporarily park on South Fifth for loading, and the road has been kept plowed.
Signs were added along Liberty Street announcing that the businesses were open, and the city's holiday lighting was installed on the trees in front of the restaurants.
"Every time we've heard they wanted something done, we've done our best to do it," Pollay said.
PARKING PROJECT TIMELINE
The South Fifth Avenue parking structure project is estimated to cost about $50 million. Ann Arbor issued a bond on behalf of the DDA for about $49.3 million, while the DDA committed to putting up $8.4 million in cash. The DDA reimbursed the city for its bond issuance costs of about $480,000 and also paid an overhead fee of about $1.5 million. The DDA is expecting to pay off the debt using parking system revenues.
October 2009: Surface lot between Fifth Avenue and Division Street, south of Liberty, closed.
February 2010: Construction begins.
September 2010: South Fifth Avenue between East Liberty and West William streets closed to traffic. Used as a staging area for the project.
August 2011: Original completion date. That has been changed to December 2011 or January 2012, when South Fifth will re-open and finishing touches of the structure will be completed.
February 2012: Structure expected to open.
While lunch traffic remains relatively strong at Jerusalem Garden, the Monday through Thursday dinner crowd "has fallen off a cliff," Ramlawi said. "Commuters used to stop by on their way home, park in the lot next door and run in. That crowd is not showing up."
The actual decline is likely far worse than a 20 percent to 25 percent drop, Ramlawi said, because some of the loss has been absorbed by a 25 percent increase in sales for University of Michigan catering.
Ramlawi said he's weathered other downturns, from recessions to the drop after 9/11, but he's never seen his business hit so hard. He said a couple of good years after a remodeling job created a small cushion. He's determined to stay open.
"I'm a survivor," he said.
In an effort to offset some of the downturn, Ramlawi said, he moved forward last month with plans to sell some of his restaurant's products wholesale.
"I wanted to diversify the revenue stream," he said. He's hoping the retail exposure will also help market the restaurant.
Jerusalem Garden hummus is now being offered at five locally owned retail outlets in Ann Arbor, including Arbor Farms and Morgan & York. Ramlawi said it's a modest, self-financed effort and that he will move slowly. He hopes to introduce a second product this year.
Ramlawi's father, Ribhi, opened Jerusalem Garden in 1987 in 350 square feet of space with a small counter. It was mostly carryout in those days. Ramlawi took over in 1993, just months after he finished high school, when his father died.
The business expanded, adding dining space in 1996, and even more dining space during an extensive remodel in 2008. The restaurant now has 1,100 square feet and 22 employees.
Jerusalem Garden shifted from 80 percent carryout to 75 percent dine-in and now has nine tables. In warm weather, it can nearly double capacity with patio seating. But Ramlawi doesn't know how the construction project will affect his patio business.
The two restaurants are the only two private-sector businesses that front the 300 block of South Fifth.
Janet Miller is a freelance reporter for AnnArbor.com.