Posted on
Wed, Jan 19, 2011 : 9:20 p.m.
'Job One is jobs': Rick Snyder outlines shift in Michigan's economic development strategy
By Nathan Bomey
This was the Ann Arbor SPARK version of Gov. Rick Snyder.
Snyder unveiled his economic development roadmap for the state of Michigan tonight during his first State of the State address.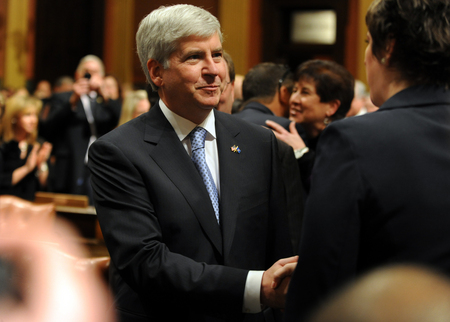 Melanie Maxwell | AnnArbor.com
And the map leads right to the type of grassroots job-creating initiatives he favored when he co-founded SPARK in 2005 as an economic development engine for the Ann Arbor region and served as its chairman for four years.
Snyder tonight outlined a wholesale reconfiguration of the Michigan Economic Development Corp., arguing that the agency needs to turn its focus toward micro-local efforts to boost the economy.
That's not to say Snyder, a Republican and first-time politician who took office Jan. 1, is spurning business tax reform and a promised battle to cut the cost of state employee compensation.
His official budget proposal, which will be delivered in February, is likely to include cuts to public workers' health care benefits and retirement benefits. He repeated his campaign proposal of replacing the Michigan Business Tax with a 6 percent corporate income tax. And he hinted at structural budget changes: "We will not play kick-the-can-down-the-road until the next year."
But Snyder chose to use the intense spotlight of the State of State to declare that Michigan needs to abandon its strategy of "picking winners and losers" with expensive tax incentives.
Instead, he wants the MEDC to partner with local economic development groups to boost existing businesses and entrepreneurs by establishing more business incubators, startup services, small-scale investment funds and job posting services.
Snyder hopes grassroots economic development efforts and services to existing businesses will help the state recover from its jobs crisis. He said his economic development strategy would favor "substance over form."
"The solution will take time. There are no quick fixes and solutions," he said. "Simply put, Job One is jobs."
The model of grassroot services looks a lot like what Snyder helped develop as co-founder and chairman of Ann Arbor SPARK, whose first CEO, Michael Finney, is now leading the MEDC.
Melanie Maxwell | AnnArbor.com
Throughout his gubernatorial campaign, Snyder derided the MEDC's strategy of distributing costly tax incentives to convince outside companies to announce expansions in Michigan.
Those announcements typically came with a promise to add a specific number of jobs - promises those companies often failed to uphold. Even tech giant Google, for example, which received state tax incentives in 2006, has failed to meet its promise of adding 1,000 jobs in downtown Ann Arbor by 2011. The company now has about 250 employees here.
During his campaign, Snyder regularly criticized the "press release" strategy of announcing company expansions induced with tax incentives.
To create sustainable jobs, he argued, Michigan needs to engage local economic development groups like SPARK, Grand Rapids-based The Right Place and Detroit-based TechTown to help entrepreneurs get a headstart and give a helping hand to existing mid-size businesses.
Finney said in an interview that those organizations will be asked to extend their economic development reach to surrounding communities to help boost the economy.
Finney has hired Amy Cell, previously SPARK's vice president for talent enhancement, to lead a statewide initiative designed to help talented employees connect with hiring companies. The initiative, which Snyder trumpeted during the State of the State, will involve the creation of a statewide job openings database.
Helping companies find talented workers - an economic development concept formed and executed at SPARK by Snyder, Finney and Cell - is a quick way to find companies that are growing and need assistance from the MEDC, Finney said.
"We could end up identifying literally thousands of companies that are in a growth mode where we can, in fact, assist those companies through economic gardening, entrepreneurial resources or, in fact, attracting them to our state from other locations," Finney said.
Among the other initiatives MEDC is expected to roll out are an effort to attract people with Michigan ties who have left the state to return to Michigan, and an initiative to retrain big-company employees to work for small businesses.
"What the governor described are a lot of wonderful concepts that he's been working on for some time. They are ideas that are clearly scalable at the state level and what we're looking forward to do is really assisting him and getting these concepts implemented as soon as possible," Finney said. "Those are some of the resources that are available in a strong entrepreneurial ecosystem."
Grassroots economic development resources don't generate press releases. They require sweat equity.
Snyder said that's fine.
"True success is based on achieving real results for real people," he said. "Let's roll up our shirtsleeves and get to work."
Contact AnnArbor.com's Nathan Bomey at (734) 623-2587 or nathanbomey@annarbor.com. You can also follow him on Twitter or subscribe to AnnArbor.com's newsletters.