Posted on
Tue, Nov 29, 2011 : 1:32 p.m.
Kerrytown's new 'neighborhood bar' to feature film screenings
By Lizzy Alfs
Joseph Tobianski | AnnArbor.com
From a White Russian prepared with fresh whipped cream to a hunk of Kentucky cured ham that is sliced and served as an appetizer,
Kerrytown
's newest bar is doing things a little differently.
But owners Ted Kennedy and Eric Farrell have one goal: to be the neighborhood bar for people who live and work in downtown Ann Arbor's Kerrytown area.
The bar, which they're calling The Bar at 327 Braun Court, is across the courtyard from Siam Cuisine and aut BAR in a space once occupied by Fuji Restaurant. The building sat vacant for years after plans for a bakery fell through in 2008.
Joseph Tobianski | AnnArbor.com
Now, Kennedy and Farrell have plans to energize the late-night scene in Kerrytown.
"Our belief is the more things that are going on in this area the better," Farrell said. "Kerrytown shuts down pretty early at night."
"I think Braun Court is the single best outdoor space in Ann Arbor," he continued.
The duo has two plans for the space: A screening room on the first floor for films and "alternative entertainment," and a bar on the second floor with beer, wine, cocktails and snack food.
There have already been five or six film screenings since Kennedy started leasing the space in July 2010.
"I was having shows at my house, which is in Kerrytown, and I was getting noise violations and believed there was a need for an ongoing, experimental screening and performance venue," Kennedy said.
That idea, he thought, would fit perfectly with a small bar.
"If it were my bar, it would be [Pabst Blue Ribbon] and Jameson [Whiskey] and that would be it," he said. "But that didn't really feel authentic."
That's where Farrell came into the picture, and the two collaborated to open the bar.
Although all the details aren't set in stone, they hope to have two screenings a month at The Bar at 327 Braun Court, and focus the rest of their effort on the upstairs bar - which could eventually expand into the downstairs space.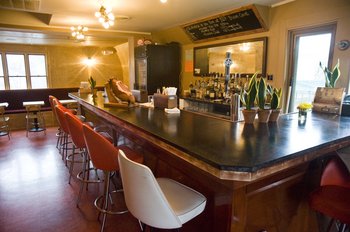 Joseph Tobianski | AnnArbor.com
The two uses could go hand-in-hand, with people grabbing a drink before a screening and then going back to the upstairs bar afterward. Or the screenings could eventually take place only when the upstairs bar is closed.
"We want to see how people work in the space and how people use the space and let that dictate a lot of how we can use both the bar and the screening room," Kennedy said.
The bar is less than 1,000 square feet and has the capacity to fit 58 people, with room for 59 downstairs. There are currently eight employees working at the bar.
At two soft openings last week, The Bar at 327 Braun Court was packed to capacity and people had to be turned away at the door.
There's a rotating tap and a couple dozen beer varieties all priced at $5. The bar's cocktails are $9. Snack offerings include cheese spread, chips and salsa, a meat and cheese plate, sardines, marcona almonds and a hardboiled egg.
"It's just a decent snack to tide you over a couple of hours before dinner," Farrell said.
Aesthetically, the bar is dimly lit and utilizes candles, and there's a "birch room" with wood covering the walls and handmade wood tables. It's mostly decorated with personal items from the owners or their friends, including a painting of a friend, a deer head mount and a picture of John F. Kennedy.
"It's all the stuff that we kind of either had or our friends had," Kennedy said. "It's a place we'd like to drink."
"It's a place where people in town on business sit next to hipsters sit next to the restaurant industry crowd after work, and they all enjoy a drink and all have something to talk about," Farrell added.
Most importantly, he continued, "We want our customers to feel a sense of ownership over this."
The Bar at 327 Braun Court celebrates its grand opening tonight. The bar will be open 7 p.m. to 2 a.m. Tuesday - Saturday and 5 p.m. to 2 a.m. on Fridays.
Lizzy Alfs is a business reporter for AnnArbor.com. Reach her at 734-623-2584 or email her at lizzyalfs@annarbor.com. Follow her on Twitter at http://twitter.com/lizzyalfs.