Posted on
Mon, Aug 1, 2011 : 4:17 p.m.
Ann Arbor store Downtown Home and Garden still searching for Lewis the cat
By Lizzy Alfs
(Update 7:17 p.m.: Lewis the cat is returned safely to Downtown Home and Garden)
Downtown Home and Garden's favorite feline, Lewis the cat, is still reported missing from the century-old shop on South Ashley Street in Ann Arbor.
The 15-year old, 15-pound orange tabby went missing from the store last week, where he's lived for about 12 years.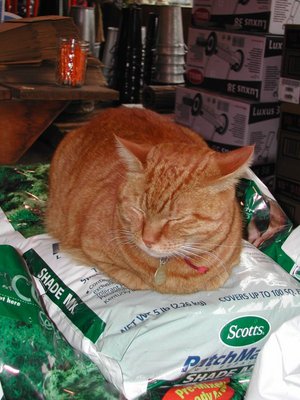 Photo courtesy of Downtown Home and Garden
Since posting fliers for Lewis around town and sending out communications through social media websites like Facebook and Twitter, storeowner Mark Hodesh has received several calls from people believed to have spotted the cat.
This morning, Hodesh was alerted that Lewis was spotted in the Old Fourth Ward - just north of downtown and east of Kerrytown - and he is asking residents in the area to be on the lookout.
Since living in the store for over a decade, Lewis has become a staple of Ann Arbor's Downtown Home and Garden. Hodesh said many customers come to the shop specifically to visit with the cat.
"Lewis has regular visitors," he said. "He means a lot to a lot of customers."
The shop is asking that if you've seen Lewis, call (734) 662-8122.
Lizzy Alfs is a business reporter for AnnArbor.com. Reach her at 734-623-2584 or email her at lizzyalfs@annarbor.com. Follow her on Twitter at http://twitter.com/lizzyalfs.