Posted on
Fri, Dec 4, 2009 : 5:15 a.m.
Ann Arbor's Common Language Bookstore struggles to survive
By Janet Miller
Another independent Ann Arbor bookstore is close to collapse.

Common Language Bookstore, serving the lesbian, gay, bi-sexual and transgender (LGBT) community since 1991 and located at 317 Braun Court, has made a life-or-death appeal to the community, said co-owner Keith Orr, who, along with Martin Contreras, also owns Common Language and the Aut Bar club.

A fundraising Book-a-Palooza to support Common Language will be held this weekend at the bookstore to coincide with the downtown Midnight Madness event. Some 5,000 used books covering a wide variety of topics have been donated and will be sold in a storefront across from the bookstore Dec. 4-6.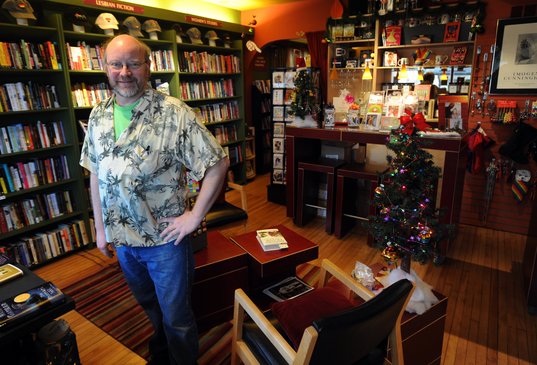 Keith Orr, co-owner of Common Language Bookstore. The store is running a Book-a-Palooza sale starting Friday, to help raise funds to keep the store in business.
Melanie Maxwell | AnnArbor.com
Common Language is not alone. Shaman Drum closed June 30 after 29 years in Ann Arbor. 
Common Language has been stung by on-line book sales, especially by Amazon.com, Orr said. Michigan's weak economy has been another nail in the coffin and sales at Common Language began to fall in 2004. 
---
Book-a-Palooza
Book-a-Palooza will be held from 1 p.m. - midnight Dec. 4 when books will cost $3 for hardcover and $1 for paperback. It will also be held from 10 a.m. - 8 p.m. Dec. 5 (hardcover will be $2 and paperback 50-cents) and from 1-7 p.m. Dec. 6 (a bag of books will be $5). Book-a-Palooza will be held across from Common Language inside of Shout, 325 Braun Court.
---
LGBT bookstores have been shuttered around the country, including the Oscar Wilde Bookshop in Greenwich Village, the nation's first LGBT bookstore. It closed earlier this year. There are no longer LGBT bookstores in such big cities as New York, Baltimore and Houston, Orr said. He estimates there are only about 50 LGBT books stores left in the U.S.
"Borders and Barnes and Nobles are not our competition," Orr said. "They serve different functions than we do. We have 7,500 books on our shelves and I'd be surprised if they have more than 100-200 (LGBT) books. Our survival is threatened by Amazon."

But the Ann Arbor store is hanging on, at least for a while.

"Martin (Contreras) said we're going to find a way to stay open, even if we're the last one standing," Orr said. So far, that has meant supporting Common Language with funds from the Aut Bar club along with personal savings, Orr said. But that can't last forever. Orr and Contreras have owned Common Language since 2003.

When Orr made an appeal to the community last summer for support, sales saw a healthy rise for 6 to 8 weeks, but have leveled off and they are still waiting for the holiday bump. Orr said they made the decision in the summer to stay open at least through the fall semester textbook season. Sales were strong enough to buy Common Language a couple more months, he said. They will stay alive at least through the winter semester textbook season, and access sales after that.

While independent bookstores are closing around the nation, it's especially hard for the LGBT niche.

"It's a little more painful because (LGBT) bookstores often serve as a community center," Orr said.

While chain bookstores carry a handful of LGBT titles, the feeling of safety and the level of service is not the same, Orr said.

"LGBT bookstores are a safe space for people to explore their sexuality and gender issues. That's what's in danger of being lost."