Posted on
Mon, Sep 19, 2011 : 5:58 a.m.
Entrepreneur to launch new brewery in downtown Chelsea
By Lizzy Alfs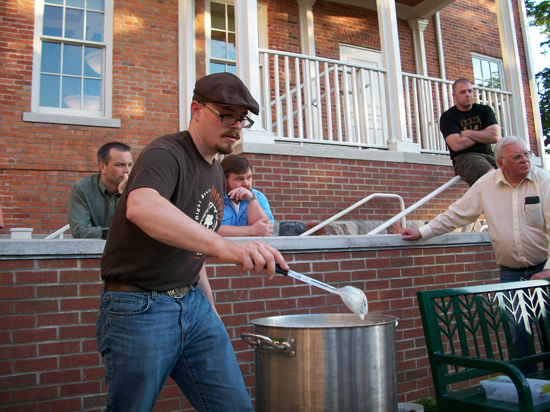 Photo from Sara Wedell
A local homebrewer has decided to pursue his passion for craft beer and plans to open
Chelsea
's only downtown brewery by summer 2012.
Chris Martinson, an associate scientist at Cayman Chemical, said that after gauging public interest and getting investors during the past two years, he's finally close to signing a lease for a space to launch his first business, the Chelsea Alehouse Brewery.
Martinson is still concluding negotiations for a space and he will not disclose the exact location, but he said he wants the alehouse to be on Main Street.
"My goal is by the end of the month to have a lease signed," he said.
Although the brewery will be the only one in downtown Chelsea, it won't be the first that has opened in the city, Martinson said.
In 1982, the Chelsea Real Ale Company became the first microbrewery in the state of Michigan, but that business only lasted in Chelsea for a year. Then, a few years ago, a start-up microbrewer targeted Chelsea to open a business but those plans fell through.
"Chelsea actually has a sort of renaissance microbrewery history to it, which is interesting," Martinson said. "But there isn't one now and there really is a need and a demand."
Martinson, who lives in Grass Lake and works in Pittsfield Township, said he zeroed in on Chelsea for a brewery location because it's a "vibrant community" that could use a good downtown alehouse.
It helped that his wife used to work in the city as the executive director for the Chelsea Center for the Arts and had plenty of local ties, he said.
"We are really immersed in the Chelsea community even though we don't live here," he said. "Chelsea is a great community and there is room for more growth. A brewery fits really well with what's happening in the city."
Aside from being a community-based business, Martinson's vision for the Chelsea Alehouse is to have a large variety of ales that will include seasonal selections, a small, deli-style kitchen menu and live music.
He suspects local residents are his target demographic and he wants them to feel like the alehouse has "always been around."
"I expect a lot of locals," he said. "There are a lot of families in Chelsea and also a lot of empty-nesters. My goal for the brand and the space is to have an old, downtown feel."
In terms of price-point, Martinson said the Chelsea Alehouse will be similar to local pubs around Ann Arbor and Chelsea, and he'll also offer townie memberships.
Martinson has launched a website and a social media campaign on Facebook and Twitter to get the word out about his brewery, and so far, he said the community response has been overwhelmingly positive.
Craig Common, owner of The Common Grill in Chelsea, said he "absolutely" welcomes the Chelsea Alehouse to downtown and fully supports Martinson's business plan.
"I welcome everybody," Common said. "I think it's good to have different things that appeal to a bunch of people. It brings more foot traffic downtown. The brewery would bring in some new people downtown."
Although Martinson is focused on opening his brewery first, he said down the road he plans to expand the Chelsea Alehouse brand by bottling his products.
"The long-term plan is to build a really strong downtown pub and build a brand, and then expand in several years to an outside production facility," he said.
Lizzy Alfs is a business reporter for AnnArbor.com. Reach her at 734-623-2584 or email her at lizzyalfs@annarbor.com. Follow her on Twitter at http://twitter.com/lizzyalfs.