Posted on
Thu, Mar 1, 2012 : 2:59 p.m.
Mediterrano owner buys ex-Full Moon for new restaurant in downtown Ann Arbor
By Lizzy Alfs
Long-time restaurant owner John Roumanis, who owns Ann Arbor's Mediterrano and Carlyle Grill, recently purchased a vacant downtown Ann Arbor building at 209 S. Main St., and he now plans to open his third restaurant in the location this summer.
The building, located next to The Ravens Club, most recently operated as half of the Full Moon restaurant, which closed in 2010.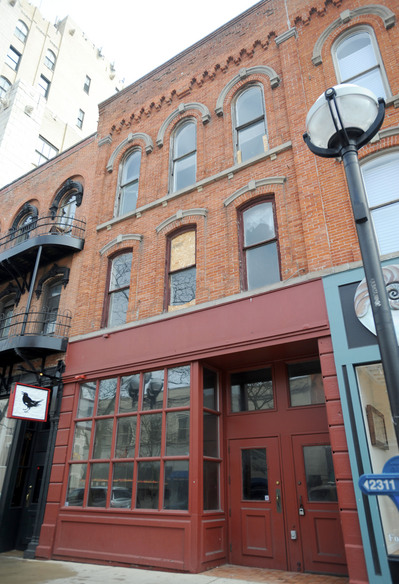 Angela Cesere | AnnArbor.com
John and his son, Peter Roumanis, now plan to convert the 2,513-square-foot first floor and 2,633-square-foot second floor of the building into a new establishment - a concept they have yet to reveal - and turn the 1,438-square-foot third floor into a loft where Peter will live.
The goal: open the restaurant this summer in time for the busy downtown season.
Jim Chaconas of Colliers International marketed the building and said the former owner originally wanted to lease the space. He said when John and Peter expressed interest in purchasing it, owner Soon-Young Yoon decided to sell.
"She decided she liked what they were talking about and she liked keeping it as a family business," he said.
The downtown building was assessed at $520,700 for the 2011 tax year, making its estimated market value about double that. John declined to name the purchase price.
He referred to the purchase as a "tremendous opportunity," and said the downtown restaurant will round out his other Ann Arbor businesses.
"The volume of sales at all three restaurants will balance," he said. "When the restaurants in suburbia slow down during the summer, the downtown restaurants are up. It's a good mix to have one on the west side, one on the south side and one downtown."
He added: "I think the new concept Peter has in mind is more of a downtown restaurant."
Thanks to the father and son duo partnership, changes are also coming to the 17-year-old Mediterrano restaurant off South State Street in Ann Arbor. They hired chef Chris Huey, who worked at the former Tribute restaurant in Farmington Hills and Logan in Ann Arbor, and he is rolling out a series of menu changes.
"He's doing a beautiful tasting menu," Peter said.
John added: "We're keeping the staples, but 50 to 60 percent of the menu is slowly changing."
They are also introducing a new happy hour at the restaurant in hopes of creating a lounge-type atmosphere where people will hang out after work. The space will also undergo some minor aesthetic changes as part of what Peter terms a "rebirth after 17 years."
"This restaurant has been successful," John said. "But with Peter coming back (from New York), he wanted to update and change certain things."
And change, John said, is necessary to running a successful business. He said it's important to watch what is happening locally, regionally and nationally, and to incorporate those changes into your business model.
"One example: the local aspect is now so important and so is community involvement," he said. "10 or 15 years ago, you didn't think much of a local movement, but you now you think a lot of it."
On launching businesses in the city of Ann Arbor, he added: "I love Ann Arbor. It's a big, little city. And although we feel the downturn of the economy, it's not as hurtful and devastating as it has been in other areas of Michigan and the country."
Lizzy Alfs is a business reporter for AnnArbor.com. Reach her at 734-623-2584 or email her at lizzyalfs@annarbor.com. Follow her on Twitter at http://twitter.com/lizzyalfs.