Posted on
Tue, Oct 18, 2011 : 5:58 a.m.
Former Suwanee Springs space in downtown Ann Arbor gets new tenant: luxury cosmetic boutique
By Lizzy Alfs
Lizzy Alfs | AnnArbor.com
A local entrepreneur recently signed a deal to open a cosmetics boutique in the former
Suwanee Springs
space on downtown Ann Arbor's South Main Street.
The store, Lily Grace Cosmetics, will be located at 306 S. Main St. in the Pratt Block building, which is owned by The Shaffran Companies.
Owner Cyndi Clark has had her hand in the cosmetic industry for 22 years, she said. As a "true Ann Arborite," Clark said it was time to settle down in Ann Arbor and open a neighborhood cosmetics store.
"I want to live here," she said. "I want to retire here. This is my home, and after moving away three times, I am putting my foot down."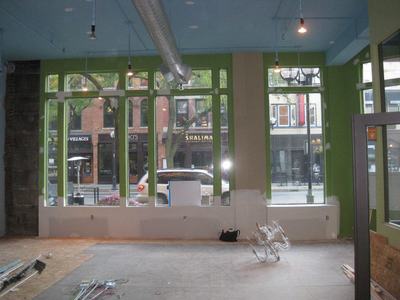 Photo by Linda Bidlack
Lily Grace Cosmetics, which gets its name from Clark's granddaughter, will carry makeup, skincare and home gifts. Clark said the store will offer a large selection of brands with wide-ranging price points.
"We'll have high-tech skincare brands and natural brands," she said. "We'll have brands that are very hard to find and iconic brands. I'm bringing things in for everyone."
Clark said she also plans to have extensive sampling in the store, makeup appointments, makeup application videos on YouTube, fashion shows, a rewards program, makeup seminars and women's health seminars.
"Once a month, we'll have free health seminars with experts from Ann Arbor," Clark explained. "We can have conversations on nutrition or aging or smile care. We can learn from the experts."
The store will also be open late into the evenings, Clark added.
"I want to make sure that I'm open when people want to shop," she said. "I'm going to figure out what this neighborhood needs."
Clark plans to have a soft opening for Lily Grace in December, with a grand opening sometime in January. She's starting renovations on the space immediately and plans to hire three employees, she said.
The South Main Street storefront was formerly occupied by Suwanee Springs clothing shop, which closed in May after 38 years.
Clark said she "fell in love" with the location with its large windows and prime frontage on a popular strip of South Main Street.
Ed Shaffran, owner of The Shaffran Companies, said he received a large amount of interest in the space from both retailers and restaurants.
Shaffran said he wanted a "true retail" use for the space, in part because of the apartments located upstairs.
"I think what Cyndi is offering is unique to the downtown, and our history certainly is to work with those unique tenants," he said. "What she is offering sounds like a great plan."
Lizzy Alfs is a business reporter for AnnArbor.com. Reach her at 734-623-2584 or email her at lizzyalfs@annarbor.com. Follow her on Twitter at http://twitter.com/lizzyalfs.