Posted on
Tue, Nov 30, 2010 : 10:26 a.m.
Owner: Ypsilanti nightclubs Savoy and Pub 13 close amid DTE Energy billing issues
By Tom Perkins
DTE Energy shut off the lights at two of Ypsilanti's downtown nightclubs on Wednesday - and utility officials said Monday that Pub 13 and Savoy owner David Curtis owes more than $30,000 on the accounts.
Tom Perkins | For AnnArbor.com
But Curtis disputes that amount and says he made a payment as recently as last week. He added that the large debt is the result of being underbilled because of a malfunctioning DTE meter, which a DTE spokesman confirmed.
Curtis fears that error could drive him out of business.
Pub 13 remained open last Wednesday, the busiest bar night of the year, by utilizing a generator but has since shut down. Curtis couldn't offer a date when either club will reopen but underscored they would.
DTE spokesman Scott Simons explained the company switched billing systems in 2009, at which time employees discovered the North Washington Street night clubs were significantly undercharged for their power consumption. Simons, who wouldn't provide a figure for how much the clubs were undercharged, said a faulty multiplier on the DTE-installed meter caused the misread.
Simons said DTE had set up a payment plan allowing Curtis several years to pay back the charges, but Curtis had defaulted.
Curtis said that was untrue and that he recently made $4,000 payment that covered his current and back balances. He said an agreement with DTE permitted him to skip back payments over the summer months, but officials told him the power was shut off because they never received a signed agreement.
He said the bills at other establishments he owns were similar to those of Pub 13 and Savoy, so he had no way of knowing they were too low. He questioned whether he actually owes over $30,000 because the establishments use similar levels of electricity, and the figure seems high for Savoy and Pub 13.
Curtis also said his next bill wasn't due until Nov. 29, and DTE made a mistake in shutting off the power on the Wednesday before Thanksgiving.
Tom Perkins | For AnnArbor.com
He said DTE has shut off his power five times this year — sometimes mistakenly — but employees restored power the same day. Curtis said when he asked officials to turn the power back on on Wednesday, they refused to do so without a large payment.
Savoy, a 700-person capacity music venue, opened its doors in March to replace the former Club Divine. Pub 13 is a piano bar located next door to Savoy. Curtis also owns J Neil's Mongolian Grill and Key Stone Underground martini bar next door to Pub 13. The Key Stone will host many events scheduled for Savoy in the coming months.
Curtis said DTE's mistake also caused collateral issues with the roughly 40 employees who are now out of work. The company shutting off the power for an extended period of time also spoiled roughly $5,000 worth of food in the kitchens and affects his customer base, he said.
Although determined to reopen, Curtis expressed frustration over what has transpired. He said he received the bill in 2009, but DTE took two months to provide an explanation. He said business has slowed over the last two years because of the economy, and the error puts a serious strain on his budget.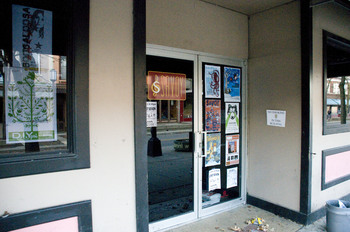 Tom Perkins | For AnnArbor.com
"How can they send me a bill for this outrageous amount of money?" Curtis asked. "I feel like DTE thinks I have an open check book to write this money and I don't. We've been working very hard to make this happen."
He said a representative assigned to his account will no longer return his calls, and he is particularly upset that DTE's employees ask why he didn't notice the bill was low when their equipment was faulty.
"They're trying to blame their mistake on me," he said. "I have made fairly large payments against that bill along with trying to stay current, but DTE doesn't care about the person. Either your electricity is turned on or it's turned off, but they don't call you, they don't acknowledge you, they don't care what happens to you."
Meanwhile, Washtenaw County records show the Savoy owes $44,632.99 in back taxes for 2008 and 2009, including interest and penalties.
Tom Perkins is a freelance writer for AnnArbor.com. Reach the news desk at news@annarbor.com or 734-623-2530.