Posted on
Wed, Jul 6, 2011 : 5:58 a.m.
Memorial Christian Church listed for $1.8 million after deal with fraternity falls through
By Lizzy Alfs
A local church with a 120-year-old history in Ann Arbor is looking to relocate from its location at 724 & 730 Tappan St. and is listing the property near the University of Michigan campus for sale.
The 15,560-square-foot building owned by the Memorial Christian Church is located on the northwest corner of Tappan and Hill. The property is listed for $1,799,000 with Lisa Loesel of CB Richard Ellis.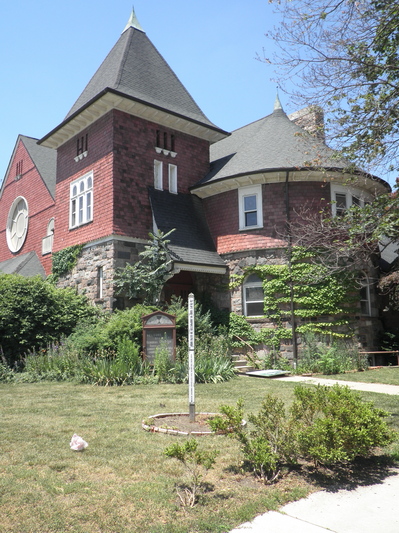 Lizzy Alfs | AnnArbor.com
Although there were plans in the works for a University of Michigan fraternity, Sigma Phi Epsilon, to purchase the property to convert to a fraternity house, Jo Ella Coles with the Memorial Christian Church said the deal recently fell through.
"For about a year we were dealing specifically with the fraternity, but at this point, the deal fell through so the property is on the open market," Coles said.
The fraternity won approval from the Ann Arbor Planning Commission for a special exception use to allow the fraternity to convert the church in March.
According to a previous report, the plan was to house 44 fraternity members in the building after undertaking a $3 million interior renovation.
However, the recent listing of the property raises questions about Sigma Phi Epsilon's plans. The fraternity is located in a house at 704 Hill St.
Jerry Mangona, a professional financial advisor and president of the fraternity's alumni association, declined to comment on the details of the deal, but said that the organization is still looking into purchasing the property.
"What I can say is that our financial dealings are not complete," Mangona said. "We've made a request to bring negotiations to completion and we're waiting on that request."
The Memorial Christian Church was founded in Ann Arbor in 1891, moving to its current site on Tappan in 1923, according to a city staff report.
Coles said the church is looking to relocate to a residential community outside of the student-dense area on Tappan and Hill.
"We're trying to move to a location that would give us a bit of opportunity to do more mission and service work in a community," she said. "The student population is a little more transient. We want an opportunity to be more engaged and involved in the community in which we're located."
The organization will move out of the Tappan building at the end of July into a temporary space at 5141 Platt Road in Pittsfield Township, she said. From there, she said they hope to purchase a new building in the Pittsfield area for the church.
While Coles is unsure whether they will find a new owner for the Tappan property before moving, she said there has been interest in the space from several people.
"We've had a handful of folks that have looked at the building," she said. "We are looking for a buyer because we prefer not to rent it. We prefer to sell it."
Lizzy Alfs is a business reporter for AnnArbor.com. Reach her at 734-623-2584 or email her at lizzyalfs@annarbor.com. Follow her on Twitter at http://twitter.com/lizzyalfs.