Posted on
Tue, Jan 4, 2011 : 4:20 p.m.
Michael Finney to be paid $250,000 as Michigan Economic Development Corp. CEO
By Nathan Bomey
Former Ann Arbor SPARK CEO Michael Finney officially becomes CEO of the Michigan Economic Development Corp. after his appointment was approved today in Lansing, the Detroit Free Press is reporting.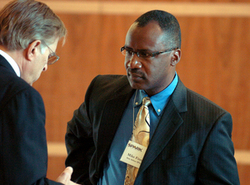 Finney will be paid a salary of $250,000 in addition to "deferred compensation equal to 18 percent of his salary in lieu of a retirement plan," the Free Press reported.
Finney was paid $258,423 at SPARK in 2008, the most recent year in which tax documents were available. SPARK is an economic development group whose budget is composed of a mix of dollars from tax coffers, public universities, municipalities, private companies and foundations.
Gov. Rick Snyder, who co-founded SPARK and personally recruited Finney to become the first CEO of SPARK in 2005, recommended Finney to succeed Greg Main as MEDC CEO. Main was paid $200,000 to lead MEDC, a quasi public-private entity that distributes state tax incentives.
Finney was a vice president of MEDC until 2002, when he left to start an economic development group in Rochester, N.Y.
According to a recent AnnArbor.com review of salaries at economic development agencies, Finney's compensation is comparable to his colleagues throughout the rest of the state.
Here's a list of the total compensation figures of other Michigan economic development group leaders, figures that include the value of benefits and retirement compensation, as compiled from recent tax documents:

--Ron Kitchens of Kalamazoo-based Southwest Michigan First: $439,859 (2008); $417,185 (2007); $415,308 (2006).
--Birgit Klohs of Grand Rapids-based The Right Place: $282,320 (2008); $310,392 (2007); $352,151 (2006).
--Finney: $258,423 (2009); $258,720 (2007); $233,307 (2006).
--JoAnn Crary of Saginaw Future: $198,939 (2009); $156,732 (2008); $113,674 (2007).
Contact AnnArbor.com's Nathan Bomey at (734) 623-2587 or nathanbomey@annarbor.com. You can also follow him on Twitter or subscribe to AnnArbor.com's newsletters.