Posted on
Thu, Dec 10, 2009 : 2:40 p.m.
Michigan's smoking ban approved by Senate, House
By Nathan Bomey
The Michigan Senate and House today passed a bill that would ban smoking in all bars and restaurants but exempt casinos and cigar bars. The ban's final approval is now imminent, leading to an uneven reaction among Ann Arbor's dining community and activists on the issue.

---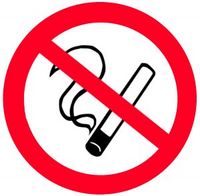 Washtenaw County
Non-smoking Restaurants

Seventy percent of Washtenaw County's restaurants are smoke-free, according the county's Environmental Health department.

For a list of those restaurants, click here.



The Senate's 24-13 approval of the bill, followed by the House's 75-30 vote, marks the culmination of a passionate debate among restaurant owners, health activists and various community members. The bill exempts casinos and cigar bars from the ban, although smoking in casino restaurants reportedly would also be banned.
Gov. Jennifer Granholm has signaled her support for a ban, which would take effect in May.
Michigan joins 37 states that have already enacted similar bans.
Judy Stewart, spokeswoman for the Campaign for Smokefree Air and director of state government relations for the Great Lakes Division of the American Cancer Society, said she was "over-the-moon excited." She said workers at restaurants and bars where smoking is allowed are 50 percent more likely to develop lung cancer.

"The majority of Michigan workers will have a smoke-free work environment, and there will be less cases of cancer, asthma, heart disease, the list goes on and on," Stewart said. "Second-hand smoke is a real killer and a real disease cause in our state, so this is huge."

Andy Deloney, a spokesman for the Michigan Restaurant Association, which lobbied against the ban, criticized state lawmakers for "telling us this is what is good for you."

"It does nothing to help the state of Michigan," he said.

Deloney said businesses would suffer.

"We're greatly disappointed," he said. "Michigan leads the nation in unemployment, we're last in the nation in things like income growth. We've got about as bad of a business climate as you can have in the country. The actions of the House and the Senate today add more burdens and mandates and restrictions on the backs of business owners."

But health activists praised the move, calling it long overdue and a major boost to the health of restaurant workers and patrons.

"For all intents and purposes it's the single greatest thing we can do to improve the health of Michigan residents," said Sharon Sheldon, Washtenaw County's program manager for health promotion and disease management.

Sheldon rejected the suggestion that the state's economy would suffer a blow due to the ban's approval.

"It hasn't hurt restaurants in any other place where this has been done," she said. "I don't see how anyone can say Michigan is somehow unique in some way."
A poll conducted in March by Lansing-based EPIC-MRA found that 66 percent of Michigan residents supported the ban. Some 52 percent said they "strongly" favored it.

Restaurants in Ann Arbor greeted the news with a mixed reaction.

Fleetwood Diner's Lilly Dmiri said the 24-hour establishment relies heavily on customers who eat there particularly because smoking is allowed.
"I think it's going to have a impact," she said. "For me I'm the only one here pretty much who doesn't smoke."
Gary Wheelock, manager of downtown restaurant Arbor Brewing Company, said sales dipped briefly after the restaurant disallowed smoking Aug. 5.
"Still, it came right back to where it was before," he said. "Eventually they just decided to come back and hang out here, because they like our beer and they like our servers. I don't think there's a lot of negative effect from it."
Wheelock praised the Senate's move and said the ban would benefit the state.
"I completely see it as a positive thing," he said. "It's a healthier environment for our servers, everyone at a restaurant, to work in. It discourages people from smoking, which is a very destructive behavior. When you smoke, everyone around you smokes."
State Rep. Pam Byrnes, D-Lyndon Township, the speaker pro tempore, hailed the ban's approval
"This plan makes Michigan nearly 100 percent smoke free and helps us move toward being healthier communities and a stronger state," she said in a statement. "I applaud my colleagues in the Legislature for putting partisan politics aside and scoring a major win for Michigan residents today."

Contact AnnArbor.com's Nathan Bomey at (734) 623-2587 or nathanbomey@annarbor.com. You can also follow him on Twitter.