Posted on
Mon, Jan 23, 2012 : 5:58 a.m.
Bridal shop owners to open ice cream shop in Saline
By Laura Blodgett
Ice cream lovers soon will have another option when Emily's Ice Cream Cafe opens in late February in the former Cold Stone Creamery space at 1329 E. Michigan in Saline in the Sauk Trail Commons shopping center, which is anchored by Country Market.
Owners Herman and Christine Marquardt also own Sarah's Bridal in Milan, named after their older daughter, Sarah, 7. They decided to open an ice cream shop named after their younger daughter Emily, 6, who is "an ice cream nut," said Herman.
"My wife buys and sells restaurant equipment, so we thought we'd put this together," said Herman, whose family has a Milan school address in the Saline School District. "We thought it'd be kind of fun to do."
In addition to ice cream, the shop will serve frozen custard and a version of "mix it" ice cream in the style of Cold Stone. It will also sell ice cream cakes and specialty cakes made on site.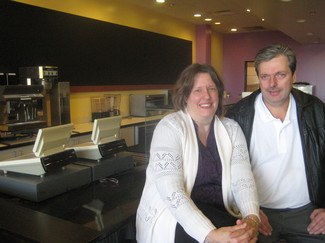 Laura Blodgett | For AnnArbor.com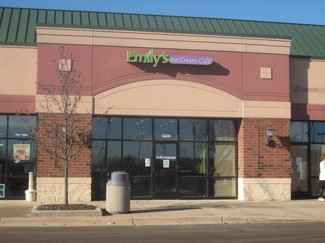 Laura Blodgett | For AnnArbor.com
To encourage people to linger, the 24-seat store will offer coffee and other beverages. The owners are considering adding sandwiches to the menu in the busier summer months.
Four to five people will be hired to start, including a manager to run the day-to-day operation. They anticipate hiring more workers in the busier months.
Since the 1,900-square-foot-space was already set up to serve as an ice cream shop, the Marquardts only needed to bring in new equipment and make some cosmetic changes, such as repainting the walls. Daughter Emily picked the colors: soft purple, green and yellow.
Although the Cold Stone Creamery in that location went out of business, the Marquardts believe that is more a result of the challenges facing that particular franchise.
"It costs almost $400,000 to get into [the franchise], then you have to rent out the site," said Herman. "It's hard to make it with that kind of debt. They are dropping like flies. You can buy one at auction for $25,000."
The couple also welcomes the proximity of nearby ice cream shops such as Dairy Queen and Mickey's Dairy Twist.
"Our feeling is the more there is, the more it draws in," said Herman, who added that Emily's will be open year round.
The Marquardts are in growth mode, with several entrepreneurial efforts in the works. Previously automotive part manufacturers in Milan, they had to shut down that business two years ago due to industry slowdown.
Turning to new ventures, the couple opened the bridal shop a year ago, which has done very well. Located at 525 S. Redman across from Milan High School, the owners are already considering expanding the store from 7,500 to 13,000 square feet.
They are also planning to open a second ice cream store called Emily's 2 in the 82,000-square-foot building they own, which houses the bridal shop. They are considering opening a restaurant in the same building, although they would prefer to lease out the space to a tenant for that purpose.