Posted on
Tue, Apr 20, 2010 : 5:30 a.m.
Mindo Chocolates, a bean-to-bar maker, opens for business in Dexter
By Angela Smith
Are you a chocolate lover or a chocolate connoisseur?
While a chocolate lover may go gaga for a convenience store chocolate bar, a connoisseur will opt for a dark chocolate with the finest ingredients and no additives.
A week ago, I did not know much about chocolate ingredients, or how chocolate was even made, but that was before I was invited to visit a little chocolate factory called Mindo Chocolate. Mindo is one of few "bean-to-bar" factories in the country, and owners Jose Meza and Barbara Wilson control every step of the processing right here in Dexter.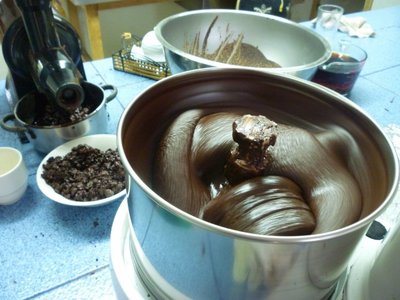 The result is a chocolate made from only three ingredients that one long-time customer refers to as a "religious experience."
Barbara Wilson is quick to reveal what makes the chocolate so divine; it's all in the beans.
To celebrate their 30th anniversary, the couple took a six-week trip through Ecuador, and along the way visited the Amazon basin, where cacao trees originated, and where the world's highest-quality beans are still grown. Meza and Wilson were already roasting and processing their own coffee and began to take an interest in crossing over to chocolate.
They visited a chocolate co-op farm, Kallari, where they were given an opportunity to learn the process. From Kallari, Meza and Wilson gleaned some all-important advice: Inspect the pods, not just the beans from cacao farmers. Finding an Ecuadorian farmer who was able to comply with those standards was not easy, but they did. (Though Mindo Chocolate is not certified fair trade, the farmer is paid at fair trade prices, and the pods are in optimum condition, Meza and Wilson say.)
When they made their first batch of chocolate from scratch, they realized there was no going back.
Meza and Wilson had recently opened a restaurant and hotel called El Quetzal in the town of Mindo, an ecotourism hub in Ecuador. When Wilson started using their artisan chocolate in the restaurant brownies, it created quite a buzz.
Though Ecuador is ideal for growing the cacao tree, it is too humid for much of the processing. In November of 2009, Meza and Wilson became licensed to do the processing in their home-factory in Dexter. The equipment needed is not readily available in the States; most pieces they use are small appliances that have found a second calling in the chocolate factory, like a Champion juicer that breaks down the cacao nibs that are shipped from El Quetzal. Other equipment comes from India, and one piece was designed and constructed in part by Meza himself (a retired mechanic and founder of Arbor Motion on State Circle.)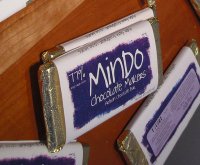 Their chocolate bars are quickly showing up on some of the best shelves all over the Ann Arbor area;
Morgan and York, Arbor Farms, Produce Station, People's Food Co-Op and Zingerman's
(which also carries their cocoa powder).
The 100 gram bars retail for $7, and many consumers say they are worth every penny.
When I met Meza and Wilson, I right away got the impression that I would one day be able to say "I knew them when…" Wilson assured me that she does not aspire to "bigness or fame," but instead to "eat delicious chocolate, drink delicious coffee and have fun." I have a feeling she may end up with more than she dreamed of. "I can't do anything small," Meza counters, and explains that he really wants to help raise the standard of living for the people in Mindo, where they currently have five full-time employees.
If you are interested in finding out more about the chocolate-making process, check Mindo Chocolate's facebook page. Most of their local tastings and demonstrations are free. Their next appearance, however is a one hour chocolate making class at Hollander's in Kerrytown on May 12.
Lead Shopping Blogger Angie Smith will hunt for deals and dish on the latest in retail and business news in Ann Arbor. Readers will attain notices of great deals and store happenings in and around the city. To report a news item or tip contact her at angieannarbor@gmail.com.