Posted on
Tue, Feb 14, 2012 : 9:50 a.m.
Mitt Romney defends 2008 'Let Detroit Go Bankrupt' editorial in New York Times
By Nathan Bomey
Republican presidential candidate Mitt Romney today defended the controversial New York Times op-ed he wrote in 2008 — titled "Let Detroit Go Bankrupt" — by saying President Barack Obama inappropriately protected unions during the bailout of General Motors and Chrysler.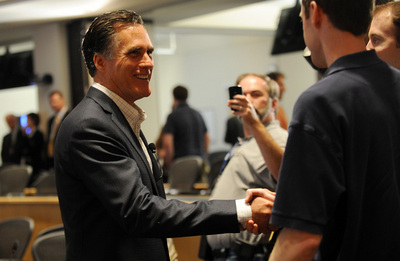 Melanie Maxwell | AnnArbor.com
"Instead of doing the right thing and standing up to union bosses, Obama rewarded them," Romney
wrote in a editorial published in the Detroit News
.
"A labor union that had contributed millions to Democrats and his election campaign was granted an ownership share of Chrysler and a major stake in GM, two flagships of the industry. The U.S. Department of Treasury — American taxpayers — was asked to become a majority stockholder of GM."
The op-ed comes more than three years after Romney famously called for a "managed bankruptcy" and not a "bailout check" for GM and Chrysler.
Since then, Democrats have used the New York Times story to slam Romney, saying his strategy would have led to economic disaster for the country.
The Detroit News piece also comes a day after Public Policy Polling released a poll indicating that Romney, a Detroit native whose father was governor of Michigan in the 1960s, has lost his edge in Michigan.
Former Pennsylvania Sen. Rick Santorum now leads the state, which will hold its GOP primary Feb. 28. Also, the poll reported that 62 percent of likely GOP primary voters in Michigan do not consider Romney to be a Michigander, while 26 percent do.
"I am a son of Detroit. I was born in Harper Hospital and lived in the city until my family moved to Oakland County," Romney wrote today. "I grew up drinking Vernors and watching ballgames at Michigan & Trumbull. Cars got in my bones early. And not just any cars, American cars."
Read the full Detroit News story here.
Contact AnnArbor.com's Nathan Bomey at (734) 623-2587 or nathanbomey@annarbor.com. You can also follow him on Twitter or subscribe to AnnArbor.com's newsletters.