Posted on
Thu, Nov 1, 2012 : 5:57 a.m.
Near North project stalled on Ann Arbor's North Main Street: What's next?
By Lizzy Alfs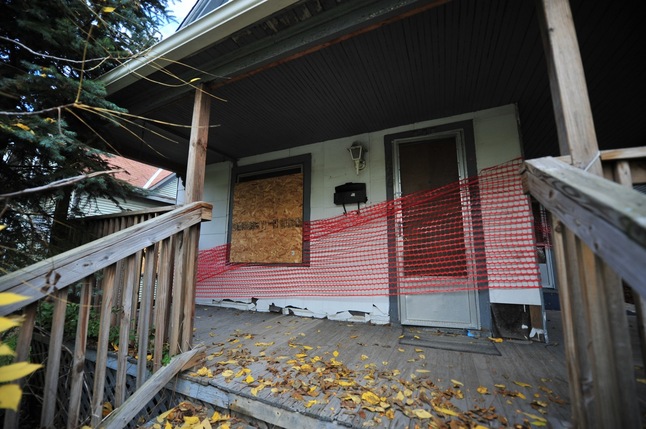 Ryan J. Stanton | AnnArbor.com
For years, there have been
promises
that eight blighted houses on Ann Arbor's North Main Street will be demolished.
The houses on the 1.19-acre property, which acts as the northern gateway into Ann Arbor from M-14, have boarded-up windows, structural holes, exposed beams and peeling siding.
It's been a cause of concern for city leaders, residents and neighbors for years — and it's definitely not ideal for a property that welcomes hundreds of people to Ann Arbor on a daily basis.
Until recently, the site at 626-724 N. Main St. was going to be converted into a 39-unit affordable housing apartment complex called Near North. The $15 million project was expected to provide 24 apartments affordable to households with low incomes and 15 supportive housing apartments with project-based Section 8 rent subsidies.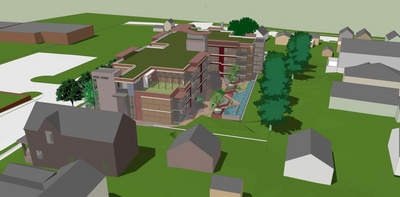 Image courtesy of developer
But after the development team canceled those plans in September — largely due to a change in the Federal Emergency Management Agency's floodway boundaries earlier this year — questions remain as to what's next for the site.
A new development at the property, a sale, or even salvaging some of the now-blighted houses could prove challenging and take years, but city officials agree: the houses need to be demolished — and soon.
A decade-long history
Dating back to 2003, Ann Arbor's Three Oaks Group targeted five houses on North Main Street for a four-story, 29-unit condominium project called "Terraces on Main."
A Planned Unit Development site plan was submitted to the city in 2004, but when the project was met with resistance from the city and neighbors, Three Oaks dropped the plans.
Years later, and following several reincarnations, Three Oaks brought Ann Arbor-based nonprofit Avalon Housing into the mix and the two groups proposed Near North, bringing three additional houses on North Main into the proposal.
County records reviewed by AnnArbor.com show the properties were purchased and assembled by Three Oaks, operating under various entities, for at least $2.5 million over the course of about eight years. The sale price of the houses ranges from $215,000 to $539,000.
City Council approved the Near North Planned Unit Development three years ago, and for a while it was expected to break ground in early fall 2010, but there were repeated delays. Timelines were pushed back as the developers worked to sort out the complex financing structures and regulatory questions involved in affordable housing projects.
Meanwhile, the houses on North Main continued to fall into disrepair and neighbors expressed concern about the dilapidated houses, the effect it would have on their properties and the out-of-scale nature of the Near North development.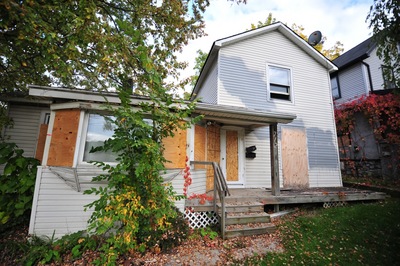 Ryan J. Stanton | AnnArbor.com
The developers also fell behind on property taxes, which became delinquent in March this year. County Treasurer Catherine McClary said the property owner owes $60,250 in back taxes.
In August, Sumedh Bahl, the city's community services area administrator, pledged that the city would move to demolish the structures within 60 days using money from its $250,000 blight fund that was established in February.
But one month later, Avalon Housing's senior developer Michael Appel said the Near North project was dead.
"A combination of factors — including tax and regulatory changes, financing timeline constraints, and the challenges of balancing complex site work with cost containment efforts — led to our decision that the project was no longer feasible as planned," Appel wrote in a letter to Ann Arbor officials.
"At this point we are cooperating with the city's efforts to remove the houses on the site, and will continue to work with local and state government and other partners to explore alternative development options for the site," the letter continues.
What's next?
Perhaps the biggest catalyst for the project's failure came in April when the city approved the new FEMA floodplain maps.
The new maps, which were in the works since planning meetings began in 2004, brought as much as 40 percent to 50 percent of the Near North property into the floodplain, said Jerry Hancock, the city's stormwater and floodplain programs coordinator.
When those new boundaries took effect, the developers of Near North lost a significant portion of their funding for the project.
"The developer knew the maps were changing for five years before they changed," Hancock said. "The maps became official, and at that point, the (U.S. Department of Housing and Urban Development) won't give money to projects in the floodplain."
Ryan J. Stanton | AnnArbor.com
Although Near North could still be constructed since it was approved years ago and there is a valid floodplain permit, Appel said in September that the lost financing was too big of a blow to the project.
And if the developers decide to build a different project or sell the property to another developer, it would be difficult to work within the new floodplain boundaries, Hancock said. The floodplain boundaries put significant restrictions on a new project: the state prohibits new residential uses in the floodway, and non-residential uses have to be elevated or flood-proof. (An example is the First Martin Corporation building on Depot Street, which is raised above ground)
"I wouldn't say it's not developable, but it's very difficult and not very wise either," Hancock said.
"There's still, you know, 50 or maybe 60 percent of the site left that's not affected by the floodplain…it would be the south end of the site that's up higher…if someone wanted to plop a big building in the floodway and not elevate it, it probably wouldn't meet state standards."
Representatives from Three Oaks and Avalon Housing did not return multiple requests for comment, but whatever the developers' plan for the site, Bahl said demolishing the houses remains a top priority for the city. Certified mailing cards went out to the property owners this week asking what the plans are moving forward.
"The only reason demolition didn't happen in 60 days is the change in the project and that it now doesn't exist," Bahl said. "We are still focused on addressing these buildings."
Ralph Welton, the city's chief development official, added: "(The property owners are) getting the letter we sent to them this week to figure out in the next couple days what they want to do with (the houses) or we're going to demolish them."
Welton said of the eight structures, six need to be demolished and two — 626 and 630 N. Main — might be salvageable.
"We're considering (the houses) still a nuisance," Welton said. "If (the property owners) don't act on our mailing within a certain day, I will inspect (the houses) and declare them as dangerous. As soon as that happens, we have to get them demolished as quickly as we can."
At least two local developers, both who have a stake in the redevelopment on North Main Street, said it will likely take time before something new can happen at the Near North property.
"I think that team is going to need some time to figure out what to do: sell it, come up with a new plan, affordable housing," said Tom Fitzsimmons, a former resident on North Main Street and also the developer planning to build condos on the former Greek Church site.
Peter Allen, a local developer who redeveloped several buildings on North Main Street years ago, called the blighted Near North property "the worst in the neighborhood."
"You couldn't have a better location," he said. "The next question is: what is the market to go after? Low income, market rate, for rent, for sale?"
He said the preliminary discussions of creating a pedestrian tunnel and path for stormwater underneath the railroad tracks could have a major impact on any development project at the Near North site. The redevelopment of the Ann Arbor fleet services facility at 721 N. Main St. also could play a role, he said.
"I think the redevelopment of 721 N. Main St. will have a huge impact on the marketability of Near North. Right now, you've got two ugly properties on both sides of Main Street."
Lizzy Alfs is a business reporter for AnnArbor.com. Reach her at 734-623-2584 or email her at lizzyalfs@annarbor.com. Follow her on Twitter at http://twitter.com/lizzyalfs.