Posted on
Thu, Jan 19, 2012 : 10:45 p.m.
New student housing project proposed for Grace Bible Church site raises concern at public meeting
By Lizzy Alfs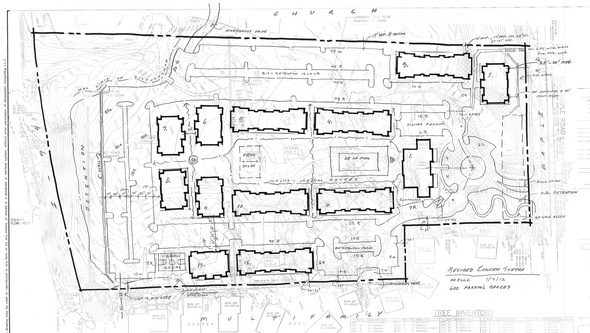 The developers of
The Grove
, a
student housing project proposed
for Ann Arbor's west side, met with about 50 members of the community Thursday night to detail plans and receive public input.
Many attendees raised concern and some expressed anger about the project, which is proposed for a 15-acre site just south of the Grace Bible Church building off South Maple Road near Pauline Boulevard.
The church owns the property and has it listed for sale at an undisclosed price.
North Carolina-based developer Campus Crest Communities is proposing 10 to 12 three-story apartment buildings, totaling about 224 units each with two or three bedrooms. It includes one parking space per bed.
The site was approved in 2008 for the controversial 42 North project, a similar student apartment complex with five buildings, 120 units and 494 parking spaces.
But the North Carolina-based developer, Wood Partners, didn't move forward with the project when the housing market went soft and the site plan expired in late 2011.
Campus Crest Communities has 33 student properties in 18 different states. Chris Russ, vice president of development for the company, said all its student projects are a "branded product" and look similar.
The compounds offer "resort-style amenities," such as a large pool, sand volleyball courts, basketball court, barbeque pits, game room, bistro eating area, coffee bar, library, fitness center, in-room washer and dryer and fully furnished apartment units.
They also offer tenants life skills courses, such as financial skills, time management and cooking classes.
Preliminary plans for the Ann Arbor development call for 600 parking spaces on the edges of the site and the buildings in the middle to eliminate noise and light for neighboring residents. The site would be surrounded by a six-foot high decorative fence and would be gated to control who comes and goes from the property.
Because a portion of wetland area would be removed for the apartment buildings, there would be a mitigation wetland area north of the church.
The Campus Crest apartments - which typically cost between $15 and $20 million to develop - average a monthly $500 per bed for rent, but that figure will change based on the Ann Arbor market, Russ said.
For some attendees at Thursday's meeting, The Grove is far too similar to 42 North, a project some didn't believe was practicable considering its distance from the University of Michigan campus.
"This just doesn't seem to make any sense," one resident said. "I mean, why bring [students] out here? I think this is some kind of a dream that somebody thinks they can rent these things out."
But Russ said Campus Crest has considered building in Ann Arbor for a long time, is aware of the site's proximity to campus and believes the project will be successful.
"We wouldn't be here spending the money on the project is we weren't sure it was going to be a success. I can't gamble with a $20 million project," he said.
He added: "We're over 90 percent occupied across the portfolio."
Other concerns raised among attendees included stormwater management, water pressure issues, traffic and transportation, home values, safety, and whether the demand for student housing can support another apartment project.
There are several other apartment projects closer to the U-M campus that are currently under development, promising to bring thousands of new beds onto the market.
Meanwhile, U-M officials have stated their intention of decreasing student enrollment growth starting next year. There are about 27,400 students enrolled as undergraduates right now, which is 2,400 more than the school would like.
Addressing The Grove project, neighboring resident David Gurk called the development "counterintuitive."
"It seems the only way that it would make sense is if all the students were living on the street now," he said. "[The students] are being housed now, plus there's all this going up and the new [North Quad] dorm."
Nearby resident Andrew Pawuk added: "It just seems like there's going to be too many beds available here in Ann Arbor for students."
Another concern attendees raised was how the students would get to and from campus.
Russ responded, "We are having a shuttle service, we just don't know who is providing it yet."
Although there were no plans for a second citizen participation meeting, Russ agreed to hold another one at the request of attendees.
"We really do want to come in and be a part of the community…I want to be an open book with all of you," he said.
Russ said he hopes to have site plans submitted to Ann Arbor Planning Commission in late January or early February, and if the project receives approval, the goal is to open The Grove in fall 2013.
Campus Crest is working with local architect Brad Moore of J Bradley Moore & Associates and Earl Ophoff of Midwestern Consulting.
Lizzy Alfs is a business reporter for AnnArbor.com. Reach her at 734-623-2584 or email her at lizzyalfs@annarbor.com. Follow her on Twitter at http://twitter.com/lizzyalfs.