Posted on
Tue, Mar 6, 2012 : 5:58 a.m.
Sleep Number store relocating from Briarwood Mall to Arborland
By Angela Smith
The Sleep Number store previously located at Briarwood Mall is relocating to Arborland Center on Washtenaw Avenue.
The store plans to open Friday in the outlot corridor of Arborland, near Starbucks Coffee. That strip center will also get a new Five Guys Burgers and Fries store by May or June.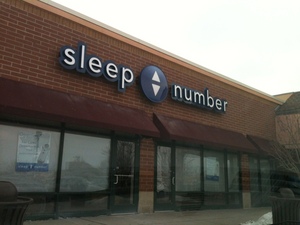 Angela Smith for AnnArbor.com
Sleep Number will close its Briarwood doors on Thursday. Its new address will be 3597C Washtenaw Avenue. Briarwood recently announced that women's boutique shop Francesca's Collections will open in the 947-square-foot space currently occupied by Sleep Number.
"Arborland is certainly coming along, and getting busier," said Sleep Number's Tim Arnett. "We'll have the same employees but a much bigger location."
The new store will have more than 3,000 square feet, allowing the show room to expand.
"We were out of room in Briarwood," Arnett said. "The new showroom will be state of the art." according to Arnett.
Sleep Number uses "IndividualFit 3D imaging" technology to provide sleepers with "a visual map of their pressure points on a firm mattress … and watch the pressure dissipate as they find their Sleep Number setting," according to a press release.
Select Comfort Corp., the parent company that markets the Sleep Number beds, recently reported huge profits for 2011, as sales rose 27 percent.
"Our team enters 2012 with confidence in our proven growth drivers as we continue to broaden our target consumer, increase brand awareness and develop our under-penetrated major markets," said Bill McLaughlin, president and CEO of Select Comfort, in a statement.
Sleep Number plans to open 20 non-mall stores this year.
Angie Smith is a freelance reporter for AnnArbor.com.