Posted on
Wed, Mar 7, 2012 : 5:58 a.m.
Washtenaw Avenue retail center proposes additional parking lot for employees, AATA riders
By Lizzy Alfs
Site plans have been submitted to the city of Ann Arbor to construct a new parking lot behind a shopping center on Washtenaw Avenue and Chalmers Drive, intended for the center's employees and Ann Arbor Transportation Authority Park & Ride users.
Businesses in the Chalmers Place retail center, which is located west of Arborland, include The Vitamin Shoppe, Jimmy John's, Verizon Wireless, LUV Manicures & Pedicures and Lady Jane's Haircuts for Men.
But the center is nearly 50 percent vacant, and the owner cites parking as the main issue with attracting new tenants.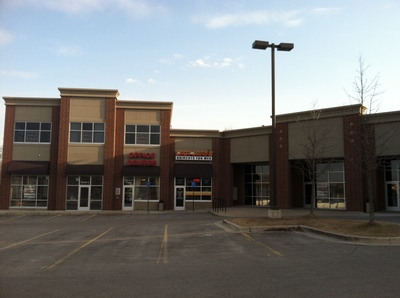 Lizzy Alfs | AnnArbor.com
"The current parking lot is inadequate to serve the development, which is 50 percent vacant, making it nearly impossible to lease the remaining 50 percent of the retail center," according to the plans.
The center - which is owned by Len Nadolski and managed by Kevin Travers - has 88 parking spaces, 44 to 74 of which are used by employees of the center's retail stores at any given time.
To free up some parking out front, Nadolski wants to rezone a parcel directly behind the retail center from R1B, Single-Family Residential, to P, Parking, and construct a 43-space parking lot.
Access to the new lot will be provided through the existing curb cut on Chalmers Drive.
After holding a citizens participation meeting for the project in January, the plans have been amended to reflect neighbors' concerns.
Plans now include installing security cameras to limit loitering on the new lot, mounting lights low on poles so no light is shed on neighboring properties, limiting the hours of the lot to business hours, and not adding additional vehicular access points or curb cuts.
"We have worked tirelessly to inform neighboring properties of the project intent and listened to their concerns and effectively addressed their concerns," according to the plans.
There would also be a screen fence and landscaping around the new parking lot that would make it "invisible" from neighboring properties.
The plans call for a portion of the parking lot to be used for commuters to access the AATA bus service, which has a stop adjacent to the retail center on Washtenaw Avenue. It is yet to be determined how many spaces would be available for Park & Ride users.
"The AATA is working to provide Park & Ride opportunities in a number of existing parking lots along Washtenaw Avenue between Ypsilanti and Ann Arbor, with the goal of providing 150-200 commuter parking spaces," said Chris White, manger of service development for the AATA, in a note to the retail center's manager.
He added: "The new parking at Chalmers Place would be a valuable addition for this effort."
Matt Berke of Southfield-based The Beale Group Inc. is marketing the vacant spaces in Chalmers Place. There are several first-floor storefronts available and some second-floor office space.
The new parking lot project, according to the plans, will "fill storefronts that have been vacant for years due in large part to the current parking constraints."
Lizzy Alfs is a business reporter for AnnArbor.com. Reach her at 734-623-2584 or email her at lizzyalfs@annarbor.com. Follow her on Twitter at http://twitter.com/lizzyalfs.