Posted on
Thu, Jan 19, 2012 : 5 a.m.
Paparazzi: Two Ann Arbor chefs take honors in 'Top Knife' competition
By AnnArbor.com Staff
This year's Mainstreet Ventures Top Knife competition ended with a tie, as two chefs from Ann Arbor restaurants won the live cook-off competition.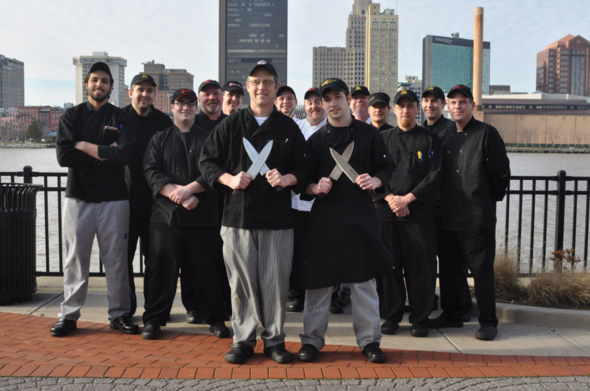 photo courtesy of MSV
Mainstreet Ventures Top Knife competition is a live cook-off competition between the 15 different MSV restaurants, showcasing uniquely-styled dishes, with awards based on taste, plating and presentation. Each competitor earned a spot in the competition by first competing against peers at a local restaurant with his or her entrée.
After winning in their own local market, each top competitor then qualified to compete against each other for the overall title of the MSV Top Knife. The second annual MSV Top Knife competition was held on Thursday, Jan. 5 at Zia's Italian restaurant in Toledo, Ohio.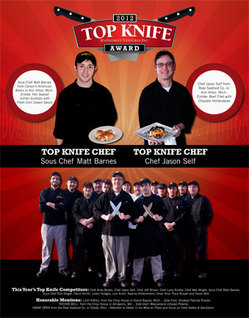 The judges of the competition included Dr. Susan Gregory, hotel and restaurant management program coordinator at Eastern Michigan University; Chef Corbett Day, hospitality and culinary arts instructor at Lenawee Intermediate School District; and Mainstreet Ventures executives, including President and CEO Mike Gibbons, Director of Operations Kevin Gudejko and Corporate Administrator Stephanie Teague.
This year, the MSV Top Knife competition produced a tie for the title between two Ann Arbor-based chefs: Chef Jason Self from Real Seafood Co., entering his a beef filet with a chipotle hollandaise sauce and crispy fried Brussels sprouts, and Sous Chef Matt Barnes from Carson's American Bistro, entering a dish of pan seared jumbo scallops with a fresh corn cream sauce.
Both entrées will be featured on MSV menus later this year, and both of the winning chefs will also receive the MSV Top Knife Award plaque, cash prizes and a special commemorative knife. They'll also be recognized at this year's MSV President's Award of Excellence Recognition Dinner.
•Sign up for the weekly Business Review email newsletter here.