Posted on
Sun, Feb 5, 2012 : 5:58 a.m.
Super Bowl Sunday: Ann Arbor area pizza companies prep for 'biggest day of the year' with an online twist
By Lizzy Alfs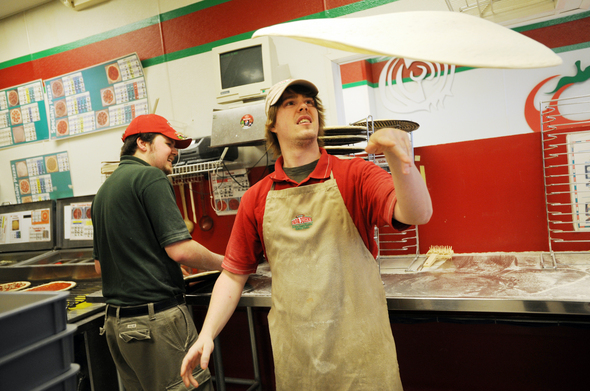 Melanie Maxwell | AnnArbor.com
Extra pizza boxes are ordered, staff is increased and online ordering systems are up and running as pizza companies in the Ann Arbor area prepare for the
New York Giants
to play the
New England Patriots
Sunday.
Owners agree: Super Bowl Sunday marks the biggest sales day of the year for pizza delivery stores.
The National Restaurant Association predicts 48 million Americans will order takeout or delivery food while watching the game, with 60 percent of those customers ordering pizza.
Ann Arbor Township-based Domino's Pizza is expecting to sell 11 million slices of pizza this Super Bowl Sunday, a nearly 80 percent increase from a typical Sunday. It's also two million slices more than Domino's predicted selling during last year's Super Bowl.
The reason for the increase, said Domino's spokesperson Chris Brandon, is largely due to the company's online ordering system.
"I think online is a huge part of it," he said. "One of the appeals is people can place timed orders into the system. That's been a popular choice for a lot of our fans on the big day."
At Super Bowl time last year, Brandon said Domino's online ordering accounted for 20 to 25 percent of its sales. This year it has increased to 30 percent.
To help ensure the process runs smoothly, Domino's has a technology team of more than 50 people stationed in a conference room at its headquarters to monitor the website. In 2007, that team was only seven people. Many Domino's locations have also increased weekend staff, Brandon said.
Melanie Maxwell | AnnArbor.com
"I'm sure the Giants and Patriots are working really hard right now. Our stores are doing the exact same thing," Brandon said. "It's certainly our biggest day of the year."
For Lisa Morden, general manager at Aubree's Pizzeria in Dexter, the football rush is less predictable. The franchise location - which opened in summer 2011 - has never experienced a Super Bowl Sunday.
"From what I've heard from the other locations, it's a quieter day for Aubree's," Morden said. "The other locations offer private parties in the restaurant for up to 100 people."
Although she doesn't expect the restaurant to be swamped, she does hope the delivery business picks up.
"I think delivery will be the busiest because all the customers I've asked have private parties at home, so I'm expecting the restaurant to be a bit slower. I hope I'm wrong, though," she said
At Ann Arbor's Papa John's location on East Huron Street, extra pizza boxes are already stacked in the back to prep for the event.
"It's going to be nuts," said Andrew Jager, the store's assistant manager. "It's the busiest day of the year for us."
Jager said sales "easily" double and sometimes triple on Super Bowl Sunday, and he expects no less this year with Papa John's being the official pizza sponsor of the NFL. He said he definitely sees an uptick in business because of "nonstop" commercials and other advertisements.
The Kentucky-based company is also hosting the Super Bowl XLVI Coin Toss Experience, a promotion that will give rewards members a free large one-topping pizza and 2-liter of Pepsi MAX if the majority of voters correctly predict a coin toss online before the game.
"We are graciously hoping that America does not get that coin toss correct," Jager joked. "It's great for sales, but that means millions of free pizzas."
He said the Ann Arbor Papa John's location does mostly delivery sales on Super Bowl Sunday, and the store has increased its Sunday staff.
"We have every person who works here working that day," he said. "There are going to be like 30 people running around this little store."
Lizzy Alfs is a business reporter for AnnArbor.com. Reach her at 734-623-2584 or email her at lizzyalfs@annarbor.com. Follow her on Twitter at http://twitter.com/lizzyalfs.