Posted on
Mon, Aug 13, 2012 : 5:57 a.m.
Rapunzel's Lice Boutique picks a winning concept
By Laura Blodgett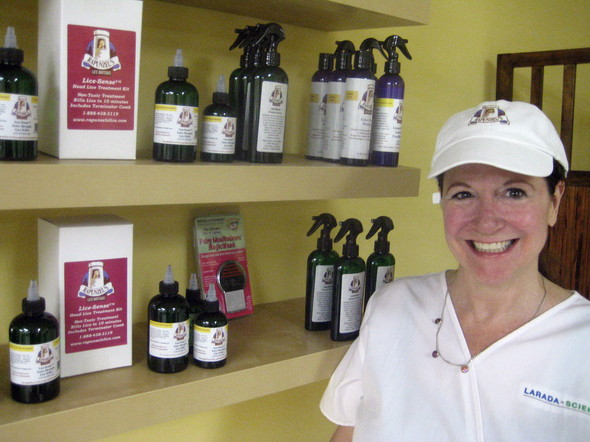 Laura Blodgett
For 15 years, Sarah Casello-Rees ran a thriving business as a personal trainer, where she thoroughly enjoyed helping her clients meet their fitness goals. And then she got lice.
"My son, who was in kindergarten, got it first," explained the longtime Ann Arbor resident. Although her husband carefully combed through her hair and she tried all the commercial products and home remedies, Casello-Rees suffered with the parasite for a year.
"Here I am going about my life with head lice," said Casello-Rees. "It was horrible. It affects your life, your mental health. There was nobody to help me with this. My doctor said they didn't have time to pick through my hair."
With the economy crashing, fewer people could afford a personal trainer, so her business was decreasing. She decided a service to help others rid themselves of lice might be a viable business idea.
Rapunzel's Lice Boutique, started by Casello-Rees in July 2008 as a mobile operation, just celebrated its fourth anniversary.
"I put an ad on Craigslist and immediately got calls from parents begging me to come help them," said Casello-Rees, looking back on the company's early days. "I knew I was on the right track."
Laura Blodgett
The Centers for Disease Control and Prevention
estimates that six million to 12 million children in the United States contract head lice each year. It's second only to the common cold as the most cited reason children miss school.
A lice infestation can have a huge economic impact on a family, from money spent on delousing products to missed days of work. Casello-Rees said she knew of one child who was going to be held back because of missing too much school.
Lice have been building up a resistance to the pesticide commonly used to treat them, according to Casello-Rees.
"Twenty years ago those products were 95 percent effective in killing live bugs; today it's only 45 percent effective," she said.
"The 65 percent left that are resistant are going to go on to breed. Why they are still selling the stuff is a mystery to me."
In April 2009, Casello-Rees opened her first brick-and-mortar location in a professional building at 3001 Plymouth Road, where the business is still located today. Immediately after opening the Ann Arbor location, business skyrocketed, easily doubling in a month, Casello-Rees said. The company opened additional offices in Sterling Heights and Grand Rapids.
Rapunzel's began by using olive oil to treat lice - an ancient remedy Casello-Rees says is effective in killing live bugs if left on for eight hours, although the oil doesn't kill the eggs. Then her husband, a retired University of Michigan computer science researcher, created a nontoxic concoction that was 100 percent effective in killing live bugs in just 10 minutes.
"That really changed things," said Casello-Rees. "However, we had yet to find something to kill the eggs. People had to come in three times because if we missed an egg it would hatch."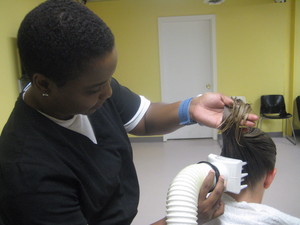 Laura Blodgett
Casello-Rees had been following the development of a medical device called the
LouseBuster
invented by a University of Utah biologist, which uses heated air to dehydrate lice and nits. In clinical trials published in the Journal Pediatrics in 2006, the LouseBuster killed 99.2 percent of eggs. This has been a "real game changer," according to Casello-Rees.
After the device received FDA clearance, Rapunzel's began leasing six machines in September 2010. Last year, the business performed 1,286 treatments. For every treatment, the staff conducts about four head checks. Casello-Rees estimates her business looked at 5,000 heads last year.
"We have a 100 percent guarantee, but one of the conditions is that we look at the entire family and clear them or treat them if they have it," she said.
Head checks cost $10, although the company conducts complimentary head checks on Saturdays. The cost of the one-time LouseBuster treatment is $145 per head.
Rapunzel's employs a total 15 staffers, seven of them in Ann Arbor, who mainly serve as lice technicians and research assistants for the lab, where they handle observation and testing.
In addition to serving customers onsite, Rapunzel's manufactures and sells its own line of treatment products available to ship across the country to individuals and other businesses. Products include a preventive shampoo and conditioner, a lice killer, an enzyme spray that dissolved nits, and a picking comb — titled the Fairy LiceMothers' Magic Wand — which range from $15 to $25 apiece or $39.95 for the lice treatment kit. Last month the company sold $10,000 worth of products.
As to the future, Casello-Rees has been considering franchising her business due to the number of underserved markets. Looking back, the irony that her experience with lice turned into a successful business is not lost on Casello-Rees.
"It was so horrible but it created all this."