Posted on
Mon, Jul 18, 2011 : 6:24 p.m.
Read Borders CEO Mike Edwards' letter to employees announcing liquidation
By Nathan Bomey
Borders President Mike Edwards , CEO of the company's bookstore unit, wrote this letter to employees today, announcing the company's plans to liquidate starting as soon as Friday: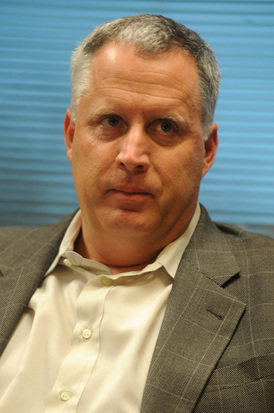 Melanie Maxwell | AnnArbor.com
Good afternoon,
I wanted to reach out to you and give you an update on Borders' reorganization process. As you know, last week we submitted a proposal from Hilco and Gordon Brothers as the stalking horse bid, which set the minimum bid requirement for the auction.
Following continued negotiations and the best efforts from all parties, no bidders have presented a formal proposal to keep our company operating as a going concern. Therefore, under the terms of our DIP financing agreement, we intend to present to the court for approval the proposal from Hilco and Gordon Brothers, under which these two companies will purchase our stores' assets and administer the liquidation process. We will submit this proposal at a hearing scheduled for Thursday, July 21, and we will not proceed with the auction originally scheduled for tomorrow, July 19.
All of us have been working hard towards a different outcome, and I wish I had better news to report to you today. The truth is that Borders has been facing headwinds for quite some time, including a rapidly changing book industry, eReader revolution, and turbulent economy. We put in a valiant fight, but regrettably in the end we weren't able to overcome these external forces.
For decades, our stores have been destinations within our communities - places where people have sought knowledge, entertainment, and enlightenment and connected with others who share their passion. Whether you work in our stores, distribution centers, or at the Store Support Center in Ann Arbor, each of you has played a valuable role in helping ignite the love of reading in our customers. Together, Borders and Waldenbooks associates have helped millions of people discover new books, music, and movies, and I hope you'll take pride in the role we've played in our customers' lives.
Now we must begin switching gears and preparing for the wind-down process, which we expect to begin for stores as soon as this Friday, July 22 and conclude by the end of September. Wind-down will begin in phases in other areas, such as our Store Support Center and distribution centers, over the next week. Please know that we are committed to sharing information with you as quickly as possible. To that end, you should expect to hear from your manager by the end of this week with details regarding separation information, severance, benefits, and other resources for employees. You have my assurance that we will do whatever we can to help our employees through this transition.
In closing, I'd like to express how much I appreciate each and every one of you and all that you've done. The last few months have been stressful, uncertain times, but you've stood by Borders and have continued to impress me with your dedication, resilience, and strong drive to fight until the very end to save our company. Whether you've been with Borders for a few months or several years, I hope you know how much I value you and all that you've contributed. The coming weeks will be difficult as we wind down operations, but I hope you'll continue to hold your head high. You've done me proud and, from the bottom of my heart, I thank you.
- Mike