Posted on
Sat, Apr 7, 2012 : 5:56 a.m.
Ready to grow: Zingerman's Deli contracts with farm incubator for in-season produce
By Janet Miller
The idea of individuals buying shares of a farmer's crop — known as Community Supported Agriculture, or CSAs — is expanding to restaurants.
Zingerman's Deli has signed an agreement with the Tilian Farm Development Center, an incubator for six small farm operations on land off of Pontiac Trail in Ann Arbor Township, to provide produce for the deli this growing season, beginning in late May or early June.
It's the first agreement of its kind between a restaurant and a local farmer, said Rodger Bowser, Zingerman's deli chef and managing partner, although he said he's tried to convince local growers to offer CSA restaurant shares for more than six years.
The agreement was reached in March, and in recent days, Zingerman's Roadhouse and The Ravens Club have followed suit and signed agreements with Tilian.
The agreements call for the restaurants to provide cash up front — which literally becomes seed money — with the promise that Tilian Residency Farm, one of the six small farms under the Tilian Farm Development Center, will provide produce during the growing season. The farm will supply organic greens for Zingerman's — lettuces, arugula, tatsoi, baby kale, beet greens, spinach and more.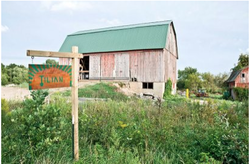 Photo courtesy of Tilian Farm blog
Unlike typical CSAs, where shareholders have no say in what they receive each week, the restaurants will have input, and will prioritize a list of what they want. Also, rather than receiving a share of a week's harvest, the restaurants will subtract the cost of each weekly delivery from the initial investment, similar to using a debit card, said Rachel Beyer, the farm's program manager. Zingerman's investment was $2,000, with Ravens Club and the Roadhouse investing several thousand dollars, Beyer said.
"The cool thing about the share is that it can be custom-tailored to what the restaurant is looking for," Beyer said. At the same time, it's not a guarantee. If one crop's yield falls short or is destroyed, another will be substituted. They expect to supply the deli with 60 to 80 pounds of greens a week, Beyer said, and will alert the restaurant four days before delivery to accommodate menu planning.
While Zingerman's Deli already turns to 20 to 30 local growers for produce in season, there are a number of items, such as salad greens, that are difficult to source with local growers, Bowser said. "There's been a void of some product that we haven't been able to get people to grow."
At the same time, he said he wanted to support Tilian's farm start-up concept. "I wanted to support it while also meeting the restaurant's needs," he said. Still, it's not about money. "We want to make sure we can do this again next year. We're not looking for the lowest dollar," Bowser said.
The Farm Development Center is in negotiations with The Grange, Beyer said. They also have a contract with Zingerman's Mail Order, where they will supply produce that will be used to make employee meals, and with Darcy's Cart.
Contracting for restaurant shares developed as Tilian Farm began looking for a new CSA niche, Beyer said. There are a growing number of CSAs in Washtenaw County, and Tilian wanted to look for new markets. At the same time, selling restaurant shares is expected to help promote the sale of individual Tilian CSA shares, she said. Tilian will offer 30 individual shares for sale.
Tilian Farm Development Center launched last year with three incubator farms. Three more joined this year. Each farm has two acres, while Tilian Farm has five acres. There's a total of 44 acres. The center serves as an incubator for small farms, and all but the Tilian residency farm have two years to move their farm operations to a more permanent site.
All proceeds from the sale of restaurant shares will go back into the TFDC organization, where it will be used to promote the growth of small farms, Beyer said.