Posted on
Thu, Feb 2, 2012 : 5:58 a.m.
After foreclosure and sale, downtown Ann Arbor's Ashley Terrace gets rebranding
By Lizzy Alfs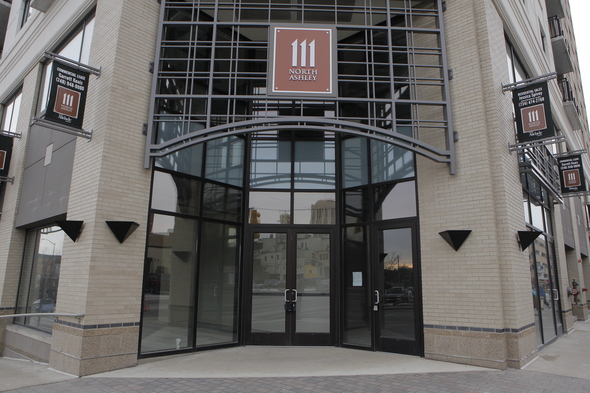 Chris Asadian | AnnArbor.com
(
This story has been updated to reflect that Real Estate One is marketing the property's unsold condominium units
.)
Downtown Ann Arbor's Ashley Terrace high-rise has a new name — part of an effort to rebrand the 10-story complex after it fell into foreclosure and changed ownership in 2011.
The building, now called 111 North Ashley, has undergone exterior renovations as part of the new owner's attempt to rebrand the high-rise, which was sold in summer 2011 after falling into foreclosure earlier in the year.
The Bloomfield Hills-based owner, Alidade Capital Fund LP, has launched a new marketing campaign and is confident about the building's future.
In 2012, the company hopes to lease more than 20,000 square feet of vacant retail and office space in the facility and sell its remaining condominium units.
The 10-story, 99-unit Ashley Terrace, situated on the northwest corner of West Huron and North Ashley, opened in 2008 after two years of construction. The building includes underground parking for the residential condominiums.
Chicago-based developer Joseph Freed & Associates proposed the high-rise as part of a building boom following intense developer interest in downtown Ann Arbor. Freed also developed Ann Arbor's 4-Eleven Lofts, which opened in 2009. That building has since been sold to Houston-based The Dinerstein Companies.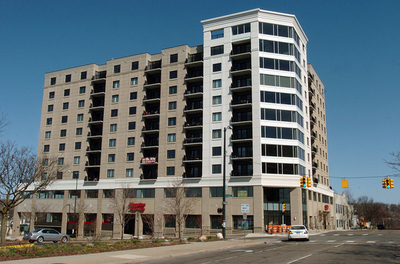 Ann Arbor News file photo
As the economy collapsed, lender
Bank of America
started foreclosure proceedings against Ashley Terrace in spring 2010. When the foreclosure was filed, the outstanding debt on the property was $20 million, according to county records.
Alidade Capital then bought the building - with 29 unsold condos and more than 20,000 square feet of vacant retail and office space - from BOA for approximately $6 million.
As part of the recent rebranding, Alidade changed the building's name, installed new decorative awnings and banners, updated the lighting and placed TVs in the windows to market the space.
Geoff Langdon, managing partner of Alidade, said the company was not actively trying to fill the vacant retail and office space during the renovations.
"We wanted to complete the rebranding and complete the renovations and all of that…then go to the market," he said.
The original plan for the building was to have 10,000 square feet of street-level retail space and 16,500 square feet of second-floor offices. But the only tenant that has signed a lease for the space is Flagstar Bank, which took 5,500 square feet.
Along with lowering the rental rate, Langdon said Alidade is being flexible about the type of uses for the space.
"We're looking at potential retail users on the first floor and also looking at a pseudo-retail user: somebody that has an office component, but likes to have visuals on the first-level, like a real estate or title company," he said.
A corporate user that would be interested in occupying part of the first floor and the second floor - which could be connected by a stairway - would also be a possibility, he said.
The space is being marketed by Signature Associates for an annual $22.50 per square foot.
Langdon said Alidade has, in fact, turned tenants away in the past six months, including one who wanted 10,000 square feet and some smaller retailers.
The reason: "We look for two things: Good quality tenants who can take a vast majority of the space and good credit quality."
He added: "Again, the strategy is to create value…we don't want to put in any kind of tenant just to get rent."
Although there is parking on the property for the residential condos, it doesn't include spots for the commercial and retail users, potentially turning away tenants that demand parking.
To help counter that issue, Langdon said Alidade recently secured approximately 30 parking spaces in the city-owned Ann & Ashley lot and is on the waitlist for more.
The condo units in 111 North Ashley range in price, but Langdon said the low-end is approximately $274,000, well above the average price of condos in Ann Arbor.
In 2011, the average listing price for condos in Ann Arbor was $173,173, according to a report by the Ann Arbor Area Board of Realtors. The average sale price was $150,284.
Since Alidade bought 111 North Ashley, five additional units have sold, and the remaining 24 are being leased or used as staged units. Real Estate One is marketing the unsold units.
A rental listing for a 990-square-foot, one-bedroom condo markets it for $1,850 per month. A two-bedroom, 1,500-square-foot model is listed for $2,700.
"Our goal is to sell those," Langdon said. "We've had very strong demand."
He added: "We just took a look at the market and what the market can support and priced it."
The company's faith in the condo market stands in contrast to others who seem to have lost faith.
For example, in August, a group of investors sold the 233 apartment units at Ann Arbor's Woodland Mews development south of downtown for a rumored profit of $8.5 million just eight months after they bought it. When Woodland Mews was originally constructed, developers wanted to turn the rental units into condos. But only 73 have been sold — and the new owners have no plans to convert the apartments into condos.
Langdon said Alidade doesn't feel pressured to sell the remaining 111 North Ashley condo units immediately.
"We do not need to put them all on the market," he said. "We actually only list four units at a time maximum, and if we are unable to achieve the sale price we need, we won't sell them."
He said most of the units are owner-occupied and the building attracts a range of tenants.
"We really have this two sort of demographic fit: Younger couples that do very well or older couples that have done very well in life and are now just enjoying the downtown environment," he said.
Lizzy Alfs is a business reporter for AnnArbor.com. Reach her at 734-623-2584 or email her at lizzyalfs@annarbor.com. Follow her on Twitter at http://twitter.com/lizzyalfs.