Posted on
Sun, Mar 4, 2012 : 5:58 a.m.
Report: Michigan is only halfway through 'foreclosure crisis' tallying $63B in lost housing values
By Lizzy Alfs
Melanie Maxwell | AnnArbor.com
A new report shows that $63 billion of Michigan's housing value was lost between 2006 and 2010 when the state was in the deepest depths of its continuing foreclosure crisis.
The county-by-county report, conducted by the Michigan Foreclosure Task Force and Grand Valley State University's Community Research Institute, highlights the increased residential foreclosures, loss of property value and increased vacancies that swept through Michigan during that period.
From the hardest hit -- Wayne County -- to rural areas and Washtenaw County, 416,116 residential units in Michigan went through foreclosure auction filings between 2005 and 2010.
Those statistics, said Steve Tobocman, co-director of the Michigan Foreclosure Task Force, are the worst Michigan has seen since the Great Depression.
"We've seen high unemployment numbers…but the impact in the housing industry has never been as profound as it has been," he said.
Locally, the monthly average of mortgages foreclosed in Washtenaw County in 2005 was 146, according to the data. That number increased each year, reaching 845 in 2010.
With foreclosure rates increasing, the county's total residential state equalized valuations -- or assessed values as finalized by the county and state process -- fell from $12.7 billion in 2006 to $10.3 billion in 2011, a decrease of 18.8 percent.
Washtenaw County's vacant housing units also increased by more than 80 percent during the decade, rising from 5,742 in 2000 to 10,380 in 2010.
And these numbers, Tobocman pointed out, aren't isolated to just "urban" areas in Michigan.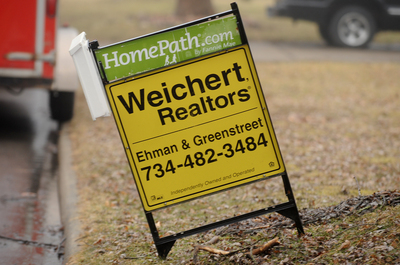 Melanie Maxwell | AnnArbor.com
"I think it was a perception that this was just a Detroit or Wayne County or urban, downstate problem," he said, "but what we see is that each of the 83 counties have been touched in pretty powerful ways by the foreclosure crisis."
He added: "The rural experience over those five years is delayed, but the curve mirrors other counties."
The report cites Michigan's high unemployment rate and the 40 percent drop in auto sales between 2008 and 2009 as contributing factors to the foreclosure crisis — factors that made Michigan one of the hardest hit states in the country, Tobocman said.
During that time, state unemployment increased from 8.3 percent to 13.3 percent.
More recent data on Michigan and Washtenaw County's unemployment rates is more encouraging: Michigan's unemployment rate fell to 9.3 percent in December, the lowest in more than three years. Similarly, Washtenaw County's unemployment recently fell to 5.2 percent in November 2011, the lowest rate in the state.
At the same time, home sale prices and listing prices in Washtenaw County have recently increased and are projected to rise heading into the spring market.
Another indicator, the number of sheriff's deeds sold in Washtenaw County, was the lowest it has been since 2006 at 1,128 last year.
While this data shows improvement in the local market, Tobocman warned to approach it cautiously: "We're still very much in the middle of this [crisis]."
He said that although some counties have seen property values and home sales increase in recent months, home values are nowhere near where they were prior to the crisis.
"Even if values go up 5 or 10 percent, you'd still see a significant number of people underwater," he said. "We're somewhere near about halfway through the crisis."
Wayne Esch, a local agent with Real Estate One, nodded to the recent increase in Washtenaw County average home prices, but pointed to some local neighborhoods where homes have actually lost value.
For instance, although Ann Arbor homes gained 3.57 percent in value in 2011 based on sales prices per square foot, certain neighborhoods -- such as those around Allen, Northside and Lawton elementary schools -- showed a drop in value from 2010 to 2011.
"You need to look at each community, but overall things are getting better on an average for the county," Esch said.
Nancy Bowerbank, a local real estate agent with the Charles Reinhart Co. who deals with foreclosed homes in the area, predicted that Washtenaw County will still see a good amount of foreclosure activity for a couple more years.
That activity will have an effect on the entire market, bringing down home values in neighborhoods with foreclosed houses.
"If a house sells at a distressed price, it's going to have an impact on prices in the neighborhood because buyers draw some inferences about values in the area," she said.
She also noted that if a neighborhood has a significant amount of distressed homes -- somewhere around 30 or 40 percent -- it will affect appraisals in the entire area.
But she added: "I do think the market is on the uptick. I don't think it's going to be fast, and I don't think it will recover to the post-foreclosure prices -- maybe ever -- but to see modest gains is not unlikely."
Statewide, Tobocman projects there could be another 100,000 foreclosures in the coming year, a number that proves "there is a lot more crisis to go through" until markets are restored.
To help homeowners deal with and understand the crisis, the Michigan Foreclosure Task Force is launching an interactive tool kit, which will include foreclosure prevention strategies, vacant property strategies and connect people with housing consultation and other resources.
Lizzy Alfs is a business reporter for AnnArbor.com. Reach her at 734-623-2584 or email her at lizzyalfs@annarbor.com. Follow her on Twitter at http://twitter.com/lizzyalfs.