Posted on
Mon, Nov 7, 2011 : 5:58 a.m.
Federal report raises questions about Ypsilanti Housing Commission's management, finances, property
By Tom Perkins
Many properties managed by the Ypsilanti Housing Commission were recently unfit for occupancy, according to a city report and a recent U.S. Department of Housing and Urban Development report that also raises questions about the commission's leadership and its finances.
HUD listed dozens of issues with YHC leadership, its Board of Commissioners, the agency's financial management and the condition of its properties.
The report, completed in September, cites property problems discovered in 2009 and management problems uncovered in April 2011.
YHC Executive Director Walter Norris acknowledged that some of the commission's properties still have problems but disputed much of HUD's recent report, saying many of the issues have been corrected.
A HUD "sustainability report" outlining the issues was provided to the Ypsilanti City Council last month. The report, which HUD officials said was drafted on Sept. 26 after the April investigation, included a six-month time frame for rectification of each issue and listed the corrective measures the YHC must take. The City Council was asked to approve the plan so the YHC could begin responding to and reviewing issues with HUD.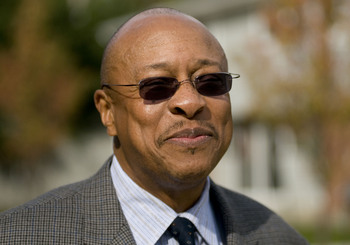 Tom Perkins | For AnnArbor.com
But council members were upset they were provided a report with a litany of serious issues only an hour before the meeting. The resolution was ultimately tabled until a November meeting so council members could review the sustainability report.
HUD delivers federal funding to local housing commissions that manage property for low-income residents, and the agencies must comply with strict HUD guidelines and standards.
HUD listed a number of issues, including:
--A failure by the YHC Board of Commissioners to provide proper oversight of the agency and its finances.
--A failure by the executive director to provide oversight of YHC programs.
--A failure by Norris to respond to HUD requests for information.
--Inadequate reporting on finances by the YHC to its Board, leaving the Board without enough information to provide oversight.
--Approximately $20,000 in funds that are unaccounted for.
--Poor and questionable accounting practices.
--A lack of spending and accounting controls.
--Excessive administrative salaries compared to other agencies.
--A large number of vacant units.
--A slow turnaround rate in getting new residents.
Laura Feldman, a Chicago-based public affairs representative for HUD, said she couldn't provide specifics on what the department found in many cases.
"This situation is very serious," Feldman said.
If the issues aren't corrected within the allotted six-month timeframe, Feldman said, YHC could face debarment, civil monetary penalties or governance intervention, which could lead HUD to install contracted management.
But Feldman said some of the accounting issues could be attributed to YHC administration not having proper documents on hand the days HUD staff inspected the agency. If the YHC presents information that HUD previously requested but wasn't immediately available during inspection, then HUD will consider the issue resolved.
For example, Norris said the missing $20,000 was spent on fencing placed around the Hamilton Crossing project and refreshments provided for tenants at social functions. He said the paperwork wasn't available the day HUD inspected the agency, but that issue will be cleared up once evidence is provided in the response.
In 2009, HUD also found a number of physical issues with the YHC properties. Feldman reported the YHC's score was substandard.
"Significantly below substandard. The score was not good," Feldman said.
But she added that YHC received passing marks in HUD's 2010 physical inspection.
City inspections of the property were performed in 2008 and, more recently, from November 2010 through March 2011. In 2008, building inspectors found only 20 of 191 YHC units were "compliant."
Though no similar assessment was made of the subsequent review earlier this year, building inspectors did find 1,182 code violations at the YHC properties — an average of six at each unit. They ranged from cosmetic items to structural issues.
YHC was supposed to be providing the city with quarterly progress reports on how it was addressing building code violations, but failed to do so.
YHC's Response
Norris maintained that HUD's findings were from a 2009 assessment and that many of the issues have already been corrected. HUD officials said the physical assessment was completed in 2009 and the management assessment was done in April 2011.
Norris said he can't send his responses and progress updates to HUD until Council approves the sustainability plan. Once that is provided to HUD, Norris said, many of the problems will be considered resolved.
He also said some of the issues HUD listed occurred because the federal agency sent several different teams of people to inspect the housing, causing confusion. Norris also said he didn't agree that the salaries are excessive, but said every issue would be corrected regardless.
He acknowledged there is room for improvement in some areas.
"What we're going to do is move to eradicate all the items HUD had concerns about," Norris said. "It does us little good as an agency to say we don't agree. They're the ones with the rules. What we will do is comply with the comments they made and put into effect the recommended changes and get those items cleared within the six months they're asking them to be done in."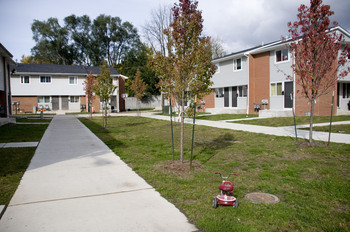 Tom Perkins | For AnnArbor.com
In response to HUD's charges that many of the units were in poor condition, Norris said the assessment was skewed by the fact that the Paradise Manor housing project was undergoing renovations at the time and some of the units had been damaged by fire.
He said that caused the slow turnover rate and lowered YHC's occupancy rate. HUD reported that the YHC's occupancy rate was at 89 percent, though Norris says it's now at 99 percent.
Norris also said 1,050 of the 1,182 code violations the city had found were corrected, leaving 132 violations. He also said 74 properties have been completely rehabilitated. Many of the 132 remaining items include costly projects such as cement replacement, parking lot repair or roof replacement, which Norris said the YHC simply can't afford at the moment.
Norris, who has been with the agency since 2003, said the physical deterioration was already well under way before his arrival.
Norris's previous employer
Meanwhile, the HUD findings have placed a spotlight on Norris' performance as executive director of the Galveston, Texas Housing Authority in the 1990s. Norris was fired from that job in 1996 "amid allegations of misappropriated funds, unaccounted for money and poor management," according to the Galveston Daily News.
Norris said charges leveled against him in Galveston had no credibility, saying the independent consulting firm hired by the Housing Authority to assess his performance had no experience in assessing public housing agencies. He later sued the Board of Commissioners for the firing but a judge dismissed the lawsuit.
According to the judge's ruling in the case, an independent consultant had determined GHA was not "being run in a business like manner in regards to its finances and management."
It reported the Galveston Housing Authority staff members were not open to the public and that financial information presented to the board was "inadequate, unclear, incomplete and if provided, not done so in a timely manner."
The report said Norris made several major decisions without proper financial planning, asserted that the Housing Authority had inadequate internal accounting controls and found that GHA funds had been used to support a group called the Minority Leadership Program, which had been involved in local political matters.
Once the report was provided to the GHA Board of Commissioners, they voted to fire Norris.
Norris said there is substance to the issues that need to be corrected in Ypsilanti, but said he "gives the stuff in Galveston zero credibility."
"That was a different situation," he said.
Norris also questioned the judgment of the judge who dismissed his lawsuit, U.S. District Judge Samuel Kent, who was impeached by Congress several years later and imprisoned after he lied to investigators about sexual assaults on his staff members.
Moving forward
The Ypsilanti City Council will likely vote on approving the sustainability plan at its November meeting. Mayor Paul Schreiber, who once served on the housing commission, said communication between council and the council-appointed housing commissioners needs to improve.
Both sides need to ensure the timeline's goals are met and the commission is taken out of troubled status, he said. He added that it is especially crucial as the multi-million dollar redevelopment of the Hamilton Crossing housing project continues.
"We didn't have as good of communication as we should have both ways," he said. "I've been talking to commissioners, and I think that they understand that the Housing Commission must get out of troubled status and I think they're moving to that end and with HUD's help."
Council Member Ricky Jefferson, who serves the first ward, where much of the public housing is located, said the council needs to take the time to assess the information and see if the Housing Commission moves to correct the issues. Â  Renee Smith, a member of the Ypsilanti Housing Board of Commissioners since 2010, said she had no knowledge of the commission's status with HUD prior to the report. She said she felt the corrective plan has been rushed and the commission needs to improve its very basic administrative process and bookkeeping, which appears to be substandard.
Smith said she doesn't believe Norris should be fired because that would jeopardize the Hamilton Crossing project.
But she said she is in favor of some punitive measure and suggested a probationary period or docking Norris' pay. The idea was floated, Smith said, but no other commissioners supported them. Regardless, the issues will be corrected, she said. Â  "I'll take the beating with them for now, but I'm not going to be a part of anything that appears substandard or fraudulent," Smith said.
Tom Perkins is a freelance reporter for AnnArbor.com.