Posted on
Sun, Jan 16, 2011 : 6:01 a.m.
Rick Snyder, days before State of the State, says employee costs, education reform are priorities
By Nathan Bomey
Gov. Rick Snyder said both he and the state of Michigan need to shed some pounds this year.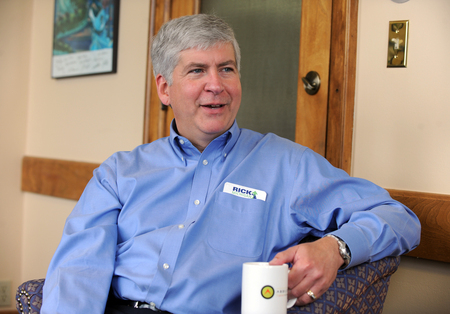 Lon Horwedel | AnnArbor.com
Snyder, who will deliver his first State of the State address at 7 p.m. Wednesday in Lansing, is expected to offer a glimpse of his proposal to eliminate Michigan's $1.8 billion budget deficit. The Republican's official budget proposal comes in February.
Voters, political leaders, interest groups and outsiders are anxious to get more details on how the former Ann Arbor venture capitalist plans to advance his political agenda.
Snyder said in an interview that the state needs to come to grips with its dire fiscal situation and make structural changes. That would involve a wholesale review of the state's existing services to identify good opportunities for cuts and more efficient ways of doing business.
Snyder said he plans to:
• Focus his effort to cut state employee compensation on the cost of benefits. He identified retirement costs and health care benefits as an opportunity for changes, including possibly turning to "defined contribution plans" such as 401k accounts as an alternative to pensions.
• Launch a push for education reform within the first half of the year.
• Lose a few pounds of his own.
"That was one of my New Year's resolutions. I had reinventing Michigan as No. 1 and I had losing five to 10 pounds and exercising after that," he said with a laugh.
Snyder spoke with AnnArbor.com's Nathan Bomey. Excerpts:
AnnArbor.com: The State of the State is Wednesday. You're generally an optimistic person, but you may have to paint an unpleasant picture of the state's finances. Do you plan to level with the legislators and the Michigan people during the State of the State?
Snyder: I think I've always been that way. Yeah, it's important for people to understand where we're at, and that gives you a good starting point to say, 'This is where we need to go.' That's what I've been focused on from the very beginning.
AnnArbor.com: The Wall Street Journal recently reported that the GOP governors sent a letter to President Obama asking him to allow the states to consider cutting some people from Medicaid before federal health care reform takes full effect. Is that something you'd like to be able to consider in Michigan?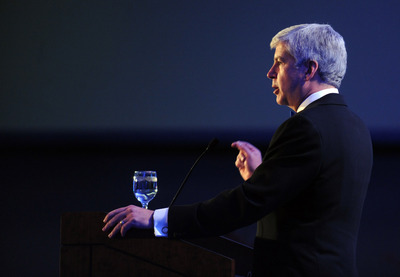 Melanie Maxwell | AnnArbor.com
Rick Snyder's first State of the State address
When: 7 p.m. Wednesday, Jan. 19

Where: House chamber of the Capitol building in Lansing
Coverage: Reporters Ryan Stanton and Nathan Bomey will cover the speech live for AnnArbor.com.
More: Check AnnArbor.com on Monday for more excerpts from this interview with Rick Snyder, including questions about the film industry tax incentives, the Michigan Economic Development Corp., social media and the city of Detroit.
Snyder: The letter was asking for maximum flexibility. It wasn't talking about cutting things. It (said) -- in the context of going ahead with health care reform -- can we have maximum flexibility in terms of waivers or ability to address what's most appropriate for our states?
AnnArbor.com: Can Michigan afford to pay for its portion of Medicaid as it expands over the next few years?
Snyder: There is a real challenge. (The federal government is) paying for the lion's share of (health care reform) for the first couple years, and then they sort of drop back their funding.
I view it as dropping a major unfunded mandate on our state, which could be a major challenge, because that's going to be several hundred million dollars.
AnnArbor.com: You've always emphasized the importance of wellness and disease prevention in lowering health care costs. How much of a difference can that make for Michigan financially?
Snyder: It's a big deal. It's something you're not going to find in the State of the State necessarily. But as we progress in the first half of the year, I hope to have a major message on wellness and health and disease prevention for the people of our state because there's major opportunities there.
We're not a great state in terms of being healthy. We really need to emphasize a couple of things. One is infant mortality. The other one is obesity. We need to lose weight. And we need to get more physically active and eat better.
I'm working on that one already. That was one of my New Year's resolutions. I had reinventing Michigan as No. 1 and I had losing five to 10 pounds and exercising after that. (laughs)
AnnArbor.com: I can imagine that a 16-month-long campaign isn't exactly good for the waistline.
Snyder: No, the campaign lifestyle is not something I would recommend to anyone wanting to stay healthy.
So I'm glad to get back into at least some more normal routine. I'm staying really busy, but I'm doing really well trying to get some exercise.
AnnArbor.com: A recent Detroit News poll showed that 52 percent of Michigan voters would support a plan calling for total compensation cuts to state workers of about 5 percent. Does that give you the political cover necessary to make cuts to compensation?
Snyder: Well, I'm not just looking for political cover.
But, in terms of looking at that issue, that's something we need to look at hard - and I said that from the beginning on the campaign, always recognizing you're talking about people and their families.
I don't view it as just an across-the-board cut. That's not the best way to do things. My preference is to work hard in a collaborative fashion, working with public employees to say, how can we address these issues, how can we get more in line with the private sector and be more affordable?
I'll probably focus more on the benefits side, in terms of retirement plans and health care as opposed to current compensation, which is the hardest to address because people have to make a living today.
AnnArbor.com: Should we be replacing pensions with 401k plans?
Snyder: We should be looking hard at that. That's been the trend in the private sector, and it allows you to be much more pay-as-you-go, which is what we need to look at.
We have to get out of this mode of creating environments where we're leaving large future liabilities out there that you leave to someone else to deal with.
We need to look hard at defined contribution plans and then health care plans that have more wellness-oriented (aspects) to them and more preventative care and encouraging people to stay healthier.
AnnArbor.com: Do you think that if you push service consolidation, municipalities will revolt?
Snyder: I want to create an incentive to do it in terms of revenue sharing and other resources we have.
What you're going to find is they're going to need and want to move that way because of their own fiscal situation. I don't view it as the state telling people they have to do it, but I think prudent financial management would say they have to do it on their own regard, and here's some positive incentives to move there even faster.
AnnArbor.com: Do you think that businesses are prepared to accept the loss of specific lucrative tax incentives in favor of an overall lower tax burden?
Snyder: As a generalization, absolutely. If you're a business person, you like to have certainty. The fairer, simpler, more efficient system you have, the better for business in general.
Now, the people who might be losing those things may not share that same opinion. But if you talk about it in a general sense, clearly that's the direction I believe most businesses would want to go.
And as a former business person with business in my DNA, I can tell you that's sure what I would want.
AnnArbor.com: Former Washington D.C. schools chancellor Michelle Rhee is assembling a bipartisan coalition of political leaders in favor of education reform, including replacing seniority-based tenure with merit-based rules. What do you think about her ideas?
Snyder: I haven't looked at all her ideas, but the idea of education reform needs to happen. Education reform is something I'd like to address in this first six-month period.
It would come after the budget, and we're still talking about what might be the best timing. But I still hope to get significant educational reform on the agenda with the legislature in the first half of this year.
AnnArbor.com: Is tenure something you specifically want to look at?
Snyder: Well, we need to look at that and a lot of other issues. This is about how do we update an educational system that goes back decades to centuries and say there are better practices that allow teachers to be more successful and educate our kids in a much more efficient, effective fashion.
AnnArbor.com: You met with Transportation Secretary Ray LaHood about the state's transportation funding situation. Were you encouraged by that meeting?
Snyder: Yeah that was a good discussion. That was fairly broad over a number of topics, and I was also able to meet with Secretary (Kathleen) Sebelius from Health and Human Services.
It was good opportunity to meet them and some other people in the administration. It was a good dialogue. I was happy to say I was the first governor to show up because we're being proactive.
We should be partnering with everyone possible to help solve our issues here in the state of Michigan.
AnnArbor.com: Some of the Midwest governors have a very strong opinion about high-speed rail. Do you see that as a viable transportation option for the state of Michigan in the future?
Snyder: We had a good discussion with the secretary and I want to look at it hard. In terms of giving a conclusion, that would be premature.
Part of it is looking at the financial consequences. I put my value-for-money lens on that. We need to look at that and see how it works out. You have to look at it in terms of a longer-term horizon, just because of the nature of the infrastructure investment.
I don't take it off the table, and we're going to look pretty hard at it when we have the opportunity.
AnnArbor.com: Give me a secret tip on what we should expect in the State of the State. Something people won't see coming.
Snyder: (laughs) I'll give you one thing you could guess, but I will confirm it. I will wear a tie for the State of the State.
Contact AnnArbor.com's Nathan Bomey at (734) 623-2587 or nathanbomey@annarbor.com. You can also follow him on Twitter or subscribe to AnnArbor.com's newsletters.