Posted on
Mon, Jun 14, 2010 : 9:37 a.m.
Lipitor co-founder's Esperion Therapeutics signs research deal with Cleveland Clinic
By Nathan Bomey
Esperion Therapeutics, the biotech company revived by Lipitor co-discoverer Roger Newton in 2008, will collaborate with the Cleveland Clinic to develop new cholesterol treatments, officials announced this morning.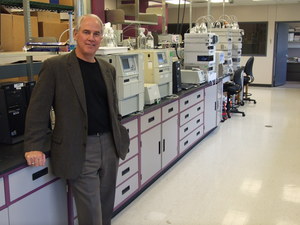 Nathan Bomey | AnnArbor.com
Plymouth Township-based Esperion is reviving a research agreement with Cleveland Clinic to pursue technologies to improve the body's use of "good" HDL cholesterol. Raising HDL cholesterol, one goal of several therapies under development at Esperion, is a clinical achievement that has largely eluded the industry's best scientists.
The new agreement mirrors a similar arrangement Esperion maintained with the globally known medical center until Pfizer shut it down in 2007 as part of its plans to leave Ann Arbor.
"When we re-established Esperion in 2008, our goal was to continue this research tradition," Newton said in a statement. "We are once again bringing together the outstanding resources and expertise at both Esperion and Cleveland Clinic to advance important research efforts in HDL in the years ahead."
Officials said the press release this morning that the agreement "was developed in conjunction with Cleveland Clinic Innovations, the corporate venturing arm of Cleveland Clinic." More specific details of the financial arrangement were not immediately available.
The announcement shows how Newton is methodically reassembling the company that he sold to Pfizer for $1.3 billion in early 2004. In spring 2008 he completed nearly 18 months of negotiations with Pfizer to license intellectual property he was developing when Esperion was considered a division of the pharmaceutical giant.
HDL cholesterol plays an important biological role in removing harmful lipids and cholesterol that can cause cardiovascular diseases.

Esperion in November launched a Phase 1 clinical trial for one of its therapies, the first step in a long process required to get a drug approved for the market.

Esperion hopes that Cleveland Clinic's HDL expertise will provide a competitive edge. Stanley L. Hazen, director of the clinic's Center for Cardiovascular Diagnostics and Prevention, and Jonathan D. Smith, a scientist in the clinic's Lerner Research Institute, will collaborate with Esperion.
"Cleveland Clinic has had a long history of researching HDL as it relates to cardiovascular disease," Hazen said in a statement. "We hope this collaboration will further our ability to identify and advance new therapies to regulate lipids and treat cardio-metabolic disease effectively."

Contact AnnArbor.com's Nathan Bomey at (734) 623-2587 or nathanbomey@annarbor.com. You can also follow him on Twitter or subscribe to AnnArbor.com's newsletters.