Posted on
Mon, Apr 9, 2012 : 5:56 a.m.
Roma Bakery finds business challenging but promising in new Ann Arbor location
By Angela Smith
"Food is my passion." That is what Sam Nemer has to say when asked about running Ann Arbor's Roma Bakery. As owner, he is there seven days a week, and has noticed a steady growth in customers since the bakery's opening almost six months ago.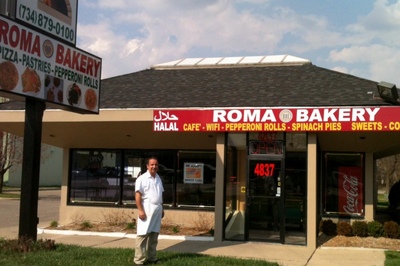 Angela Smith for AnnArbor.com
Roma Bakery opened at 4837 Washtenaw Avenue, in a stretch that has seen a number of restaurants come and go in recent years. Nemer says he really liked the Ann Arbor property when he found it; Roma Bakery's Ann Arbor site is the second location for the growing business.
The original, in Dearborn, has been in operation for 40 years, according to Nemer. He and his family took over operations 10 years ago, and the business proved to be "both fun and profitable."
After years using his business degree as a general manager at Art Van Furniture, Nemer resigned to pursue his passion: food. He went to The International Culinary School at The Art Institute of Michigan in Novi and opened Roma Bakery Ann Arbor shortly after graduating. He makes all of the pastries and bakery items himself on site.
Traditionally, Roma Bakery's specialty has been its grab-and-go pepperoni roll, but Nemer has attracted a steady clientele by offering both Italian and Middle Eastern favorites.
"We have a good mix. Some Asian folks love our sweets and lots of students love our broccoli cheese pies. Other locals like the spinach pies, eclairs, cannoli, French bread…" Nemer continues naming some of his favorite menu items.
The menu items are priced frugally; lunch combos for $4 and $5, and homemade bakery items priced from 50 cents to $3.
photo courtesy Roma Bakery on Facebook
"Business has been challenging, but promising, too," Nemer says. "A lot of people still have not found us, but that is beginning to change." Roma Bakery has recently begun to cater, most recently, weekend events at Eastern Michigan University.
Roma Bakery has three full-time and three part-time employees, but is not financially viable yet, according to Nemer. But Nemer says he plans to persist until he finds success in the Ann Arbor location.
"Service, quality, cleanliness,'' he says. "That's what I've learned to adhere to, and it works."
Angela Smith is a freelance writer for AnnArbor.com