Posted on
Wed, Mar 21, 2012 : 10:48 a.m.
South State roundabout: Pittsfield Township supervisor promises 'practice runs' for seniors
By Lizzy Alfs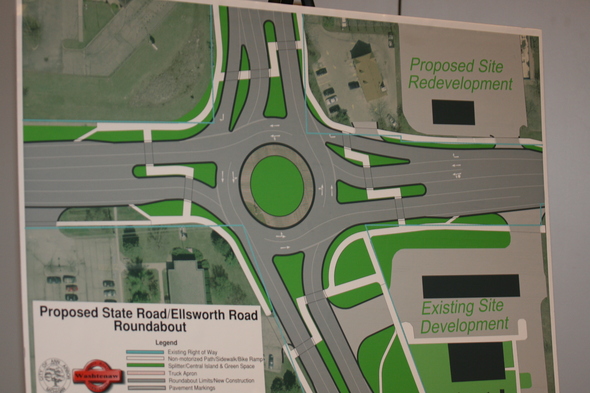 Lisa Allmendinger | AnnArbor.com
Although the
Washtenaw County Road Commission
is ultimately in charge of the
State and Ellsworth roundabout project
that's proposed near the
new Costco site
,
Pittsfield Township
is committed to addressing residents' concerns.
That's the message from Pittsfield Township Supervisor Mandy Grewal, who spoke at the A2Y Chamber's Early Edition event Wednesday morning.
Grewal said she approached the Road Commission last week to ensure seniors at the nearby Pittsfield Township Senior Center will receive instructional presentations on roundabouts, including practice rides in cars.
"Road Commission folks, starting next month, will do periodic presentations to [seniors] to tell them how to use the roundabout, what they are and then take them on actual rides as well."
She added: "It's our commitment here in the Township to make sure we work with them…we will have many different practice runs with the seniors."
Part of that decision stems from listening to people voice their concerns at an informational meeting about the project that was held last month. About 240 people came to Pittsfield Township Hall, many questioning whether the roundabout is the best way to handle additional traffic, bikes and people expected to traverse the intersection.
"We took it upon ourselves to do a full-fledged mailing to residents and businesses on the State Street corridor to make sure folks know this is going on," Grewal said. "I'm very proud to report we packed the house."
Grewal said the amount of feedback from the community shows Pittsfield Township has an "amazing, committed body of people that feel very strongly and are very logical in their approach."
She added: "We hear from people and from residents and we fold in their concerns and their perspective and feedback, and we put into place, in my opinion, something better than originally planned."
Grewal also reminded attendees that although Pittsfield Township is working with the community to address concerns, it's ultimately up to the Road Commission to make the final decisions on the project.
But Pittsfield Township, she said, will act as a "liaison" to ensure it's a "very good project."
It's expected that construction for the roundabout would begin next April or May and be completed in time for Labor Day and the first home U-M football game.
For more details on the roundabout, read about February's informational meeting here.
Lizzy Alfs is a business reporter for AnnArbor.com. Reach her at 734-623-2584 or email her at lizzyalfs@annarbor.com. Follow her on Twitter at http://twitter.com/lizzyalfs.