Posted on
Sat, Oct 22, 2011 : 5:57 a.m.
Saline High School senior builds group text-messaging service
By Sven Gustafson
A year ago, Patrick McCarren was sitting in class, thinking it would be cool if teachers had a quick and easy way to send plugged-in students reminders about tests, homework or forms that needed returning. He went looking for something that enabled instantaneous, free group communication, found little, then turned his thoughts to text messaging.
For people younger than 20, he reasoned, "everyone reads it, it's a very instant form of communication. That's one of the drawbacks of email… it's slow and it's very full of delays between when people read it."
A year later, the 18 year-old senior at Saline High School is the brains behind gText, a group text-messaging service used by thousands of students, teachers, coaches and administrators at Saline Area Schools for which McCarren has ambitious plans.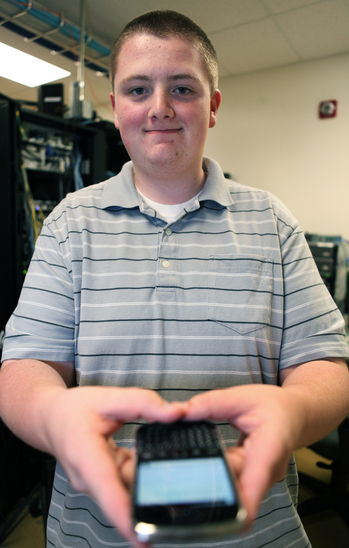 Photo by Jeff Sainlar | AnnArbor.com
Live for a little more than two months now and relying exclusively on word-of-mouth advertising, McCarren says gText has already amassed nearly 10,000 users — mostly within Saline schools but also including several hundred users at
Grand Valley State University
, where a friend is enrolled, and among a scattering of local businesses. The platform has recently begun hosting its first revenue-generating advertising.
It's an impressive feat for a student who works five hours a day after school for the district's IT department and writes code on evenings and weekends from his home computers or laptop.
Users who join gText can create groups and invite friends or other people to join them. The platform allows the sharing of messages, files, photos, event calendars and phone books with other group members.
Users retain control over which groups, if any, can see their phone numbers or email addresses, similar to how the Google Plus circles concept operates.
"Everything always defaults to confidential," McCarren said.
Text messages show up on mobile devices as messages from the sender's email address and count against the user's text-messaging limits.
McCarren said he set out with the sole purpose of helping teachers and school officials communicate with students, individual classes or the full district. "I designed it to be something that was simple, very easy to manage and was confidential," he said.
He initially proposed his idea to Saline High Principal Ben Williams and found a receptive audience.
"I can say that his presentation to the administration and department chairpersons went very well," Williams said in an email. "He has a following of administrators, teachers and coaches who use the service to communicate with their students, club groups and athletic teams about things like practice time changes, reminders about meetings, etc.
"All in all, gText is a user-friendly way to target a specific message to groups of people who have joined that group."
Saline schools Superintendent Scot Graden said while individual teachers and the district push out their own notifications via Twitter, gText has inherent advantages.
"It's more secure, it's more directed in terms of the people who want to get it will get it," Graden said.
He added the platform has emerged at a time when the district is trying to relax its policies governing students' mobile phone usage during school hours.
"You can see it as a distraction or you can see it as a tool," Graden said. "We're trying really hard to embrace this as a tool."
While there are other group text messaging platforms available, many don't offer a reply-all option, and most are tied a subscription fee to larger groups, McCarren said. Many also don't offer a no-reply broadcast option, the latter of which has proven popular among school officials.
"It's very easy for them to turn off all user interaction," he said.
McCarren said he began fixing computers and overhead projectors for teachers during the third grade at South Arbor Charter Academy and later read up on computer designing and programming. He runs most of of the venture himself but leaves the business end to his friend Mark Messmore, a University of Michigan graduate who owns MMSC Consultants LLC, an IT hardware retailer in Ann Arbor.
McCarren said he recently passed the 150,000th line of code.
"I copied and pasted it," he said. "I took gText and put it into a Word document, and it was 1,000 pages. So it's rather large."
As for the future, McCarren said he's applying to U-M, where he envisions majoring in computer science, and he wants to pursue graduate studies in the same at Stanford University. While he recognizes that gText could take priority, he said he's committed to going to college for both personal and business reasons.
"I feel that it's really easy to find users and to get a large user base quickly using schools and colleges," McCarren said. "Any sports team in the country, any group of any sort is who the market is, is who we're targeting. But we're going through schools to get 'em."
• Contact freelancer Sven Gustafson at sventg123(at)gmail(dot)com, or follow him on Twitter.