Posted on
Thu, Dec 1, 2011 : 5:59 a.m.
Plans, rendering revealed for 6-story apartment building proposed for downtown Ann Arbor
By Lizzy Alfs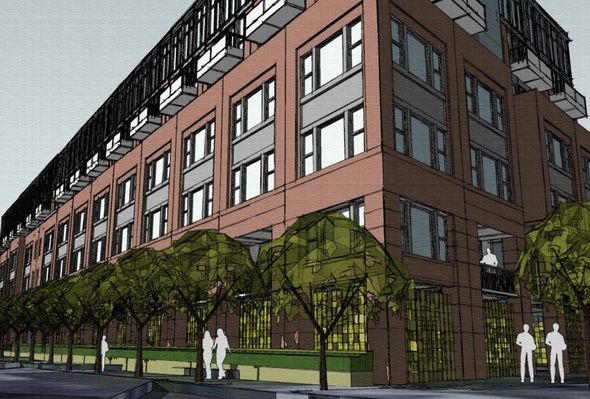 The developers of a six-story apartment complex proposed for South Main Street at the former
Fox Tent & Awning
site in downtown Ann Arbor are moving forward in the planning process.
After meeting with members of the community for feedback on the project earlier this month and submitting preliminary design plans to the city's Design Review Board, site plans have now been submitted to the Ann Arbor Planning Commission.
The plans show a six-story, 140,000-square-foot building on approximately one acre of land situated between Main Street and Ashley Street, bordering Mosley Street. The proposed building has studios, one-bedroom, two-bedroom, duplex and penthouse units. It also includes 138 underground parking spaces.
Young professionals ages 25 to 35 are the target demographic for 618 South Main's nearly 200 apartment units, according to the plans.
It could also attract "empty-nesters wanting to live close to town."
The developer is Dan Ketelaar of Ann Arbor-based Urban Group Development Co. The architect is Mike Siegel of Chicago-based VOA Architects.
The building, which is described as a "warehouse redevelopment for an urban living community," is a simple, brick structure with steel and glass infill and recessed residential balconies.
Local buildings that the plans site as inspiration are Liberty Lofts, the Argus buildings and the Bach community grade school.
The complex intends to provide a "hotel-like experience with amenities and services rather than typical apartment living," which includes lounges, a business center, a fitness center, a community garden and a pool. An outdoor community space accounts for about a third of the site area to provide "green spaces" for residents. The outdoor areas can be used for "quiet conversations, group cookouts and gatherings, active exercise or poolside socializing," according to the plans.
Preliminary plans for the complex went before the Ann Arbor Design Review Board on Nov. 16.
The city's design review process requires developers to submit plans to the Design Review Board for suggestions prior to applying for site plan approval.
Suggestions included improving the pedestrian experience along South Main Street by visually breaking up elements of the building and moving the setback further from the street.
The board also suggested enhancing the Ashley Street courtyard design to provide opportunities for interaction between residents of 618 South Main and pedestrians walking past the open space.
"Thought should be put into fencing that provides adequate security but allows visual connections to and from this open area," according to city documents.
The board recommended removing one level of underground parking to mitigate the tall garage wall along South Main Street. Members also inquired about traffic safety issues at the entrance on South Main Street, which will be analyzed by the city transportation engineer.
At a meeting with the public on Nov. 11, residents who attended voiced concerns about increased parking in the area, whether the height of the building will block current views of the Ann Arbor skyline and the effect of having a large number of new residents moving to an established neighborhood.
City Council Member Mike Anglin, D-5th Ward, encouraged the developers to take a proposal to city officials to potentially narrow Main Street to one lane in either direction in front of the complex.
"It would be difficult, but it would get a tremendous amount of buy in," he said. "This is a project for the community and would help do a great deal for the community for traffic calming."
Lizzy Alfs is a business reporter for AnnArbor.com. Reach her at 734-623-2584 or email her at lizzyalfs@annarbor.com. Follow her on Twitter at http://twitter.com/lizzyalfs.